From Here to There
I've always wanted to be one of those people that has it all together. The kind of person that does meal planning, makes a grocery list, scans the grocery store sale ads to find the best deals and clips a coupon here or there. When I clip coupons I generally don't want to get up and go get the scissors, so I "tear" coupons. Problem is they never seem to make it from the place I tore it out to the grocery store. Shoot, they don't even make it into those nice little coupon organizer files with me. They go from torn out to the trash can. Pitiful really.
Last May, I decided, you know what, this summer is going to be different. I'm going to make a list and check it twice. I'm gonna plan the meals, buy the ingredients and feed my family the kind of meals they deserve.
And I did.
For exactly two meals.
Then I grew weary of that plan and went back to my regular - it's 4:00 PM, what are we having for dinner routine.
But let me tell you, my family raved over those two meals. In fact, if you ask Brittany right now what her most favorite meal I make is, she will say " Mom's Turkey Burgers". And if that doesn't warm the cockerels of your heart, I don't know what will. At the very least it should motivate me to make it again, but there's that whole making the list of ingredients thing again. Sidetracks me every time. Plus there is some chopping involved and that is a step that causes me to fall off the "I'm going to cook tonight" bandwagon very quickly.
The other recipe Bill declared as "the best thing I have ever made". (He may have forgotten about those first place snickers cookies on a stick, or maybe he just craves some good old fashioned comfort food. Either way, he LOVED these grilled cheese sandwiches. And let me tell you, these aren't your everyday ole grilled cheese. They are so good you'll be asking yourself why I didn't give you this recipe earlier. And I don't really know why I didn't…but it's mostly because I just thought of it now.
The recipes both came from the Oprah show (and yes, when Brittany says she wants "Moms Turkey Burgers, for about a half a second I feel like I should say, "you mean Oprah's Turkey Burgers" but then I just think..nah.
Oprah did a segment on "The Best Sandwiches in America." She sent her BFF Gayle out to sample the nominees and the grilled cheese was deemed "the best sandwich in the country".
So here's to the U.S of A and our fabulous grilled cheese sandwich!!!
I started thinking about this all when we were in Florida. We started out here…
And ended up right there in the middle of our condo kitchen.
We cooked our meals in the condo. Nothing fancy, hot dogs, spaghetti, bar-b-que meatballs…but I enjoyed making it and my family enjoyed eating it.
Now that I'm home (once I catch up on ALL this laundry!), I'm gonna try to work on making some lists, getting to the store, and cooking some of my family's favorites (for more than 2 meals!). In addition to eating a little better, this whole global recession thing is causing me to think more about how I'm spending our grocery dollars. Just yesterday I bypassed the $3.00 box of frozen pancakes and got up this morning and made my own…for a whole lot less. This, I'm sure, makes Bill happy and my mom proud. :)
So with this new resolution in my life, I'm sure I'll be making these two recipes I mentioned soon, so I wanted to share.
Below are both recipes, with some commentary that was on the Oprah website as well.
Oh! and just one more little tip….the turkey burgers come with a chutney glaze on top. I think it is to die for, but my kids prefer ketchup….because kids will be kids.
Y'all enjoy!!!
Mar-a-Lago Turkey Burger #
Recipe courtesy of Jeff O'Neill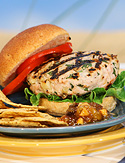 Oprah found a new favorite food when she tried this turkey burger at Mar-a-Lago, Donald Trump's private club in Palm Beach. "I believe [it] may be the best turkey burger in the entire world," she says. The Mar-a-Lago Turkey Burger will be permanently available at the Trump Bar and Grille in Trump Tower in New York City, open to the public for lunch and dinner. It will also be served during lunch in Chicago at Sixteen, the Trump International Hotel restaurant.
Ingredients: #
Serves 6
1/4 cup thinly sliced scallions
1/2 cup finely chopped celery
3 Granny Smith apples , peeled and diced
1/8 cup canola oil
4 pounds ground turkey breast
2 Tbsp. salt
2 Tbsp. black pepper
2 tsp. Tabasco® chipotle pepper sauce
1 lemon , juiced and grated zest
1/2 bunch parsley , finely chopped
1/4 cup Major Grey's Chutney , pureed
Sauté the scallions, celery and apples in the canola oil until tender. Let cool.
Place the ground turkey in a large mixing bowl. Add sautéed items and the remaining ingredients. Shape into eight 8-ounce burgers. Refrigerate for 2 hours.
Season the turkey burgers with salt and pepper. Place on a preheated, lightly oiled grill. Grill each side for 7 minutes until meat is thoroughly cooked. Let sit for 5 minutes.
Serve with a side of Mar-a-Lago Pear Chutney and your favorite toasted bread, pita or hamburger roll.
Café Muse's Grilled Cheese Sandwich #
Recipe courtesy of Greg Reyner at Café Muse<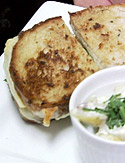 This recipe is a gourmet twist on an old favorite—there's no cheddar cheese in sight for chef Greg Reyner!
Ingredients: #
Serves 1
1 slice Havarti cheese
1 slice mozzarella cheese
1 slice Danish fontina cheese
1/2 Tbsp. butter , softened (for best results, use high-quality butter)
Honey from a squeeze bear bottle
1 tsp. fresh basil , chopped
2 slices tomato
2 slices bread (organic multigrain bread works best)
Sauté pan large enough for 2 slices of bread
Butter bread on one side with melted butter. Place in pan, butter side down, over medium-low heat. Place mozzarella on one half of the bread and fontina and Havarti on the other. Cook until golden on bottom and cheese begins to melt. Place tomato on mozzarella side and honey on fotina/Havarti side. Place under broiler for a few minutes to heat up tomato. Sprinkle basil and assemble sandwich.
Now, y'all start making yourself a list and get to the store because these recipes are G-O-O-D!!