They say it's your birthday...
HAPPY, HAPPY BIRTHDAY TO BILL!!!!
One of my favorite stories of all time is how there was a little boy in snowy Minnesota growing up while a little girl in (not so snowy) Arkansas was doing the same. And this MN boy and this AR girl were made for each other. God picked out him for her and her for him. And they lived happily ever after….
I LOVE that story.
And I love Bill and hope this day, this year, and this life bring him joy!
We celebrated with his parents on Monday night at Benihana's restaurant.
We go there each year and it is so fun to watch them cook our meal at the table..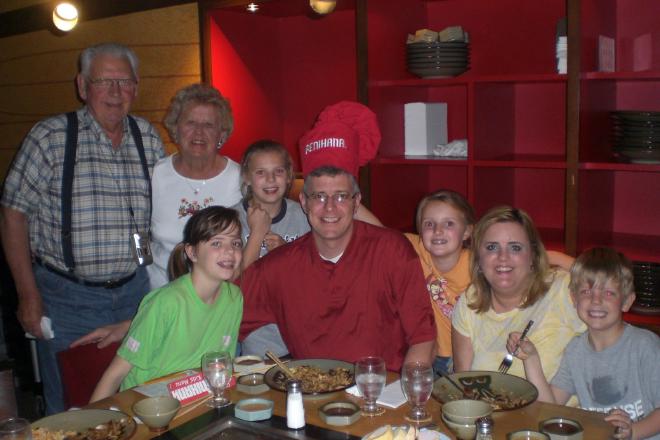 And every year they take a picture of Bill…in this hat….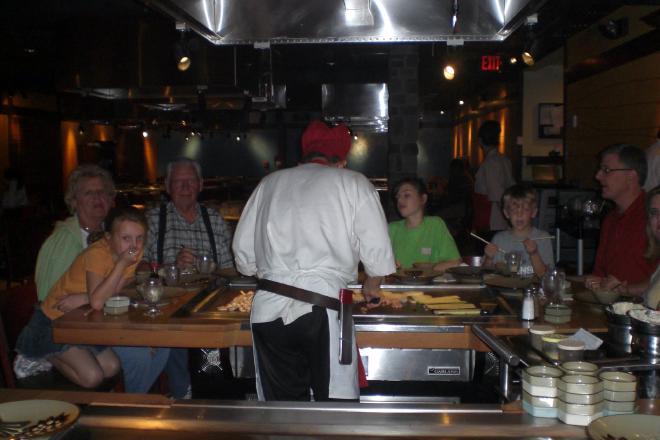 Since we've already celebrated, I thought I'd make him a (I think) first ever homemade birthday dinner. And seeing how I've been sharing some recipes with you, I thought I'd give you the meal plan for tonight as well. (This will be the meal plan assuming my day goes off without a hitch, which I rarely have a day without a hitch, but I'm going to do my best….)
So here is the menu:
Super Fab Pork Tenderloin
Salad with Spicy Pecans
Broiled Asparagus (impressed?)
Twice Baked Potatoes
Aunt Vlastas super fab pie (we already had cake at his parents on Monday, so we're switching to pie today)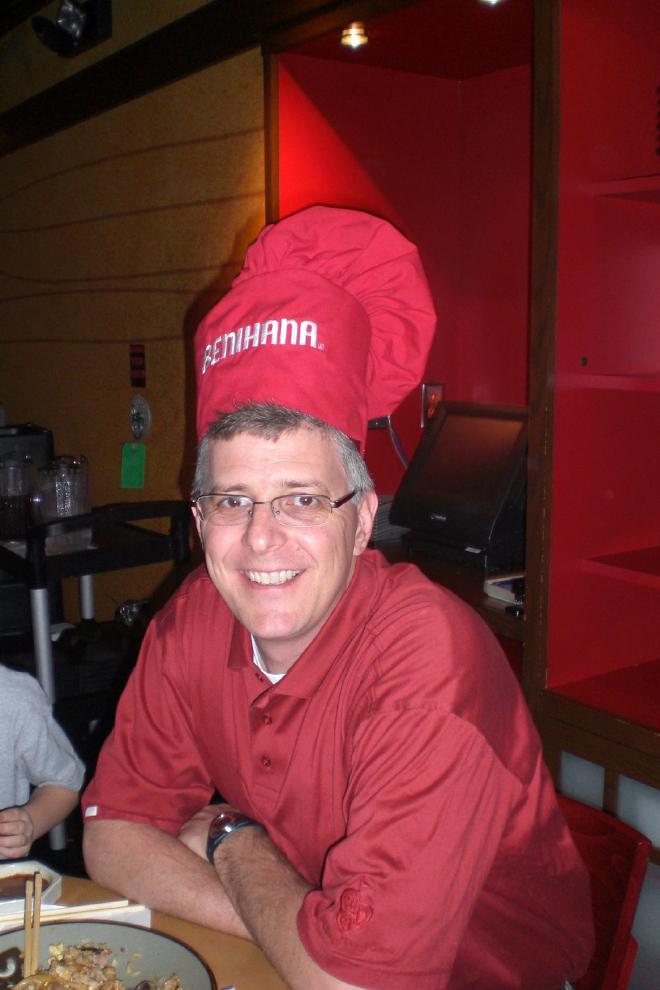 Now I added in the super fab parts, but you needed to know how good they were. The pork tenderloin recipe is from our school cookbook and families RAVE about it and it only has two!!!! ingredients so I'm all over trying it! The super fab pie we had at a party on Friday night. It was SO good. It sounds a little weird…in fact the official name is "mushy pie" but I think that sounds unappetizing so I changed it to super fab…. you really must try it. I hate to keep quoting Rachel Ray, but it truly was "delish".
Here are the recipes if you want to try:
Super Fab Famous Pork Tenderloin
1 18.4 oz. pkg. Hormel Teriyaki marinated pork tenderloin (must be teriyaki!)
4-6 slices raw bacon
Preheat oven to 350 degrees. Unwrap pork tenderloin and starting at one end, wrap bacon around the pork. Continue wrapping the bacon starting each slice where the last slice left off. No pork will show as all will be covered with the raw bacon. Bake uncovered for 1 hour. Remove from oven and lsick into about 3/4 inch slices. Enjoy. (This portion serves a family of 4 - cooking time is the same if you double recipe and use 2 tenderloins).
(I know this is a dangerous thing for me to say, but people….it only has two ingredients - how hard can it be? I already feel like I'm going to regret saying that.)
Here is Aunt Vlasta's Super Fab Pie:
Crust
1 stick oleo
1 cup flour
3 Tbs. powdered sugar
1/2 cup chopped pecans
mix together till crumbly, press into pie shell and bake @ 350 for 12-14 minutes
Filling
8oz. cream cheese
1 cup sugar
Beat together until creamy.
Fold in one small container of Cool Whip.
Put mixture in cooled pie crust - top with 4 sliced bananas then pour 1 can of blueberry pie filling over top. Put in refrigerator until ready to serve.
And Please! Don't let the mention of the phrase "mushy pie" turn you off from this culinary masterpiece. I mostly only like chocolate desserts, but I have to say, this is a new favorite of mine. The problem is going to be how to get a birthday candle into it!
Bill is getting Bruce Springsteen tickets for his birthday from me. Figured I owed him after he sat through Celine Dion with me.
But, it just goes to show….we truly were made for each other.