Tomorrow ...
First.
Please….
A moment of silence for Bill's beloved Minnesota Vikings.
Speaking of Bill he has been in Orlando all week and returned late this afternoon.  I didn't mention he was gone so as not to tell the entire internet that I was home alone …. or as alone as you can be with 4 kids and a 15 year old dog.  And I am SO glad he's back.  I think I set a personal record today on carpool shuttles.  We had 5 basketball games, a volleyball tournament, Caroline worked half day for the basketball league, Brittany went to gymnastics and me? … Well, I went a little bit crazy.  But that's not that unusual.
Bill got back just in time to take Jacob to the Monster Truck Jam.  We're classy like that.  Jacob woke up AT THE CRACK OF DAWN squealing …. "Daddy's coming home … we're going to the Monster Truck Jam today!!!!!".  Honestly, if he asked me once if it was time to go yet he asked me a hundred times.
And I think it's good for Bill to have this diversion as it keeps his mind off the fact that the Super Bowl is tomorrow and, were in not for a little NFL rule that doesn't allow both teams a chance to score in overtime, this might be a very different Super Bowl Sunday for us.  Between you and me, I think Vikings fans are so crushed year after year when they don't make the Super Bowl because all winter long the Vikings have been the excitement in their lives.  It is what they had to look forward to each day.  It was either that or focus on the fact that it had been freezing cold and gray for weeks on end (which, come to think of it has been a bit like Houston lately …. minus the snow).
I'm not sure how Super Bowl Sunday will play out at our house.  I haven't been stocking up on game day food or anything because, you know, I don't want to call attention to the fact that the Vikings aren't actually IN the Super Bowl.  So, seeing how I can't make any cute Super Bowl treats at the moment, I thought I'd pass these cute cupcakes and Oreo cookie ball footballs.  I've "featured" the oreo balls on here before but Bakerella does a number on them and turns them into footballs and I think it they are TOO cute.  And since there aren't many ingredients maybe you have just enough time to whip up a batch before the big game.
Assuming you aren't a Vikings fan, who will you be cheering for tomorrow?
And if you are … well, my condolences.
***The following is taken from Bakerellas site.  LOVE it!  Check her out!
from bakerella.com by bakerella
1 person liked this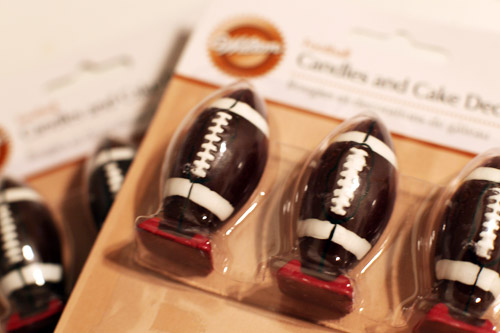 Okay, so I realize it's almost too late to post something Super Bowl related and all – seeing as how the big game is tomorrow night. But, I found the cutest little football candles at Cake Art and I couldn't pass up using them. So, to keep things relatively quick and easy, I went for cupcakes.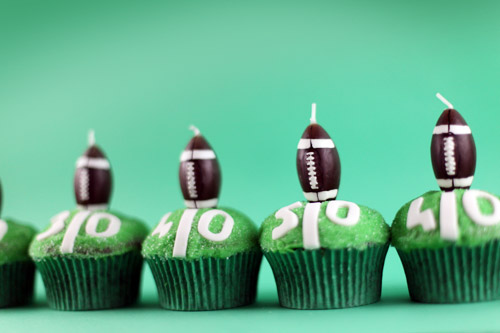 Little football field cupcakes. I used Martha's One Bowl Chocolate Cupcake Recipe. One, because it's a quick, yummy recipe and two… it all takes place in … you guessed it … one bowl. Less mess.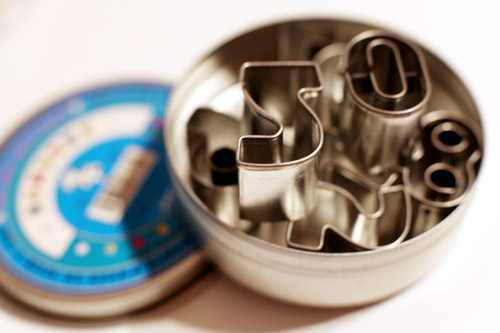 The numbers for the field are made using tiny tiny cookie cutters and cutting out the shapes from rolled fondant. You can also pipe on the numbers with buttercream.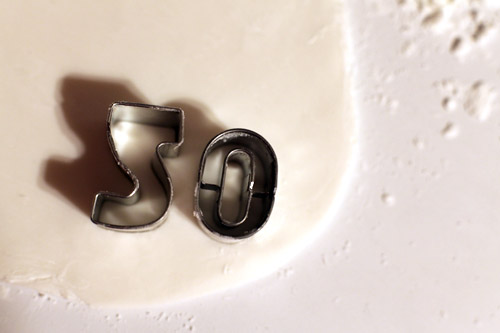 You can find fondant it in most craft stores. Roll it out thin and cut out your numbers. You'll also need to cut some thin, straight strips to go in between each number on top of the cupcake.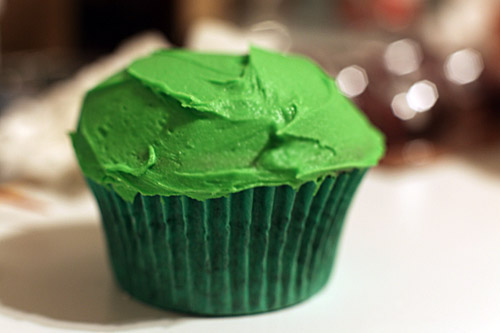 Make and tint your frosting. I used kelly green icing color with this buttercream frosting recipe.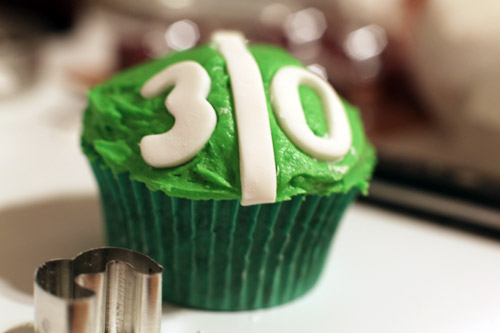 I frosted the cupcakes one at a time so they would be moist when I applied the fondant pieces. Just press them into the frosting and then dip the top and sides of your cupcake into a small bowl filled with sanding sugar. White or light green works great.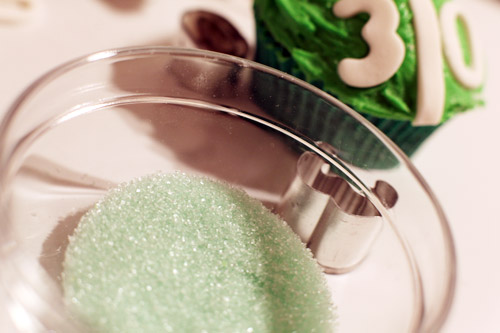 The crystals will stick to the frosting and the numbers will stay clean. As you press, the cupcake, rotate and help smooth out the frosting so you have a round top.
If you don't have football candles, you can center the numbers at the very top instead of towards the front of the cupcake and just have little football fields.
If you don't have football candles, you can also make your own oreo football truffles like these.


Just lay them on their sides on the tops of the cupcakes. I know… who has time to do that? The game is tomorrow. But that's the good thing about the oreo truffles… no actual baking, so that saves you a little time.
Now, by some stroke of luck, you do have these football candles, you'll need to leave an opening at the top so the candles can be inserted without messing up your fondant stripes. Like below.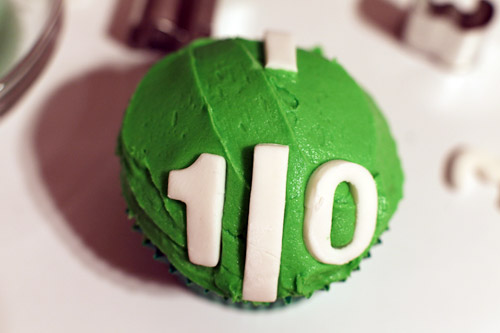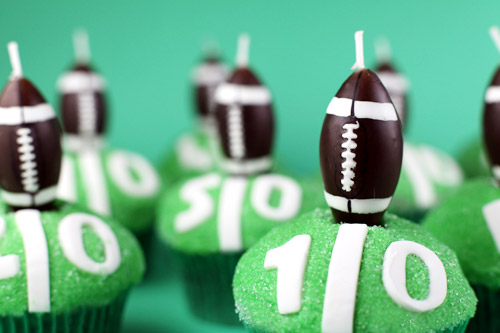 There you go… cute little football field cupcakes.
Relatively easy to decorate with great visual appeal.
I should have stopped there, but then I lost my mind and decided to recreate the Super Bowl XLIV Logo out of fondant.
Umm… this took me a little while to cut out. Therefore… I just made one.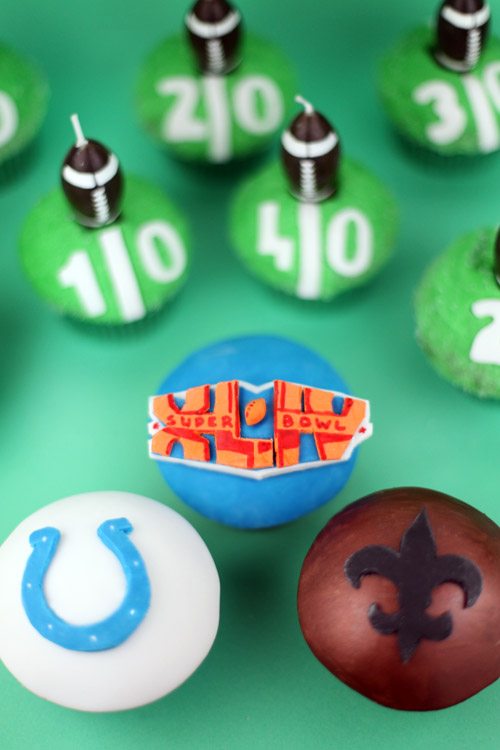 Definitely would have been easier on a larger scale. I also made a Colts and Saints cupcake to finish off the set. The shiny effect on the Saints cupcake is achieved by painting the fondant top surface with Mahogany luster dust. First the fondant was tinted light brown with icing color.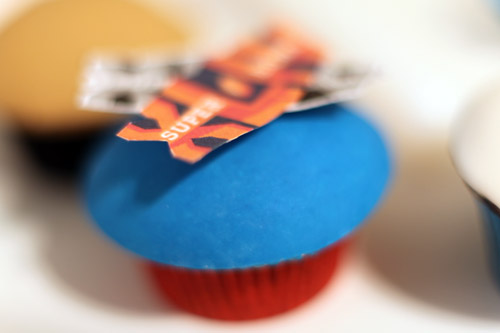 To make the logo out of fondant, I printed the logo out on paper and cut out all the different pieces with an x-acto knife to use as templates. Kind of like putting a puzzle together.
White border – One fondant shape
Blue background – One fondant shape, but smaller
Orange letters – a pain in my you know what.
Red edible ink pen for details.
If you remember, the Mii cupcakes… it's the same technique.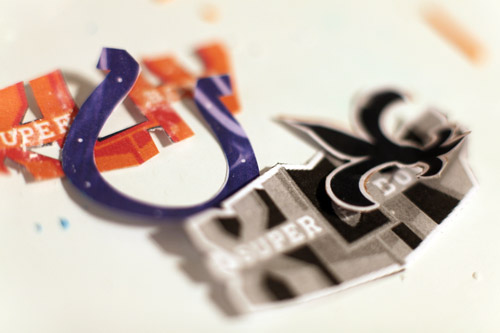 Paper templates.
Now, I recently heard about a new technology that will make this whole process a breeze. If you scrapbook, you've probably heard of a Cricut Cutter. Well, they are coming out with something called Cricut Cake. It will cut out fondant shapes in seconds. One thing I don't know for sure and maybe one of you do. Will the Cricut Cake cut out any shape? Can it be programmed with custom designs or does it simply come with preset designs. That's gonna make a huge difference. Anyone know?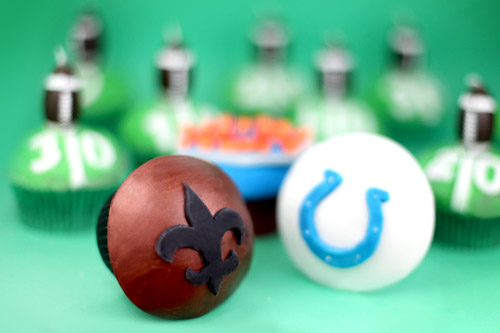 Okay, so who's gonna take it? Saints or Colts?