The Case of the Missing Blackberry ...
Last Thursday night Bill flew into Lake Tahoe.
I made the 1 1/2 hour drive out to pick him up … this time with a GPS.   You see, when I flew in, I incorrectly typed in South Lake Tahoe, CA and our cabin was actually in South Lake Tahoe, NV.
Trust me, it can get confusing .. the state line goes directly through the middle of the lake.  So, I
went on instinct,  and, defying all logic and reason actually made it to our cabin.  It was on the top
of a mountain.  It was VERY dark.  Did I mention is was on the TOP of a mountain? I had no idea I was even driving right next to the lake for a portion of it.  It was that dark.  I felt a little like Harrison Ford in "Raiders of the Lost Ark" where he knows he'll find the ark but it took some doing to get there.
Back to my story … as I pulled up to the passenger pick up Bill calls from his cell and says … "what kind of car are you in?" and I said … "look up" because there I was, right in front of him.
And that was the last time we saw his cell phone for five days.
Now that was very bad news for Bill but very good news for me.
I told him I thought it would show up on the way home.
I told him I thought the big guy upstairs didn't want him to have it,  it was our anniversary after all.
And there were times …. this kayak trip for example …
when we were literally giddy that no one could contact us.  No one.  And honestly … this kayak trip was one of  THE highlights of the trip.  We had to leave our camera onshore after we were warned by the kayak rental place …"this lake is actually more dangerous than the ocean".  (On a side note they also looked at us like we were C-R-A-Z-Y after they asked … "you do have water bottles don't you?" and we just shrugged and said "no".  We weren't planning on the 3 hour tour going the way of Gilligan's Island .. but they seemed to think it might.
I SO wish there were pictures because we kayaked to this island  (about 5 miles round trip)…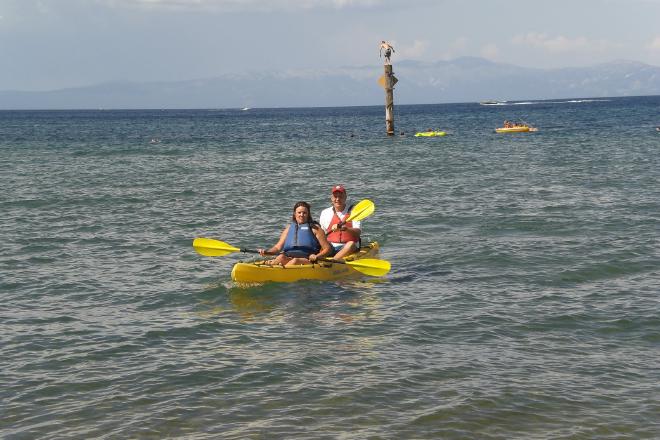 climbed up to the castle, climbed back down, swam in the wonderfully cool, glistening clear lake and then while Bill got the kayak I went and jumped off a cliff.  SCARY but crazy fun.   By the time I actually jumped boats from all around had people chanting … "Jump, JUMP" and doing countdowns and the like … but I had to take my time.  I can't tell you how glad I am that I did it … I only wish there were pictures.
So … back to my story … the blackberry was gone.  Bill's company tried to overnight him one not once, but twice … but to no avail.  He had literal fires to put out as a pipeline facility that he handles media for in Georgia literally burned while we were gone.  (To make matters worse, some virus attacked his laptop and he was literally a media man with no media.  None at all.)
We left Tahoe on our route home and stopped at the gas station where we had bought gas when he flew in to see if it was there.
It was not.
We went to Lost and Found at the airport.
It was not there either.
Now remember … I said all alone I thought he'd find it on the way home … I just knew it, but Bill wasn't so sure.  We prayed about it as we drove towards Reno because we assumed once we flew off it would be forever gone.
Finally we went to turn in the keys for the rental car and Bill unzipped one zipper on his backpack that apparently had gone unzipped despite the fact that he took EVERYTHING out of his backpack and shook it (you'd need to see his backpack to see how many zippers it has, but still …).  Right there … RIGHT THERE … in that one pocket was his blackberry.
It had been there the whole time.
I knew we'd find it.
I just knew it.
Personally I think the man upstairs knew the vacation was over.