What's the Answer?
Yesterday at breakfast I asked Jacob what he wanted for dinner that night. (The very fact that I was thinking about dinner before 8 am is a flat out miracle).  I still haven't made a "big" grocery store run since our Spring Break trip and it's been slim pickings in the food department around here.
I knew I was going to the store later and was hopeful he would tell me just the thing to make.  He suggested something that only has three ingredients so I said "PERFECT".  In fact, the recipe calls for a pound of hamburger which (miracles abound!), I just so happened to have in the freezer, already browned.  I set the meat out to thaw and knew I'd pick up the other ingredients after my exercise class.
By four o'clock I had dinner prepared.  As in READY TO EAT.
And I waited.
I waited because Bill usually calls about 4:00 and asks "what's the dinner plan?".  I'm pretty sure this started because he grew tired of walking in the door after work and asking the same question only to see  me get a panicked look on my face when I remembered that I meant to think about that earlier.
I was so excited to actually have an answer for him … but he didn't ask.
We were meeting up at 5:00 at the middle school track meet.  Savannah made it to finals in hurdles (so proud and amazed at her jumping over those hurdles!  I can barely walk without tripping and she jumps over hurdles and makes it look easy).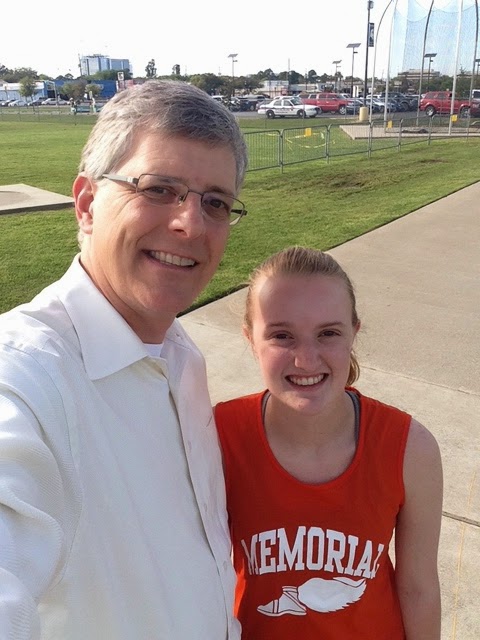 Still Bill didn't ask about dinner.
I was about to burst because I had an answer!
While I was driving home I called my mom because SOMEONE needed to know I had made dinner early!  HA!
Finally when Bill got home he asked and I think I saw a little shock and awe (and probably relief) on his face when I had an answer.  (yay me!)
And speaking of having an answer … I've been writing sessions for a womens retreat on hope.  Today I was reading
1 Peter 3:15-16.
It says …
Always be prepared to give an answer to everyone who asks you to give the reason for the hope that you have.
Basically Peter is saying … if anyone asks you about your faith … know the answer.  Be prepared.  Don't wing it.  Don't "think about it later".
As fun as it was to have an answer for Bill on our "dinner plan" … how much greater to have an explanation for the hope I have in Jesus.
I want to always have an answer for where my hope comes from.
And I WISH I always had an answer about the "dinner plan".