Summertime and the
livin' is easy ...
I love summer. Like REALLY love it. I'm a stay up late and sleep in kind of person so the school year messes up my sleep cycle. School ended for Jacob last Thursday at 12:30 and by 4:30 he was playing his first summer league basketball game. We've been reading and walking (gotta get those steps in) and, believe it or not, I've been cooking.
I know, SHOCKER.
The most shocking thing is that so far it's been good and you know that is not something I say very often at all! I spent a little time on Pinterest, made a grocery list and so far we've had yummy paninis, shrimp tacos, a chicken and strawberry spinach salad, salmon, steak and tonight we are having Pioneer Woman's meatball sliders.
Pretty much I'm killin' it in the cooking department.  (Surely these are end times!)  We all know this is normally how it goes for me: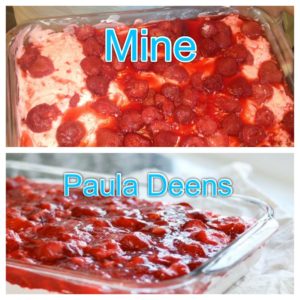 Wanted to share one quick recipe with you … it's one that 6 out of 6 Baergs agree is a keeper and that doesn't really happen very often. In fact, I made it when Caroline was home and I overheard one of the kids say to her … "don't worry, this is actually really good".
It's called Spark pasta. We named it this after the 8th grade boys we hosted for Spark Weekend gobbled it up. The recipe actually came from my "For the Love" book launch team friend, Cheryl Moses. When I spoke at her church during Christmas they served this and it was SO good. So glad she passed along the recipe to me.
Also, you should know … Cheryl was making this for a crowd.  The amount below will make two 9 x 13 pans.  It is easy to half which is what I did for our family.
Spark Pasta
2 boxes penne pasta
1 bag cooked/sliced chicken breasts (Sam's or Costco is where I found mine)
1 jar Barilla pesto
3 jars Presto Homestyle alfredo sauce
2 cups Paremesan cheese, shredded
Milk if needed
Cook pasta.  Dice chicken and then coat with pesto in a large bowl.  Once pasta is cooked add into bowl with chicken and add Alfredo sauce and parmesan cheese.  Mix well.  You can add milk to thin out the sauce.  It will thicken while baking.  Cover with foil and bake at 375 º for 40-50 minutes.
Note:  The amount of pesto/sauce you use will depend on the size jars you buy.  I bought the pesto at Costco and didn't even use half the jar when I halved the recipe.  If chicken is coated well that is plenty.  I used 2 jars (I think) of the alfredo sauce.
Try it, you'll like it!  And happy summer!