The most exciting 18 seconds in Baerg family summer sports
A little over a week ago we packed our Suburban for family camp. Before we left town we had to make a stop at the University of Houston. There was one little detail Brittany wanted to wrap up before finishing up the swim team season.
She had been invited to swim in the Meet of Champs. 3 swimmers from each age division/stroke on the neighborhood teams are invited to come compete against the best of the best from other area teams.
Brittany swam against 27 other swimmers on Saturday to earn one of 9 slots in the races on Sunday. She had a personal best time of 18 seconds in the breast stroke and was seeded in first place for the race the next day. She also qualified in each of her other strokes and so back we went to the natatorium on Sunday.
But her main goal was first place in breast stroke.
And here's the thing about Brittany…she's got a fire in her belly.
She's quiet but competitive.
She's in it to win it you might say.
And so when the horn sounded Brittany swam for first. It was a photo finish, but she pulled it off.
She also placed in her other strokes and relays. She was proud of those too.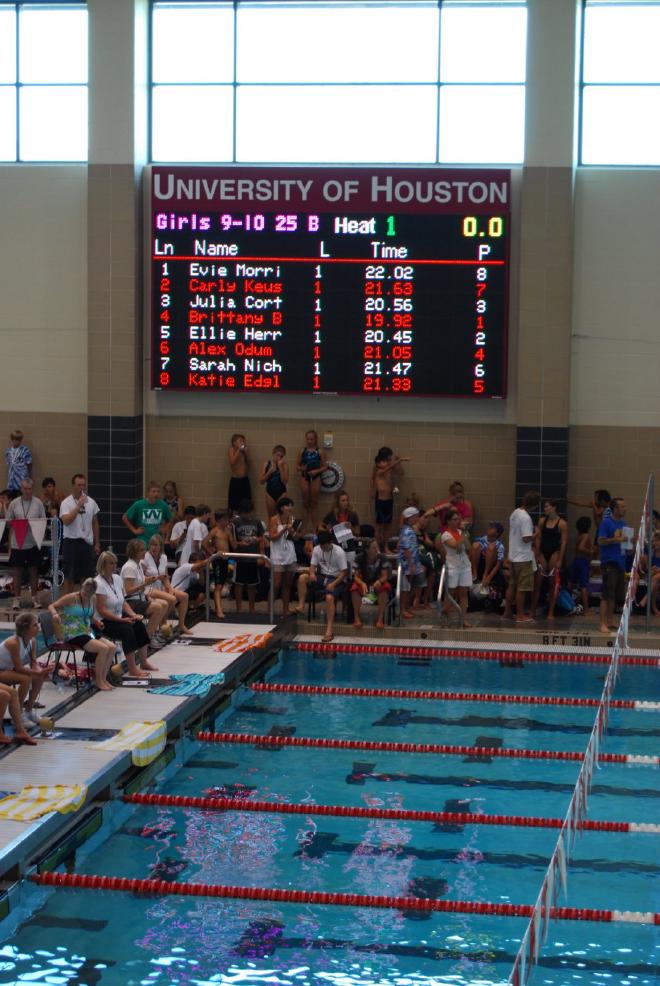 But this blue ribbon…this is the one she'll never forget.
We're proud of you Babs! You worked really hard all season for that!
Oh, and our team…the Memorial Bend Barracudas…they came in first place too.
And Brittany…well she was one happy camper.