For this I am thankful ...
We are a busy family.  It's true.  We spend a lot of time participating in sports, music lessons, various after school activities, etc.
Sometimes I think we should limit it better … but I never know what thing(s) to cut out.  If anyone ever balked … we'd back out … but they don't.  Britany goes to the gym four days a week for four hours each day … and she prays on all four of those nights … "thank you God that I got to go to gymnastics today."
On Wednesday nights our family chooses to do church choir and a missions program.  Sometimes I ask myself why we are doing this … it seems crazy.  We race all week … why not set aside this night to stay home.  And there is a lot to be said for that and I don't fault anyone who makes that decision.  But for us, we go to choir.  Our church has a fabulous childrens choir program with wonderful workers that teach the children hymns, Bible verses and a love for music.  The program goes from 3 years through 5th grade.  (My 8th grader said "no way jose" to the youth choir.  At first I balked, but we reached a very happy agreement where she goes to the youth Bible Study on Wednesday nights but uses the other time to study.  She is an excellent student and not one of those who likes to do it all.)
Last night Brittany, Savannah and Jacob all three sang in the Thanksgiving program.  And watching them I was so … well, thankful.
*Thankful for 4 healthy children.
*Thankful that our children are learning to sing God's word.
*Thankful they are making a joyful noise unto the Lord.
*Thankful for a church that emphasizes music and has a such a wonderful choir program.
*Thankful for workers that take time out of their own busy lives to teach my children.
*Thankful that their choir programs reflect the importance of giving God your best work.
*Thankful that Brittany got a small speaking part and valued it so much that she didn't go to the gym Saturday morning (shocking, I know!) so she could participate in the dress rehearsal.
*Thankful that I made the effort to get them there … even when we were slamming down supper and no one could find their shoes.  :)
*Thankful for Jacob … looking back at me with his sweet smile.
Thankful for the joy of watching my children sing: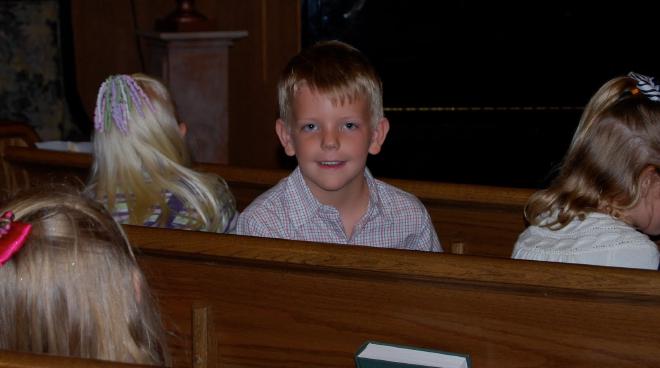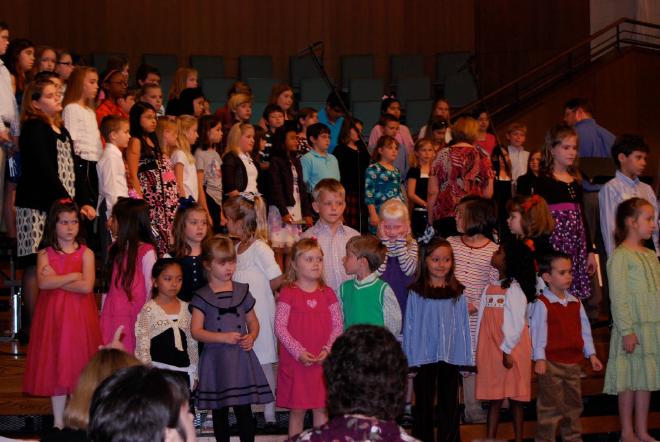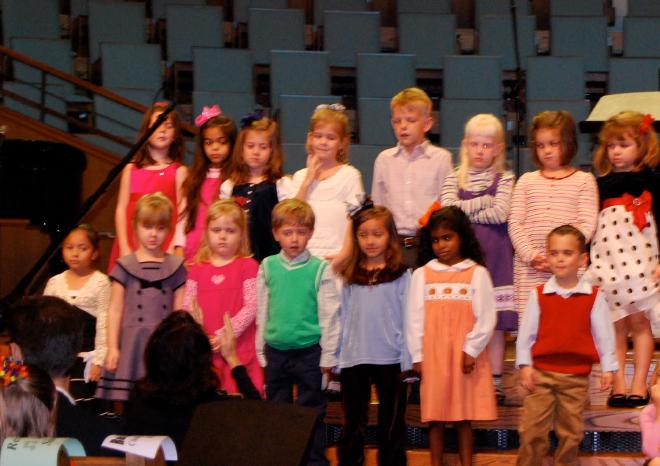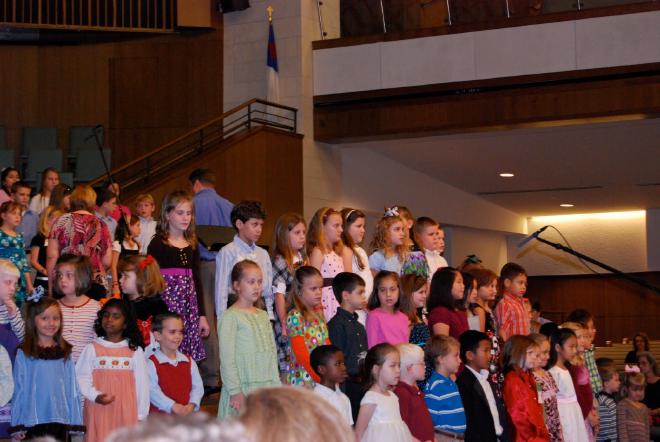 That's Brittany on the right … telling everyone to have a Happy Thanksgiving.
And I will … because I have so much for which to be thankful.