Midland's on my mind ...
I wanted to share a few pictures from Midland … mostly so you could see what fun we had!  I miss my Midland friends so much!  You'll see a few of them here, but somehow I got out of town without getting a picture with Pam, my chauffeur extraordinaire for the weekend.  Although Pam is her name, I will forever call her sister, because it's almost like we were separated at birth.  She was so fun, so patient and so kind.  And I really, really miss her.
Oh, and I do partially know why I don't have a picture with her … it's because I forgot my camera.  I'm still sick about it.  So, these photos are from the "official" photographer.
I flew out Friday morning and arrived in Midland in time for lunch.  We went to Jorge's and Pam (aka my sister) talked me into getting a naked rellenos.  I told her I'd never ordered anything "naked" before at a restaurant but it sounded so fun to say that I just had to do it.   Let me tell you … it was guu-oood.  She even gave me an "insider tip" to put queso on top of it … even more delish.
Then we went to the one, the only … Miss Cayce's Christmas Store". If you never do another thing I suggest … PLEASE click on that link and go to the website.  If I had taken pictures … they would be of the things on the website.  There is a slide show and you can see all the different "vignettes" that are set up around the store.  They plan bus trips from San Antonio and are considering one from Houston … and if they do … please come with me cuz I'm not missing that bus.  It is the most amazing, charming Christmas store I have ever been inside.  I told them it was like I've wandered in regular ole' Christmas stores for 40 years and then low and behold … this year I made it to the promised land.  Just trust me … it's worth a trip to Midland to see this store.  TRUST ME.  It's breathtaking.
After spending HOURS in the Miss Cayce's, we went over to the Convention Center … called "The Horseshoe".  Since I would be busy the next day, many of the vendors let me shop.  Well, me and my "sister" Pam did some shopping … oh yes we did.
That night we went to dinner at a fun place with fun friends … it felt like I had known them for years.
Saturday morning the event opened at 9:00 for the ladies to shop.  There really were great vendors with a great selection of gifts, jewelery, clothes, etc.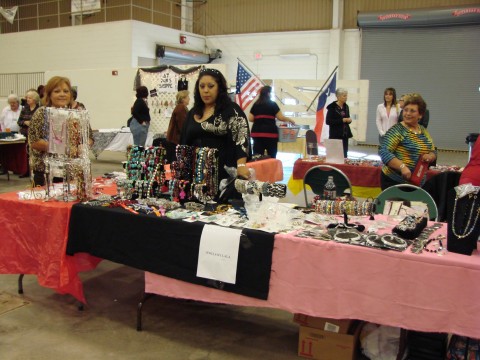 Close to 11:00, people began to find their tables.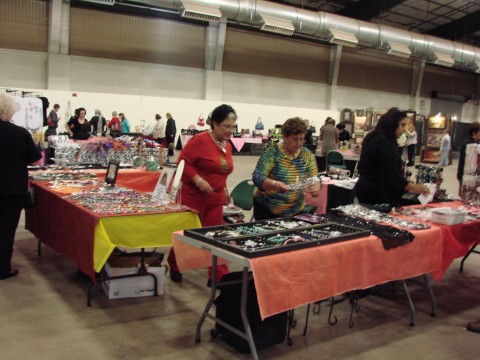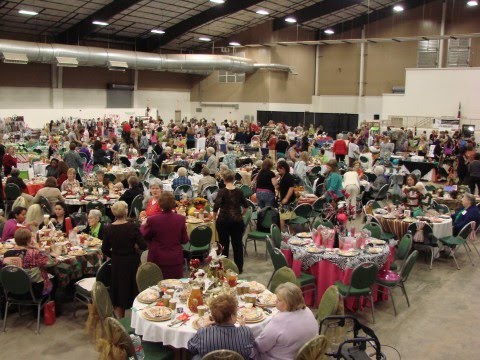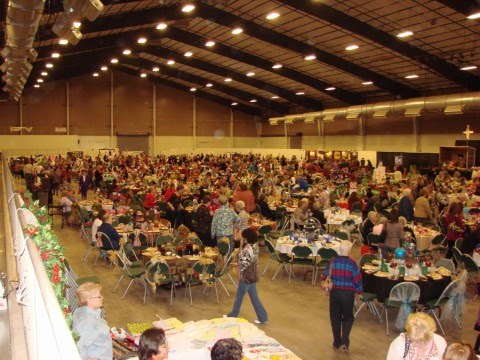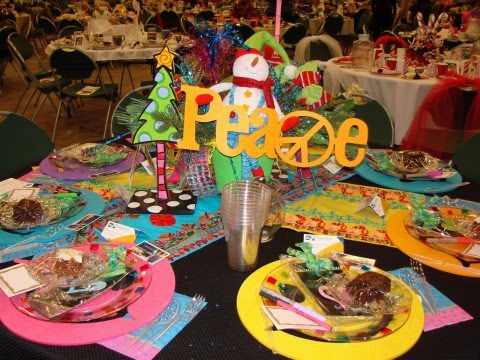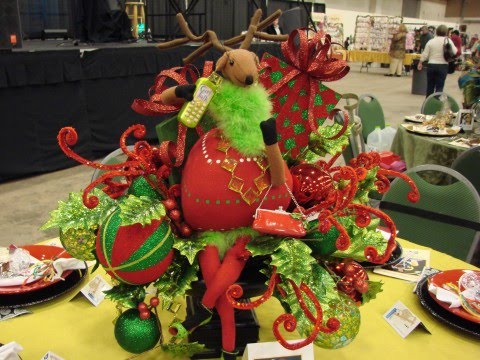 Each table had a favor for the guest to take home.  I got a neat Christmas nativity ornament.  The table above with the sand castle on it … well, each of her chairs was draped with a beach towel.  She decorated with beach towels…how cute is that?!?
Another new friend, Sharon, told me the story that on Thursday afternoon she went to buy some zebra print plates.  They no longer had any, so she decided to decoupage some plates.  DECOUPAGE?!  Who thinks of that ?  Sharon, that's who.  And then she dressed to match the table … seriously, how cute is that?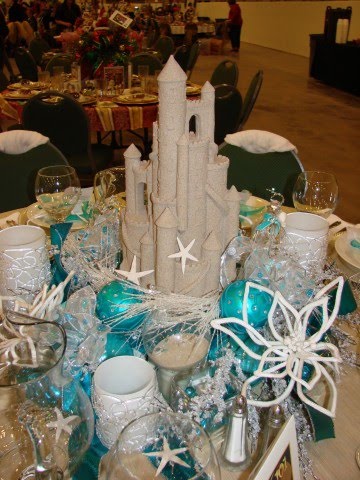 OH!!!!  See the lady in the black jacket just over Sharon's shoulder … that's my "SISTER"!!!  I do have a picture!!!
While we ate, there was an informal style show … they thought of it all!
Then a special woman named Karen Fisher did the music and was so incredible.  I have her 3 CD's and they have been blessing me so much.  Check out her site … I think you'll love her music too.  She and I want to go on tour together.  Her music seems to be made for my talks or my talks for her music or something like that!
Then I spoke after Karen sang.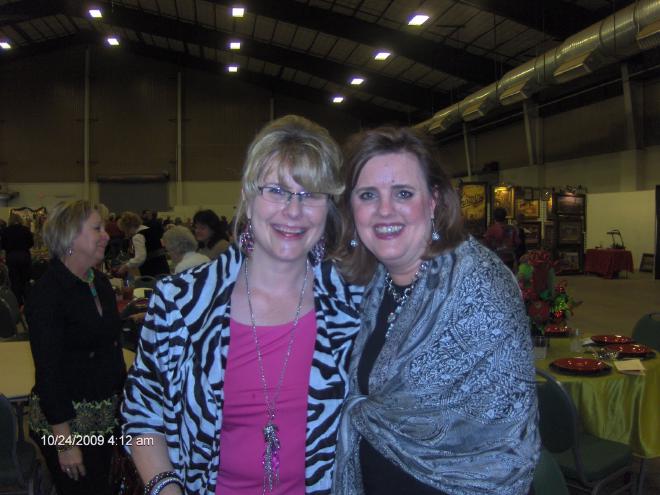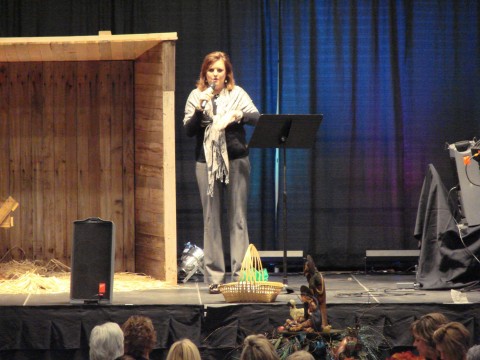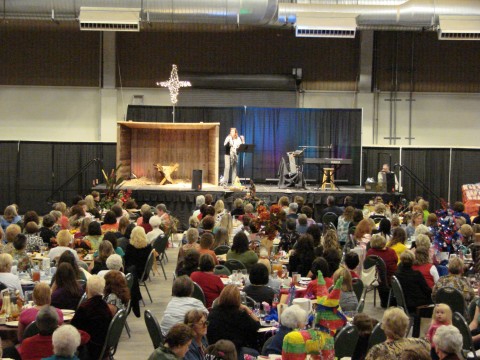 I can assure you that I didn't sing … although you might wonder by looking at that picture!
There were "a few" people there: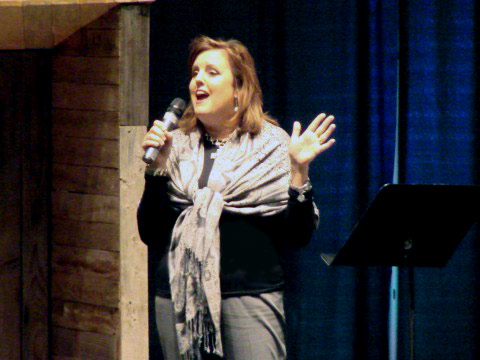 There are more pictures I want to share at some point, but Caroline has gone to bed and well…I don't know how to scan them myself.  :)
So stay tuned.
And this is just a little tip … leave Karen's music open in another tab and listen to all her songs.  I think you'll be blessed.
And sweet Midland friends…"I thank God upon my every remembrance of you".