Better than expected ... and I was expecting it to be pretty awesome!
Y'all, I don't even know where to begin.  I can't think of a way to put words to what was one of the highlight weekends of my life.
They say having teenagers is rough … and I know I'm only 9 months into this (and I do have realistic expectations about what the future holds) … but for this weekend in time … having a teenager was perfect.  You see, this weekend I didn't just have a teenager, I had a friend.
Caroline and I laughed and we laughed and we laughed.  We shopped, we ate chocolate, we had a makeover … we did what girls do on a girls weekend.
And I loved it.  Every second of it.
From the time we ordered Pappasito's Tacos in the airport (my lands they were good and it would just be all kinds of wrong to leave Texas without first eating a taco) to the time we ordered another taco when we returned, it was perfect.  All of it.  Things worked out we could have never planned, restaurants opened up just as we arrived, we found just the things we were looking for … and best of all we enjoyed each others company.  Here is where the adventure began:
We laughed about stupid stuff like when the heel on my right boot broke as we walked into the Hyatt.  That foot kept going deep into the ground and I told Caroline how strange it was that the Hyatt put carpet over a grate and that my foot kept going down into the grate.  Until I looked at my boot.  I thought it was hilarious.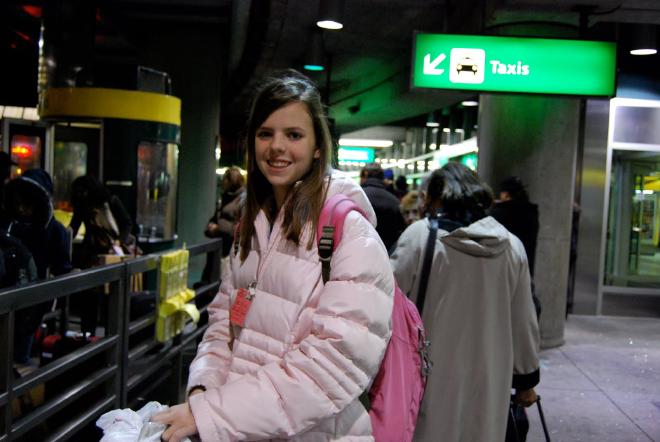 Two words.  Ding-y.  (get it - two words!? HA.)
Luckily I had my tennis shoes - which proved to be more "mom attire-ish" and less "New York trendy" but they were comfortable and we covered many a New York mile.
Starting at the Hyatt Grand Central Station: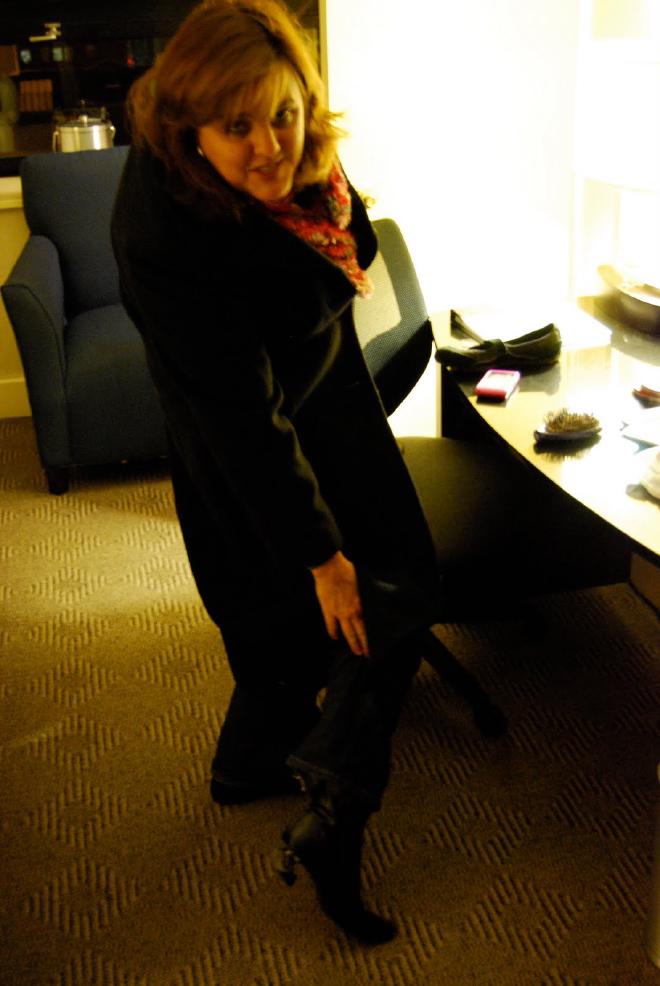 Even though we didn't get in until late, we headed out for a night on the town.
Y'all it was awesome.
First for some hot chocolate from Starbucks … because you look cool carrying the cup if nothing else: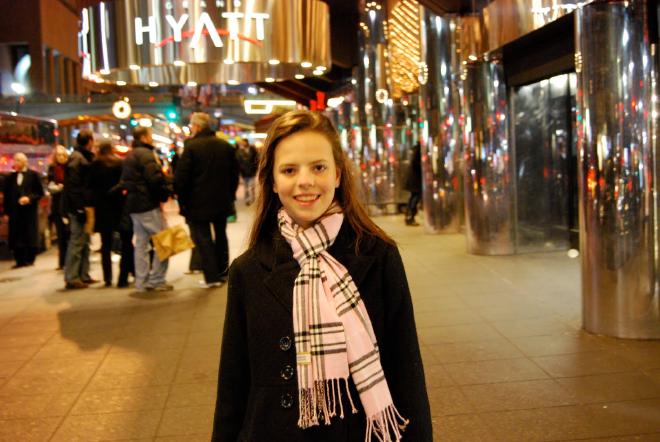 Then we got our name in lights.  BIG lights.  VERY BIG LIGHTS. VERY, VERY BIG LIGHTS.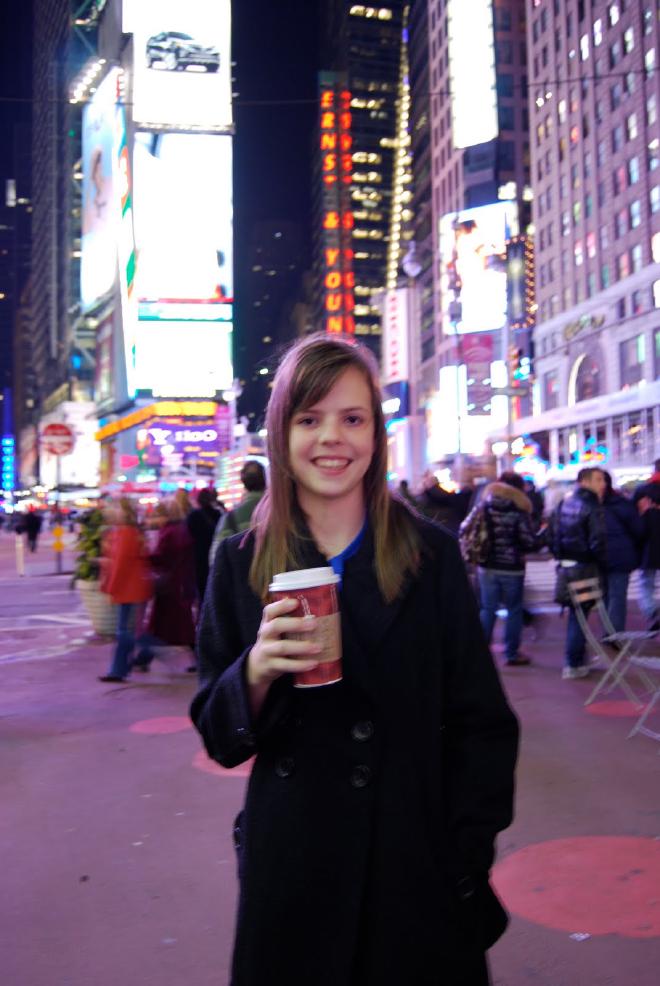 Very big lights right in the middle of Times Square.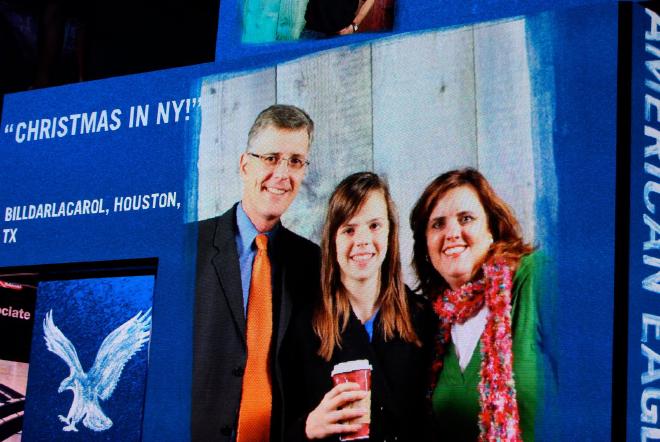 This was kind of like a really big deal.  At least for me.  I mean, there we were, right smack dab in the middle of Times Square.  The American Eagle store was running a promotion called "15 seconds of fame" and if you purchased something in their store (I bought earrings), they would take your picture, add a message and put you up in lights.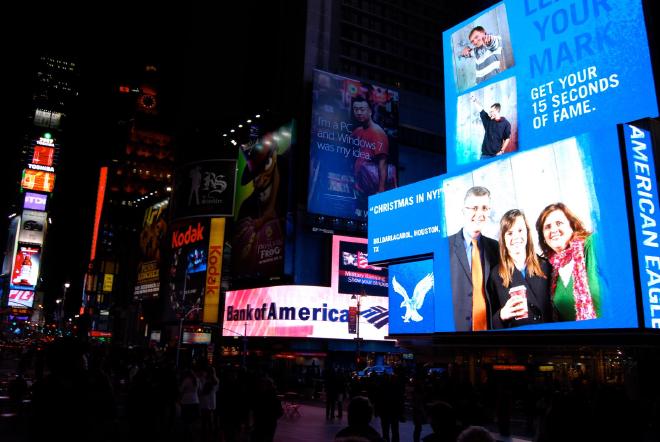 That's me taking a picture.  It was on a loop about every four minutes and so we were "on screen" for hours.  Bill was sure that his boss, one of his brokers or bankers he was working with … someone - was going to come by and see him on the big screen.  I, on the other hand, was telling everyone within hearing distance about my brush with fame.  I kept yelling "That's ME!  THAT'S ME!!"
It had  been a long time since our Texas taco so we treated ourselves to some New York street vendor "Chicken on a Stick".  I love vendor food in New York.  It just tastes better there.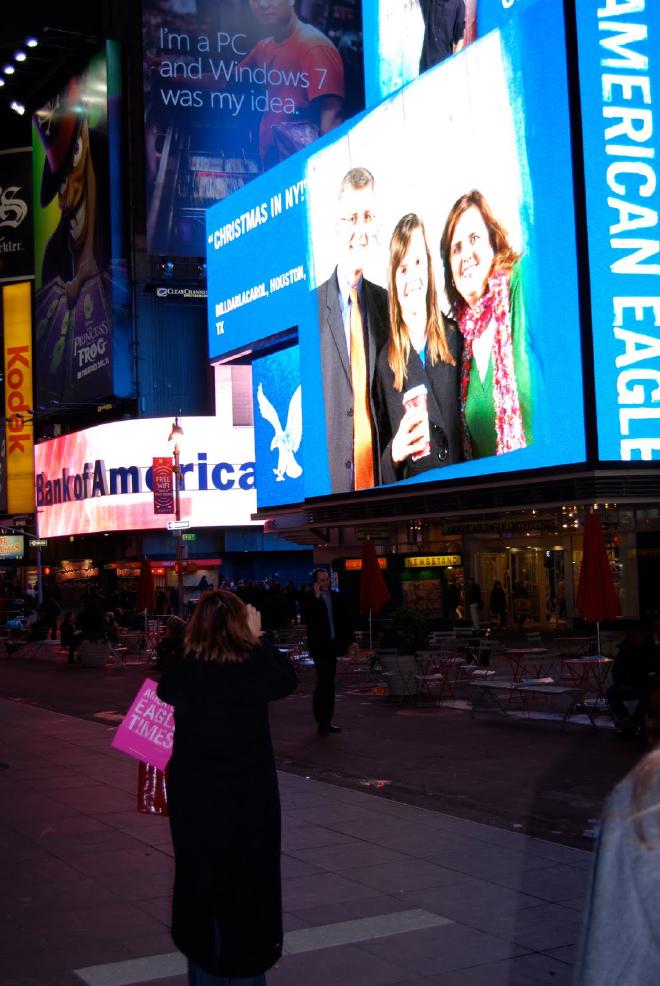 Dessert was at the M and M's store!  I'm pretty sure chocolate tastes better in New York too.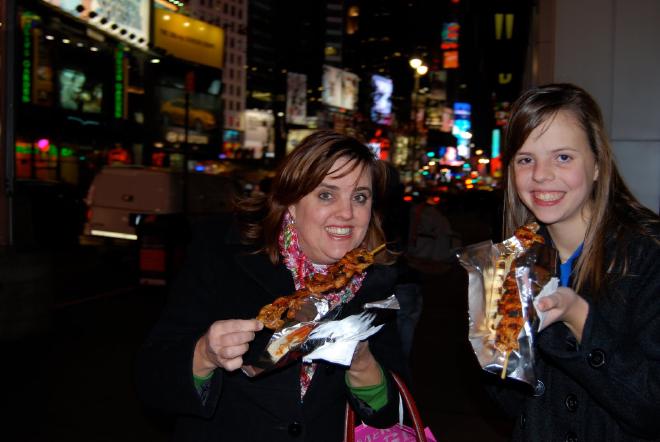 Two weeks til the ball drops … right here …
(we're rarely early for anything!)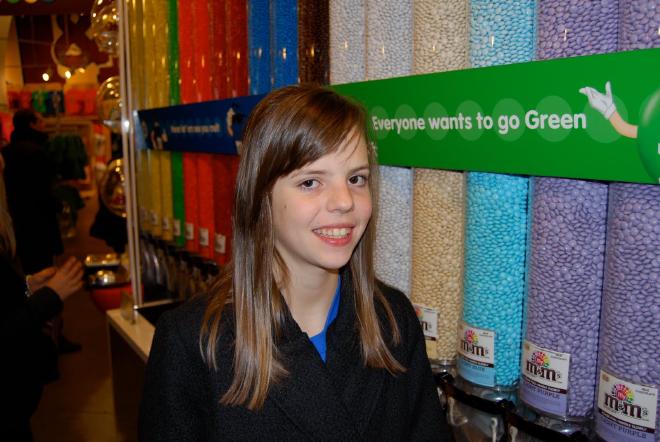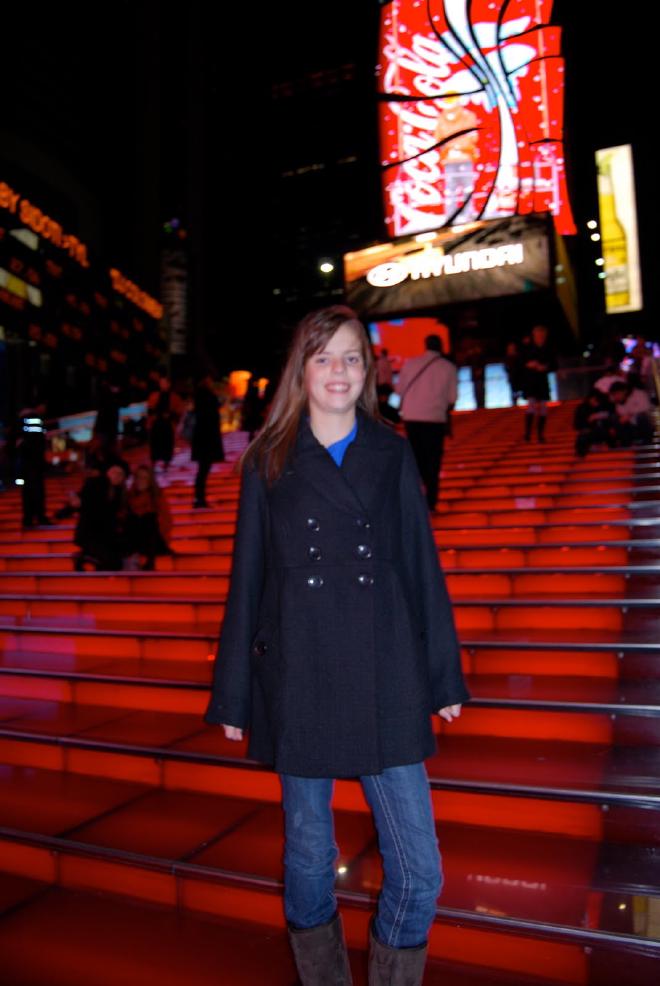 Bill Baerg for President!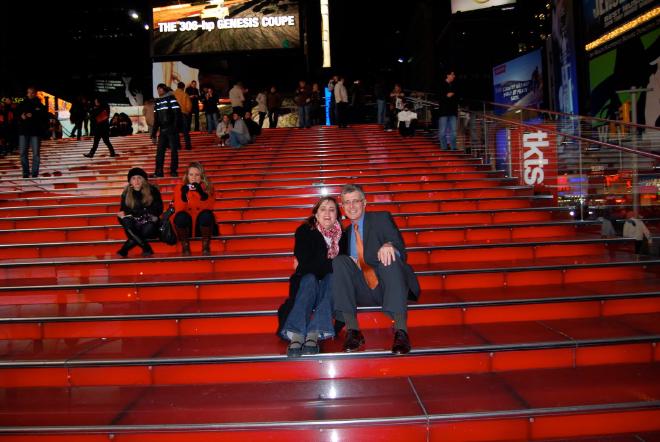 Love the lights of New York … all of them!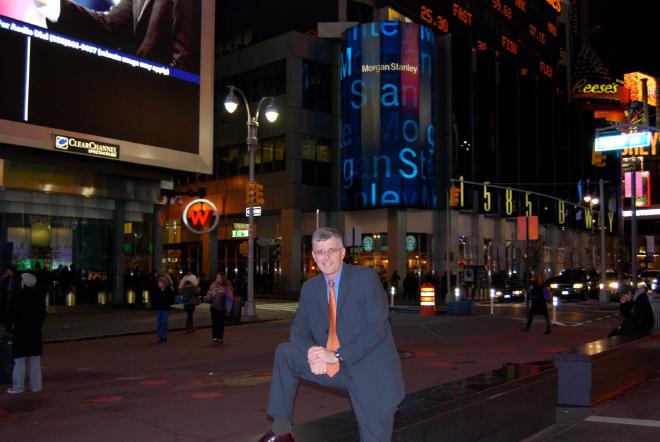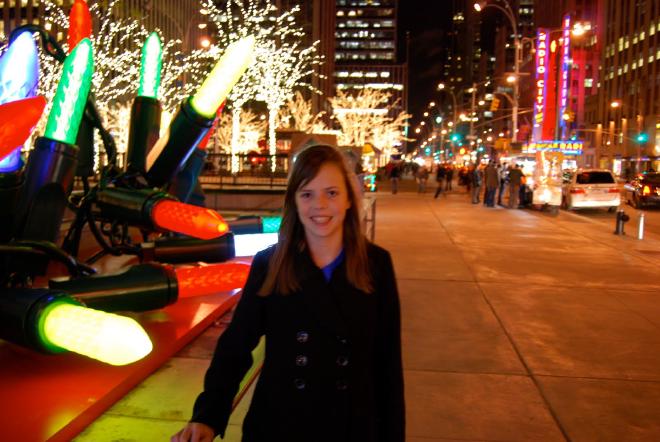 Quick trip inside the Waldorf Astoria … which is where Bill and I stayed two years ago.  It was while we were on that trip that Caroline decided her life long dream was to go to New York City.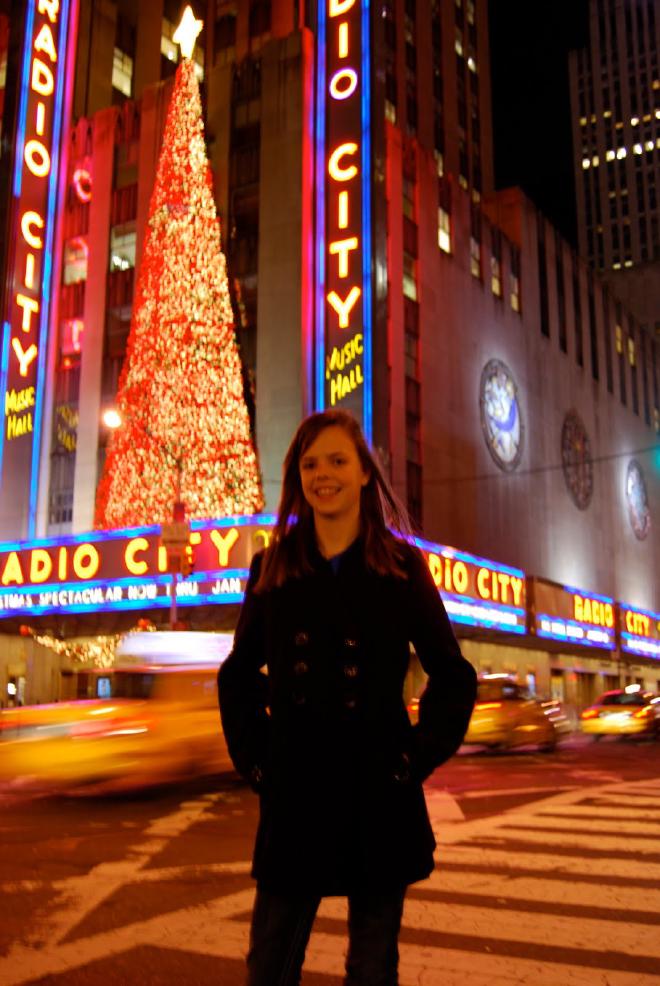 And after spending four days with her there … I'd say she fits in pretty well …
And if she can make it there, she'll make it anywhere …
New York, New York!!!
P.S.  There is so much more that you aren't even going to believe!