The Most Wonderful Time of the Year ...
I know!  I know!  It's Christmas time and I've spent the last four days writing about Thanksgiving.  Trust me, I'm always running behind schedule.  It's just how I operate … no matter how many New Years Resolutions I make to stop it.  I really would be so appreciative if Congress or the President or someone could move up Thanksgiving a week or two into November so I'd have a little more time to prepare for the holidays.
I mean really … we're celebrating Christ's birth!!  I want time to do it right!
Which is one reason why I love this new blog that I found.
It had a BEAUTIFUL Christmas cake on it and here is the best part … drum roll please … she used a cake mix.  And I saw some other recipes where she used a cookie mix.  And I thought … now here's someone I can understand!
(I mean I love Pioneer Woman's pictures and her recipes look delicious … but I don't have the knives, ingredients, proper pans … and most importantly, the time to make most of them.  Makes me feel like a total slacker because she has four kids too.  But between you and me, I personally think she has a staff.  Maybe it's not a staff but I want to believe that it is a big staff in my mind.  Makes me feel better.  And on Saturday I can ask her because I'm going to meet her at a book signing right here by my house!!)
But back to where I started …
I love this Christmas Cake.  It's pretty … and it uses a mix.  Genius!
This is copied from Amanda's blog (click on the link in pink if you want to see all her great stuff!).
This is the easiest Christmas cake ever… and your will for sure get rave reviews and people asking you for the recipe!
_

_
_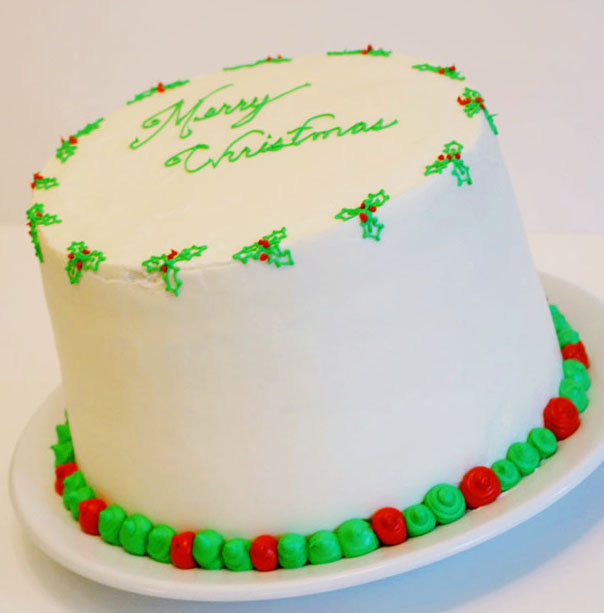 _
_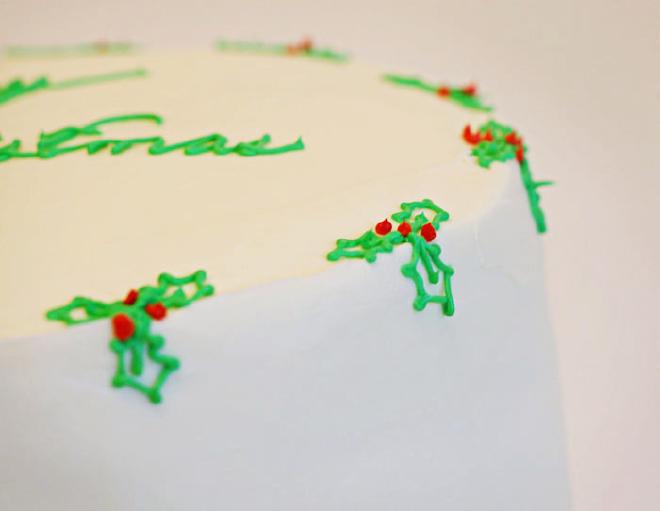 _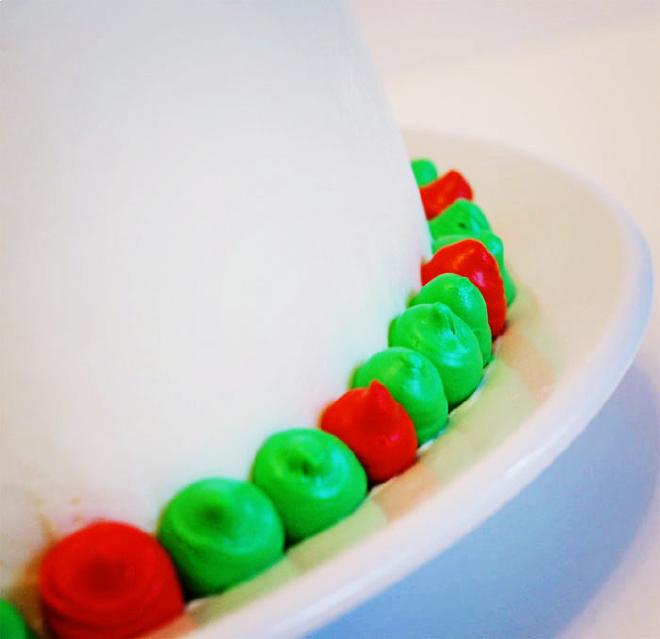 (added the year)
_

_
*OK, here is a SUPER condensed version of the recipe and instructions.
You will need:
3 Boxes white Cake
3 Containers Cream Cheese frosting (or flavor of your choice)
red and green food coloring
a ziplock or piping bag for decorating
You are going to have 6 layers total.  Three need to be red and three need to be green.  I made a box at a time.
Put cake in fridge or freezer after its has cooled or between baking cakes.
When ready to assemble, get cakes as level as possible… stack one, then add frosting.  Stack alternating color, add frosting.  Continue to do this until you have used all six layers.
When done, cover outside in frosting, and add any decorative touches you would like!
And if you are like me, sitting around trying to figure out how she got her icing so smooth, I can tell you because I asked her.
She said she watched a video on youtube that taught her how.  Which made me like her even more because that's something I would totally do.
If I had time to make a cake.  And time to frost it all perfect like.
Which I don't.
But y'all enjoy!  The cake AND the Christmas season!!