Live and in person ...
So Saturday afternoon I met the Pioneer Woman!  THE Pioneer Woman.  Ree Drummond.  Live and in the flesh.  It was very, very cool.  I even showered on a Saturday morning to get ready which I rarely, if ever do.  But PW is a celebrity so I had to look my best.  Plus, if she happened to take my picture for her blog (yeah right) only hundreds of thousands of people would see it.  The pressure!
All I could think about when I was getting ready was … HOW is she doing this book tour … in DECEMBER!?!  Bill and I are taking Caroline on a trip later this week and between lining up carpools, writing down who wants what in their lunches, trying to put out a Christmas decoration or three … well, it's not leaving me anytime to sleep.  And PW's been at this for several weeks now….and she even has to leave schoolwork assignments.
To make myself feel better about how she can apparently "do it all" - and I can barely "do" … I've decided two things.  One, I'm believing that she has a very large staff.  They are cooking, cleaning, doing laundry, etc. etc.  The second thing is that she must be doing all her Christmas shopping on line … or maybe she's bringing an empty suitcase wherever she goes to load up.
Not sure how she is doing it, but regardless of how she is doing it, she seems to be doing it well.  Myself, … I can barely figure out what we're having for dinner and she has time to take pictures of hers.  And then she writes down the recipes and blogs about them and creates websites for recipes … and homeschools.
Forget what I said earlier, I still don't know how she does it all - even with a staff!
But I loved meeting her.  I don't usually get nervous meeting people, but right when I walked up to her, I kind of froze.  This is why … when you read someone's blog it kind of feels like you're friends with the blogger, but in reality, you're not.  I wanted to say … "Hi Ree, I'm Darla."  And then I wanted her to say …. "OH Darla, I'm so glad we're meeting in person … I love your comments on the blog, they crack me up."  Or something like that.
Instead I (stupidly) said … "isn't it weird how you feel like you know someone when you read their blog but really you don't".  TOTALLY LAME.  Felt like a moron.  So, needless to say, she didn't whisper to me to meet up with her and her people for dinner afterwards or anything … which really kind of bummed me out because there are lots of cool restaurants right around here. But after my weak and awkward approach to her, I can't say that I blamed her.
Instead, we took a picture (which they had to remind me to take because I guess in my starstruck craziness I FORGOT that I had given someone the camera to take a picture.  Like I said … I did NOTHING to impress PW!):
Which, for whatever reason, turned out YELLOW.  My one shot with PW and we're yellow.  And she even has a photography tutorial tab on her website!  Apparently the person taking the picture hasn't read it.  Bummed that we're both yellow … but it's O.K.  Because, you see, she said during her Q and A session: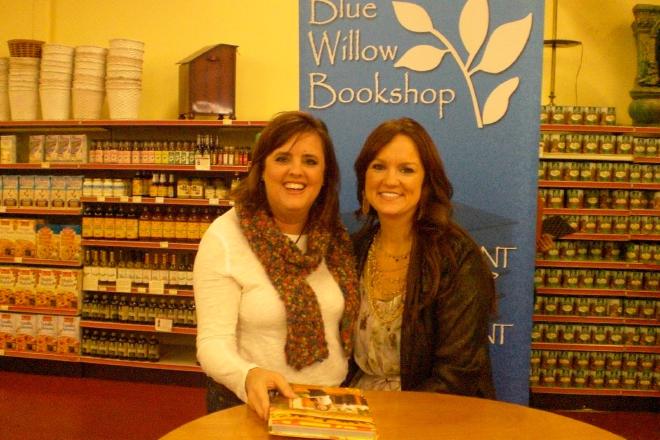 that she is planning on publishing her online novel … Tractor Wheels and Black Heels.  So, hopefully she will come back to Houston and I'll say something different and more impressive and then she'll ask me to go to dinner and I'll tell you all about it here.  You'll be the first to know.  :)
Here is the deal about PW … she has four kids, homeschools, cooks, writes, enertains, decorates, does photography … in fact, I'm getting tired just writing all that.  I, on the other hand, can never find the time to peruse the recipes, make a list, go to the store, buy the food, chop the ingredients, prepare the meal, etc.  I want to do all those things.  I love recipes, love reading about them and trying them when I can (the easy ones) but most of PW's involve fancy knives that I don't own so I have never made a single one.  I'm thinking of making it one of my New Years Resolutions to try one … but I haven't officially decided.  All that to say, I wish PW would add an "how I do it all tab" to her blog.  I'd be the first to read it every day.
And lastly … a bit of a Darla story from the book signing.  Just as I was getting ready to leave … new scarf (check), camera (check), ticket (check) … I couldn't find my cookbook.  Like the BOOK TO BE SIGNED.  No idea where it was.  I had another one I was giving to my sister so I had her sign that one for me and PW signed a piece of paper that I am, ever so carefully, going to glue into Deah's cookbook.
Once I find it.
Oh, and last thing … I met (live and in person too) another blogger who we "comment" on each others blogs every now and again.  I'd seen her pictures so many times that I recognized her right away.  Her and all her "twenty something" friends.  So I got our picture together … and we didn't turn out all yellow.  This is Chelsea: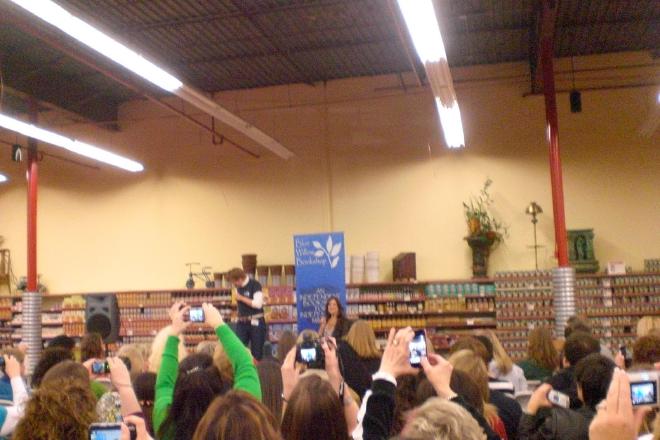 It made me feel like I was too old to be a blogger.  Until I remembered that I was the same age as Ree.
So it's all cool.