This post was going to be very, very different.
I had it all ready to go.  The title was "Some things are made to be passed down."  It was going to end with "SUPER BOWL BOUND MINNESOTA VIKINGS".
But you know what they say … "the best laid plans …".  Or maybe I had put the cart before the horse.  Either way … it's time for a new post.  Or rather an old post with a new spin.
The Vikings didn't win and they, obviously, aren't Super Bowl bound.  I will say that I think the WORST rule in the NFL is that both teams don't get a chance to score during overtime.  I've said this for years…it's not just because I wish the Vikings would have won … I'm saying it because I don't think it's fair.  Clearly they have never asked my opinion.
But enough of that … here is what I was going to say:
Bill is a tried and true Minnesota Vikings fan.  He grew up watching them year after year.  He wore this jersey when he watched them play and handed it over to Jacob while we were visiting Minnesota over Christmas.  Jacob was VERY excited.
It even says "Bill" on the back which makes it even more cool in his eyes.  He went and put it on tonight, totally unprompted, just before game time.  Bill thought that was pretty awesome.  It's like he was passing down a legacy or something.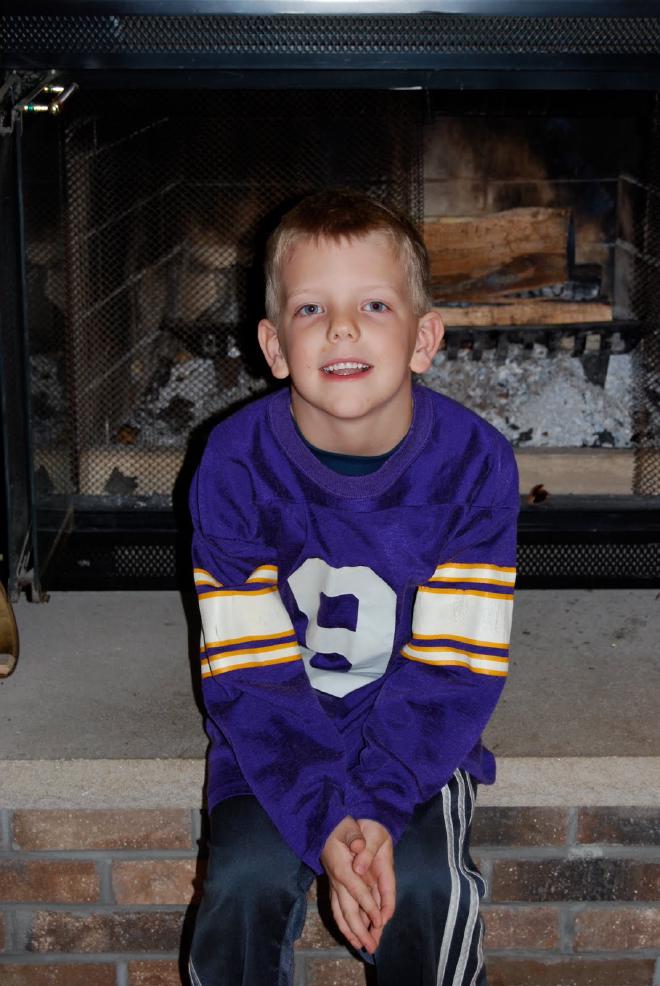 This was an exciting year because Brett Favre became the Vikings quarterback.  That made me happy because I thought it was cool that a Southern boy had to cross the Mason-Dixon line to help a Northern team out.
We all love Brett Favre (please notice my expert photography in getting this picture right when Brett was throwing the ball.  Don't worry, it was a commercial … no exciting game time was missed due to this picture).  Stunning photography if I do say so myself.  :)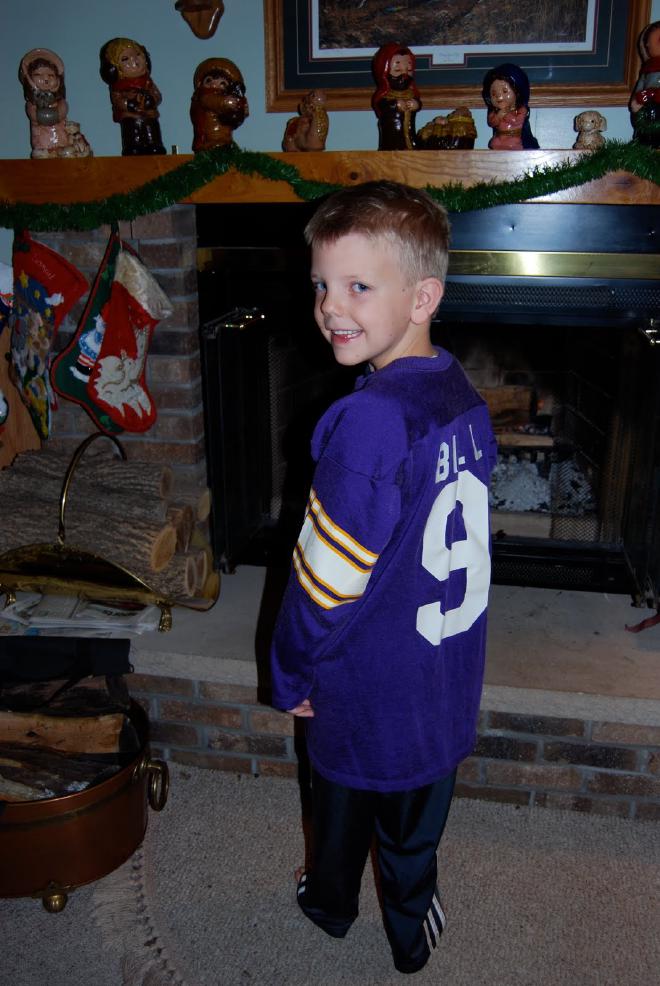 I remember when Jacob was a newborn and we would put the girls to bed and Jacob would lay in Bill's arms and "watch" the game.  Bill would have a bowl of popcorn in one hand and Jacob in the other.  When we watched the game in MN, it was clear … not much has changed: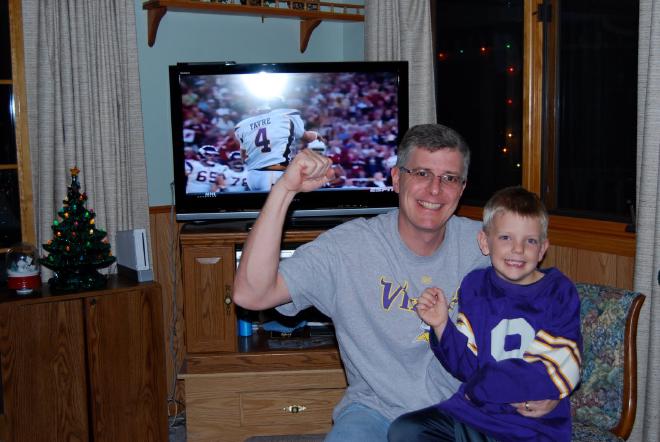 So the game didn't turn out like we had hoped.  I had planned on posting this picture: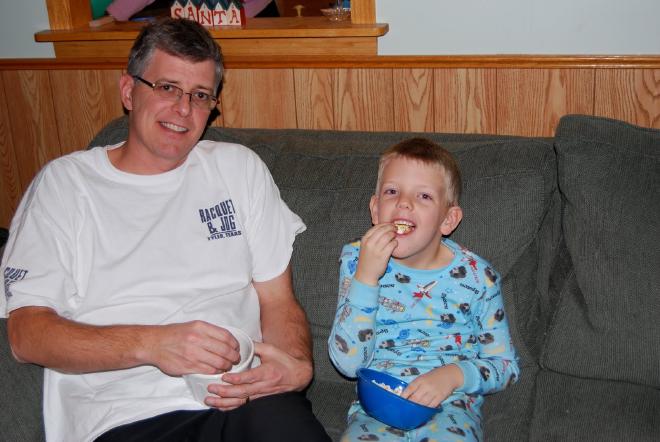 But now it seems a little too happy.  It's almost sad how giddy they look.  Full of so much hope and optimism.
(Bill would say Vikings fans should know better than to be full of hope and optimism.  He speaks from experience … he's 42 years old and he hasn't gotten over the hail Mary pass that Roger Staubach threw in 1975 allowing the Cowboys to score and go on to the Super Bowl.  He really can't let it go - says the Cowboys cheated.  I think he's bitter. )
And so I'll remind them … "there is always next year".
And, win or lose, the popcorn still tastes good.
You are my two favorite Vikings fans - better luck next time!!