It's not my vault ....
Brittany and I just returned from Dallas where she competed in the Metroplex Challenge Gymnastics meet.  We bolted out of town yesterday afternoon right after her basketball game.  When we arrived in Dallas I realized we forgot the black shiny pants that go to her competition warm up.  We had black sweat pants and for about .01 seconds I thought about putting something sparkley on them but then decided I would just hope people would think I had washed the sparkley stuff off the proper pants.
We stayed with my friend Michelle (one of the Hilltop Honeys).  I had never been to her new home and it was fun (and beautiful) to see.  In the span of 2 1/2 months I've gotten to see all the Hilltop Honeys new homes.  It was a real treat for me!
Now here's the thing  … Michelle is kind of known for being "gourmet".  She's always making us new recipes and the like.  She "just so happened" to have a gourmet key lime pie that she shared with me and it was DELICIOUS.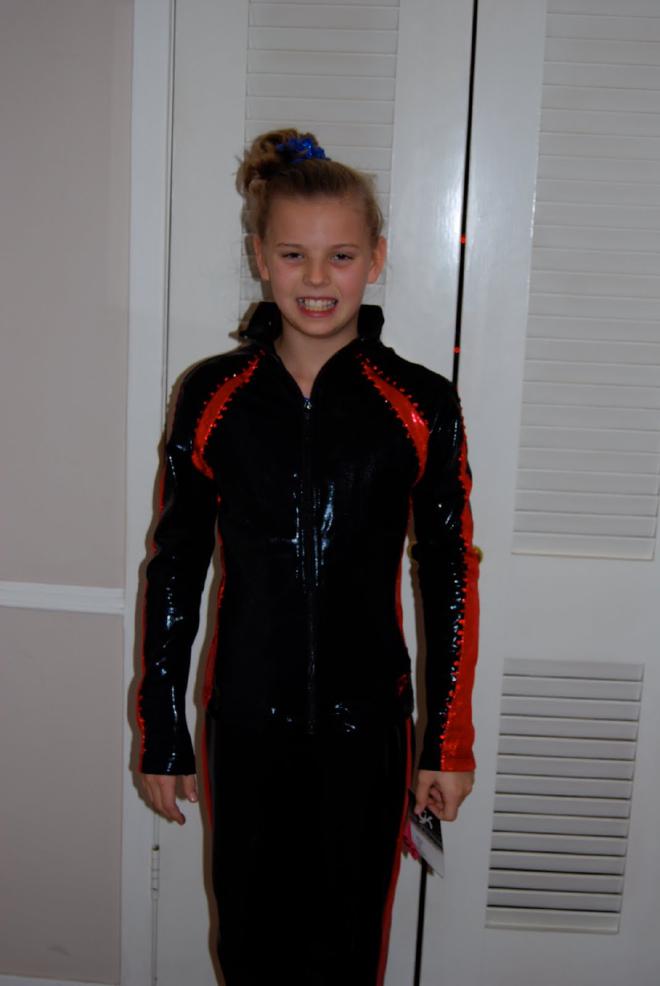 She kept telling me that it was "so easy" and "it only has 3 ingredients".  I told her the same thing I told my sister the other day when she told me her homemade biscuit recipe was "so easy" … which is that clearly we have different definitions of "so00 easy."
For example, my definition of "easy biscuits" is Pillsbury.   They even have a can that says "homemade tasting".  I, for one, am not going to argue with that.
Michelle started telling me how to make the crust but she lost me when she said … "take out your food processor."  I don't have a food processor.  I've been wanting one for a long time and since this is the year of improving my culinary utensils I guess I'll finally have to get one.  She showed me hers and told me to also get a chopper.  I'm making a list.
The pie is made in a quiche pan which she got at Williams Sonoma.  If you have to buy the pan at Williams Sonoma, it is probably too difficult for me to make.  Which brings me back to my definition of easy - Sara Lee makes a good key lime pie … and I don't have to buy any fancy pans.  It's going to take me awhile to work through my kitchen needs list but eventually maybe I'll get to the quiche pan.
Don't hold your breath waiting.
We left Michelle's house this morning and headed out in the freezing cold to the Dallas Convention Center where Brittany scored a 9.95 on her vault.  That is called throwing UP a score.  Man it was good.  9.7 on bars, 9.3 on floor.
All of this is so impressive to me in light of the fact that in my entire life I never did quite master a cartwheel.  It was something about my legs going over my head that was too challenging for me.  I do enjoy watching though.
And speaking of vaulting … Caroline went out for the track team this year.  Bill bought her new running shoes today and so it looks like I'll get to add track to my sports viewing.  When we asked her what events she signed up for she said … pole vaulting.
She signed up for POLE VAULTING.
Lord have mercy.
I've never done that either.