Volleyball and Homing Pigeons ...
Other than 7th grade gym class at Henderson Junior High, when Coach Johnson tried to teach us volleyball for what seemed like weeks on end, I've never really played volleyball.
For starters, it hurt my hand.
These days it is quite the popular sport among the middle school crowd … at least in Texas, and Caroline has taken a liking to the sport.  Being over 5 feet 8 inches and still growing works to her advantage.  (By the way this totally bums me out because we wore the same size shoe for approximately three weeks.  Then she surpassed me.  And I had great plans for us to share cute shoes!)
She's had a couple of Houston tournaments this year but they fell on days where I either had basketball duties or church and so I hadn't gotten to see her play.  Last weekend I took what limited knowledge of the game I had and took Caroline to Los Angeles for a tournament.  I can now say … I've seen A LOT of volleyball.  There were 108 teams playing in a sea of volleyball nets.
And hitting the ball didn't seem to hurt any of their hands.
There were team meetings at the hotel with the coach:
And game after game after game: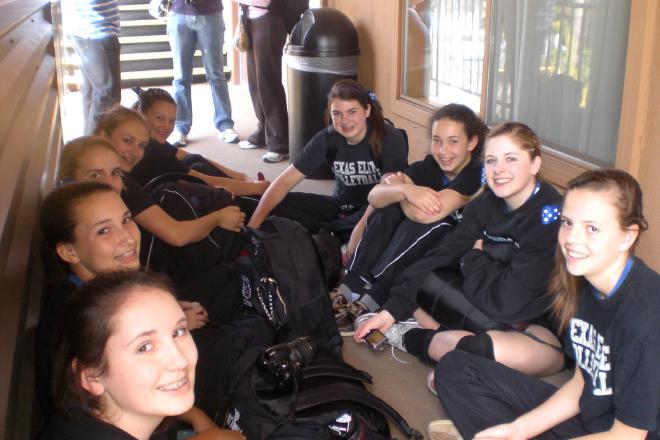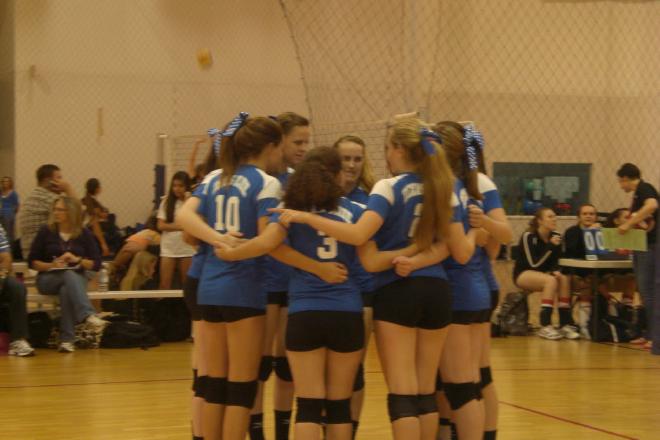 And they were very excited as they moved up in the rankings at the tournament: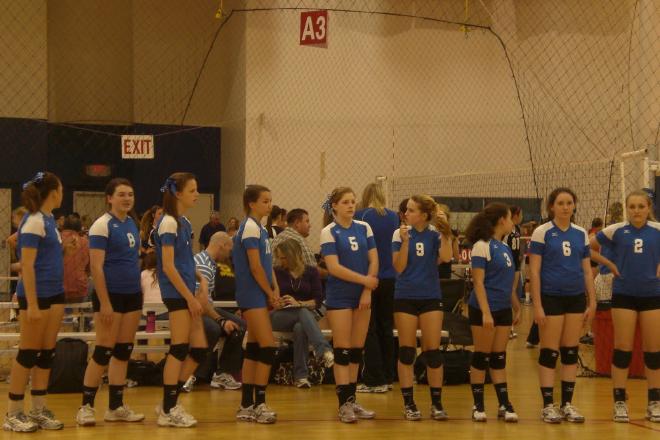 The last day we didn't do as well as we would have liked and it was over early for us.
So we went to In and Out Burger.
Because how can you be bummed out when you are slurping down a chocolate milkshake with a burger and fries?!?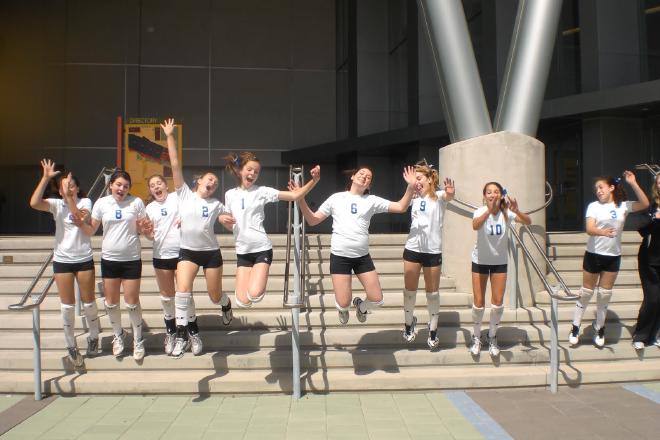 And … in one of my favorite moments … we got to ride there in a friend's rented convertible.  OH THE HAPPINESS.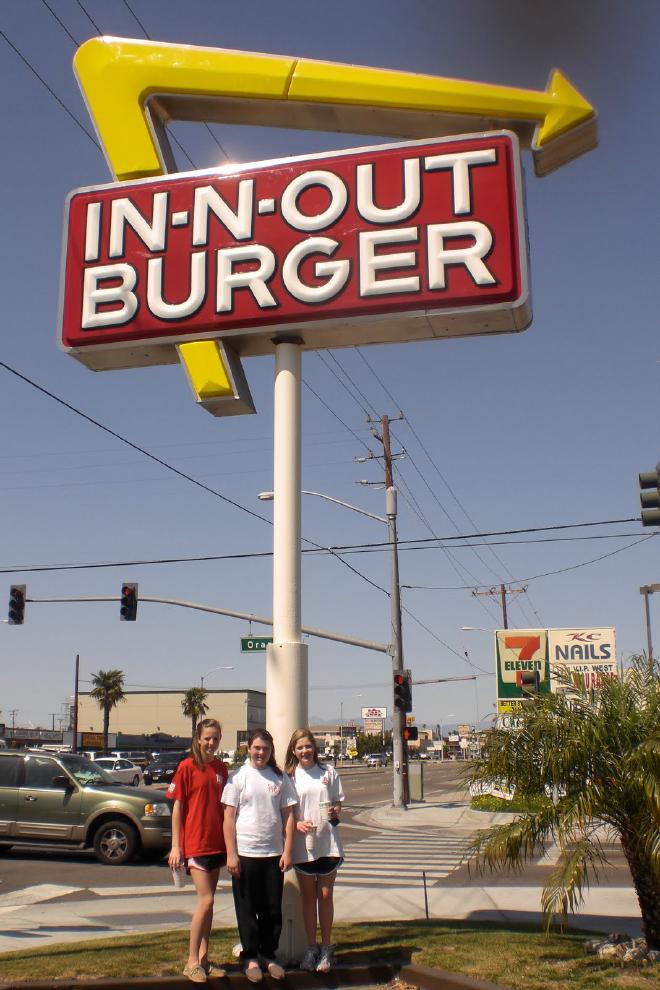 Afterwards we spent the day in Disneyland and California Adventure Park.  It was a long, but very fun day.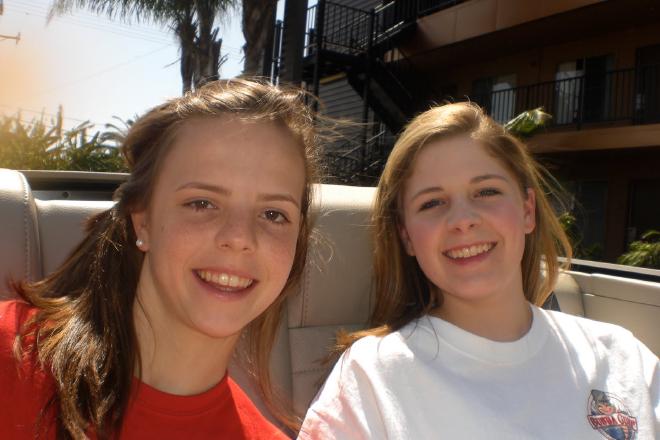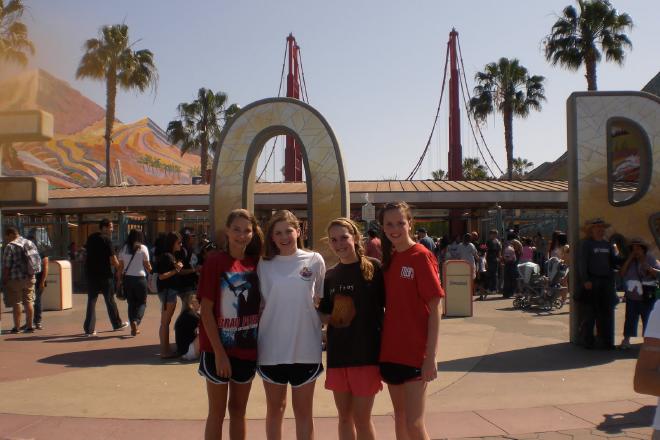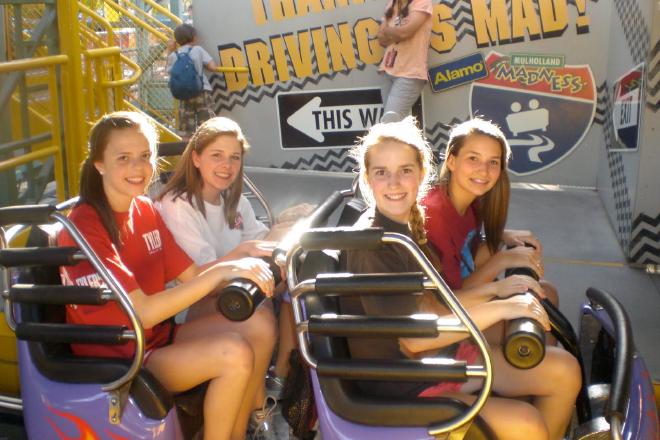 Other than my phone falling out of the ride on the California Screamin' Roller Coaster that did a loop … I had a blast.  And the nice folks at Disney retrieved my phone so it was all good.
The next day … Caroline and I decided to rent a car and head out of Anaheim.  Bill thought this was a terrible idea.  I kept telling him not to worry because "I'm like a homing pigeon and can find my way anywhere".
He said "homing pigeons have been there before" and I said "I'm not like those homing pigeons" and we took off.
We made it to Hollywood Hills: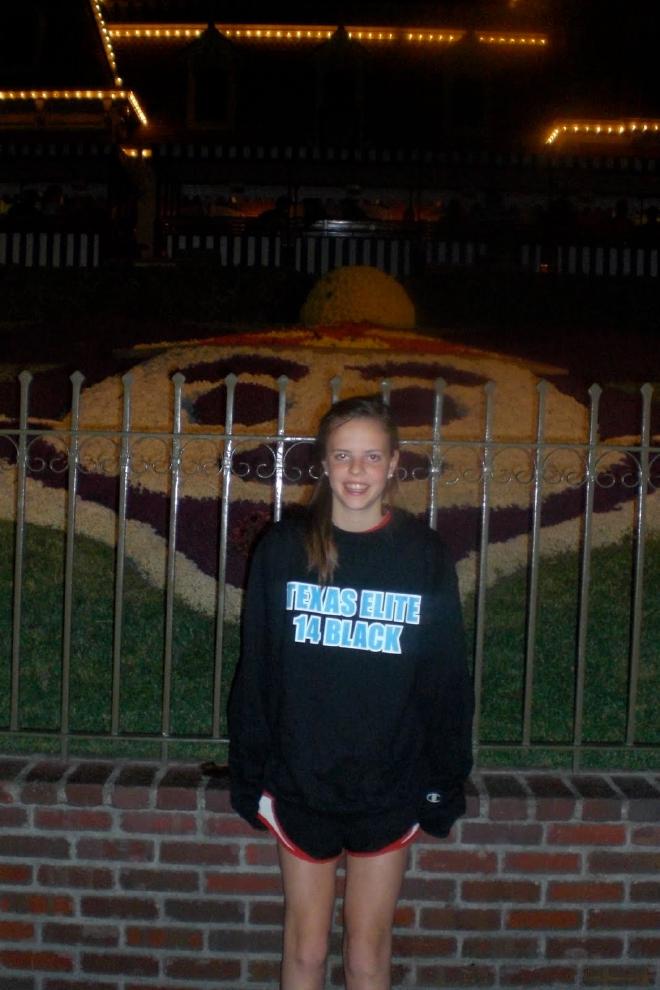 And to the Star Walk of Fame: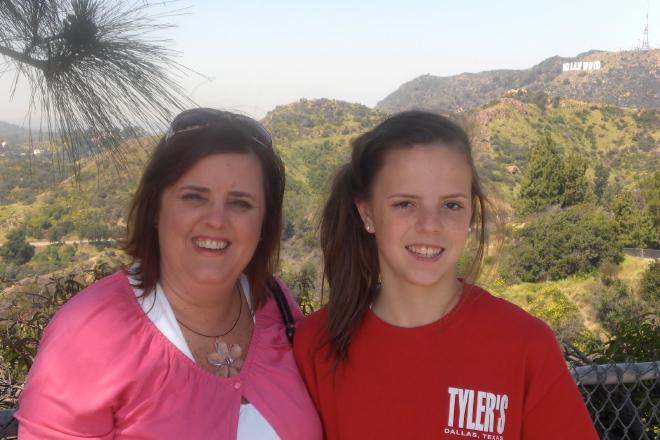 We also made it to Beverly Hills and drove down Rodeo Drive but there are no pictures because my camera AND my phone battery died.
This turned out to be a very good thing because had we attempted to get out of the car and take EVEN ONE picture, we would have missed our Super Shuttle to the airport.  They told us to allow an hour and a half to get back to the rental car place and we had 48 minutes.  SOMEHOW we made it … with seconds to spare.  And the crazy thing is … that is not NEARLY as close as we cut our flight out of Houston.  I'll spare you the details but suffice it to say … we were in the security line when we heard over  the loudspeaker … "Last Call for Darla and Caroline Berg" (no one ever says our name right … but it was close enough to know we were about to miss our flight).  As we were walking through the metal detector someone "breached security" and they shut it down completely.  Caroline had already made it through … and although her shoes, volleyball bag, etc. were all in the machine … I told her "RUN.  RUN LIKE THE WIND.  ALL THE WAY TO THE LAST GATE IN THE TERMINAL."
And she took off.
And when she got there, they told her too bad.  She needed her mom to board.
And suddenly I came RUNNING through the airport carrying her shoes, my shoes, her bags, my bags … it was hilarious and awful all at the same time.  I looked like a pack mule who was having a very, very bad day.
And the gate agent said we could "try" to see if they would let us board.
And we tried and we got the last two seats on the plane … which miraculously were both aisle seats.
Trust me … the phrase barely making the flight don't even begin to describe what took place.
Other than those two WAY TOO CLOSE FOR COMFORT airport trips and the fact that I left our entire dirty clothes bag in our hotel in LA, everything was good.
And the hotel is sending our clothes.
Although I wouldn't have minded if someone wanted me to come back and get them!!