In a million years ...
I never thought I'd have a picture like this:
Or this …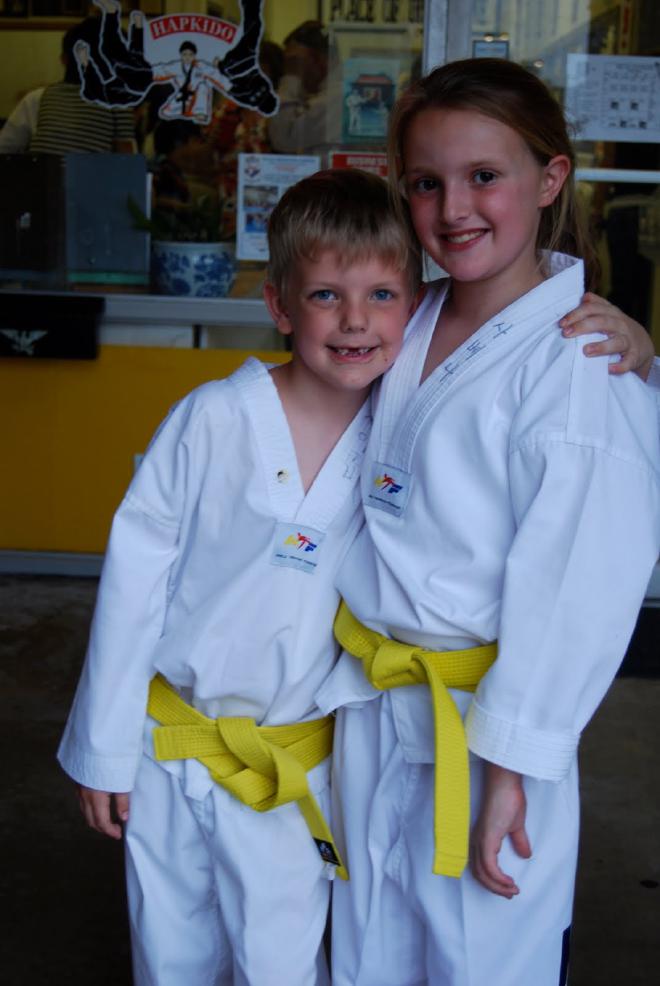 Now I could imagine them kicking each other like this: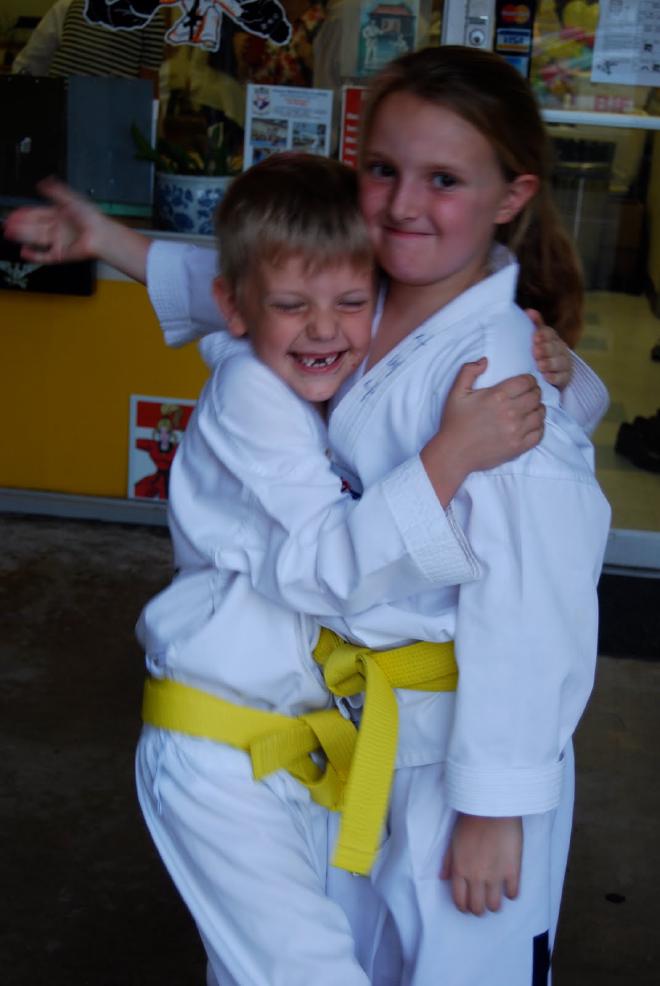 And this: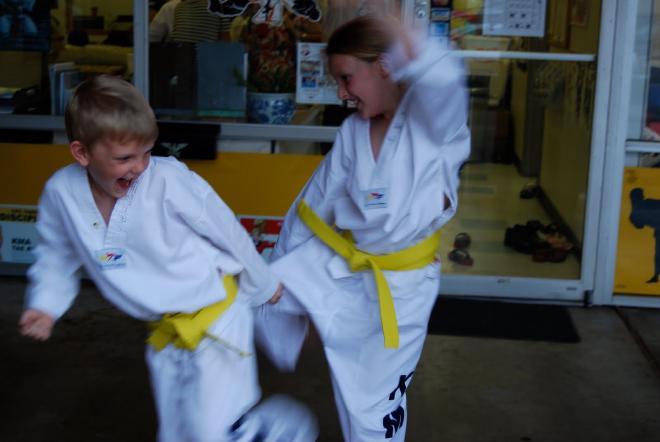 Because that's what kids do, right?
But I didn't imagine my kids would be doing real kicks while wearing taekwondo uniforms.
Never.
A few months ago I mentioned that Jacob started taekwondo.
He LOVED it.
And he begged Savannah to join.
I said "no".
Then Savannah begged.  Offered to give up dance (no big sacrifice for her there), sports … anything … if we would let her do it.
They have a trial session so finally we relented and said ..  "ok … give it a go.  You have one month."
And she loved it.
She and Jacob both love Master Kim.
The feeling is mutual.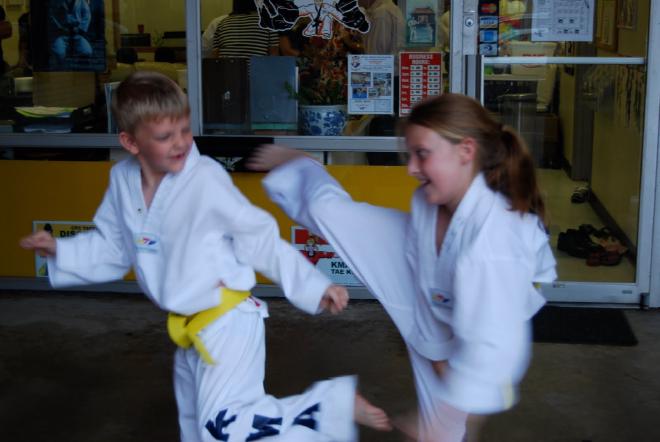 It is the first time, in the history of time, that both of my kids have been doing the same thing at the same time.  And what's not to love about a carpool to the same place!?
Did I mention they love it?
They can count to 10 in Korean and "yes sir" and "no sir" flows off their tongues now (being a Southern girl, I LOVE that!).  They have mastered the white belt elements and Savannah (although a very late arrival) and Jacob earned what they needed to achieve yellow belt status.
The instructor keeps telling me he wishes Savannah was his daughter.
I've mentioned before that she is focused and determined, right?
It serves her VERY well in taekwondo.
So, the moral of the story … don't mess with them.
They've got some crazy kicks they can pull out in a moments notice.
You've been warned.
And if you don't mind, I have to tell you a little more about the belt ceremony.
There were 5 people there who were testing for black belt level 2.  You have to break five boards in 20 seconds to achieve that level.
Three passed easily but two of the younger boys had a little trouble and didn't get the last board broken before their time ran out.
Master Kim explained that they could come back the next day and try again but if they failed then they would have to wait 6 months to test again.
When the testing ended Master Kim called those two boys back to the front.  At least one of them had been crying and everyone in the room felt badly for them.
Master Kim said … "I'm going to give you one more chance.  You have to break this board in five seconds (basically on your first try).  If you can do it, you will be a black belt, level 2,  If not, you will wait until October."
Well, both of those boys dug deep and broke their boards decisively.
I cheered along with the rest of the room.
It was an amazing feeling to watch them do it and to see the smiles on their faces and their looks of accomplishment.
And then I cried.
Y'all I CRIED.
I'm not sure what was wrong with me but just seeing those boys get a second chance … those boys who hung their heads in defeat, those boys who went and sat down and watched the others earn their belts … those boys who desperately wanted another chance …. well, seeing them get it was so worth it.
And I just kept thinking … perhaps that is why I got emotional … that the same thing goes for us.  We can blow it over and over again.  We can hang our heads in shame or defeat … but we too can have another chance.  Christ died to give us another chance.
And that's even better than Black Belt Level Two.