Praise Y'all the Lord!
We just finished the final day of Vacation Bible School.  I think it might have been my favorite VBS yet.  The theme was "Saddle Ridge Ranch" which was fun.  In the opening worship rally, our worship leader sported a mullet wig every day and sang with a twang songs like "Praise Y'all the Lord".
Hallelujer!
He said he wanted to use his own (cowboy) vernacular.  The kids (ok … and me) thought it was hilarious.
One of the great things about VBS is that the kids and I all made it each morning on time without much of a problem at all.  That's really saying something for us!  This was helped by the fact that I discovered this week that my children don't need me to make breakfast for them anymore.  Brittany made sure everyone got fed each morning and you have no idea how I wish I would have discovered this little fact during the school year!!
The only "hitch" came on Wednesday when we were driving to VBS and Savannah said "I'm hungry".  I said … "Didn't you eat breakfast?!"  And she said "no, I was brushing my hair".  She had some apples in her lunchbox so she ate a few slices and that, and the VBS snack bag of "Sun Chips", was her breakfast of champions that day.
Don't judge me.
Anyway … two of my favorite moments of VBS came during the worship rally.  Our church has a ministry for special needs kids called Tallowood Treasures and each morning when we sang one boy from the Treasures class began to rock back and forth with the beat of the music.  When the music stopped, he stopped.  When it was going, he was rocking.  And I loved that music moved him.  Another boy SMILED SO BIG while we sang.
Today, another Tallowood Treasure (who is the daughter of a friend of mine) held the Bible during the pledge.   She has had a rough patch lately and to see her up there holding God's word in her hands was such a gift to my heart.  And I was also glad her mom was getting a break!
The week ended with a big family fun night tonight followed by a musical.  The kids did horseshoes: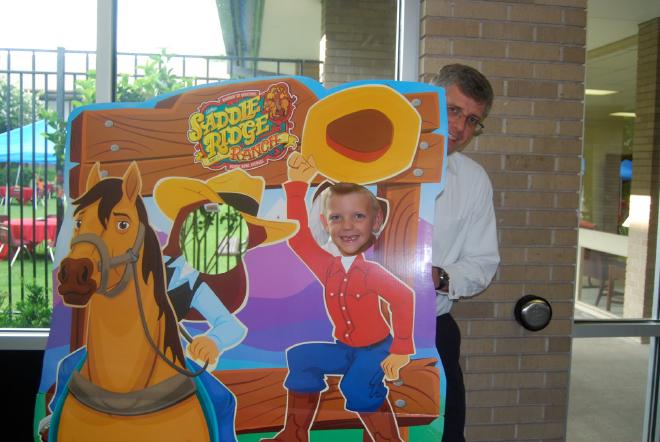 Rode a "bucking broncos":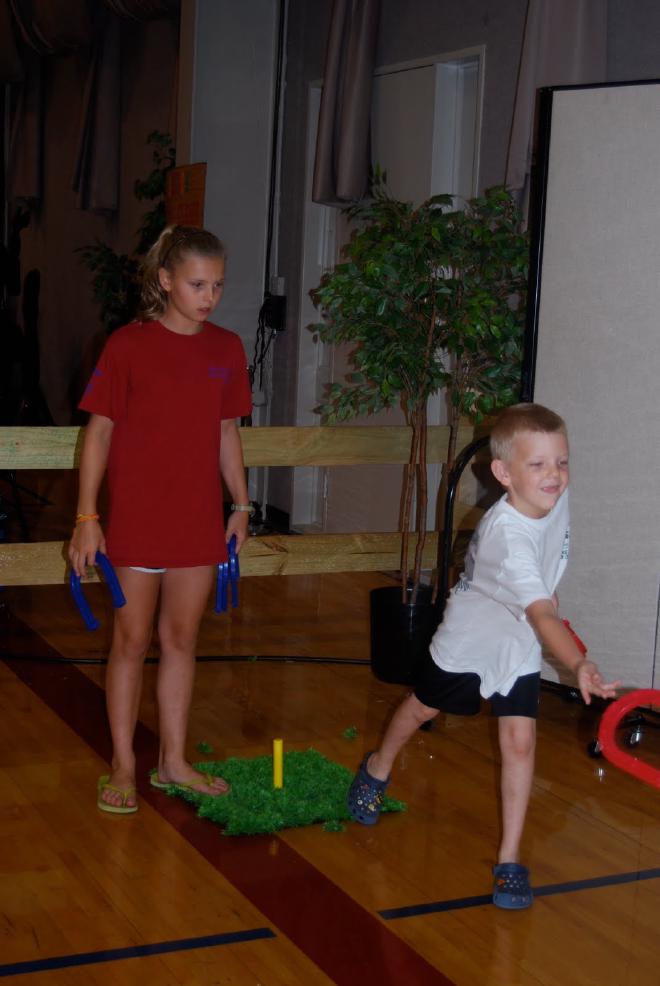 And Jacob even rode a mechanical bull.  There are no pictures of that however because I momentarily lost the friend of Savannah's that we brought with us for the week.  Luckily I found her because she and Savannah performed in the VBS musical to finish the night.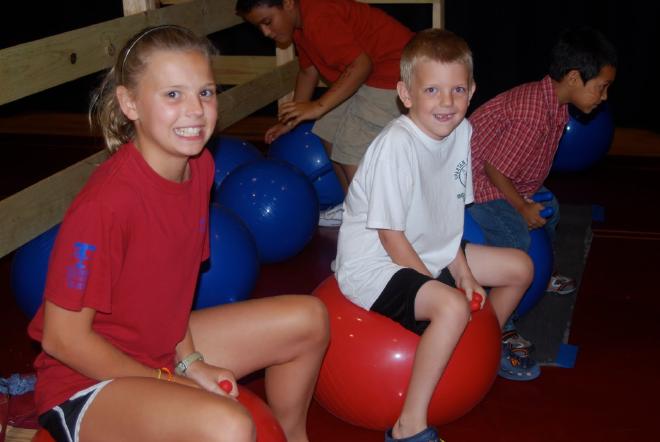 If you are looking for her (ie grandparents!) … Savannah is on the top row, second from the left in the top picture.  She is on the right in the picture below in the first cluster of three girls.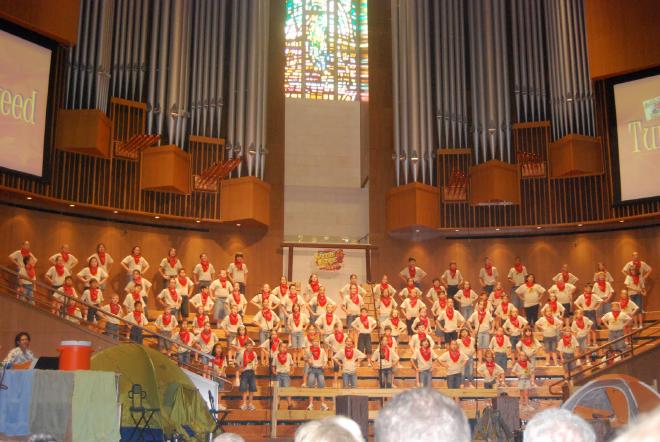 Anyway … it was a wonderful (and exhausting) week.  I didn't mention this, but last weekend 6 Baergs were in 4 states throughout the weekend.  2 of us were in Missouri, 2 were in Arkansas, 1 was in California and 1 was in Texas.  We all arrived back to our house within an hour of each other … and it was an hour very close to midnight.  Then Monday night was a late swim meet which means … no rest for the weary.  We had another meet last night so the kids and their mama and about to "hit the hay".
That's just a little more cowboy vernacular for ya!