Ridding the World of Ugly Christmas Trees!!!
My house still doesn't have a Christmas tree.
It's on the agenda for tomorrow.    I have been too afraid to pull down the boxes for fear that someone would call and want to see the house.  Now that we have taken down the "For Sale" sign that has decorated our yard for the last two months, I told Bill it is time to "Haul out the HOLLY, put up a tree it's time to DECK the HALLS again NOW!!!  For we need a little Christmas, right this very minute … we need a little Christmas NOW!"
Or tomorrow as the case may be.
And, just in time for my decorating, is something I'm so excited to tell you about.  It's an iphone app that tells you how to make beautiful Christmas trees.  And don't be sad if you don't have an iphone because you aren't totally left out … read on.
First, last year I flew out to Midland, TX to speak at a wonderful women's event hosted by Crestview Baptist Church.  It was SUCH a fun trip as I got to go to my favorite Christmas store of all time … Miss Cayce's Christmas Store (trust me … you want to click on that link and see their GORGEOUS displays).  It's the kind of place that makes you gasp as you walk in the front door.  I literally spent hours in there poring over all the beautiful trees, decorations and the creativity and inspiration that were everywhere.  I bought some sprays (picks) for my tree there that I think TOTALLY TRANSFORMED my Christmas tree.  I bought them in the store and they mailed them to me in Houston.  I was so excited when these arrived: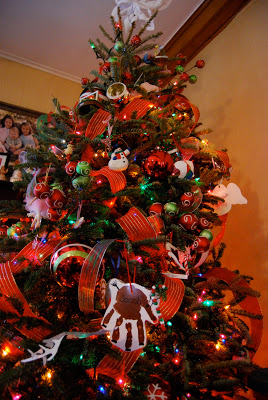 The "decorator" star on the top was made by my Savannah.  I'm sure a gorgeous bow with picks around it would be more "finished" but I love my homemade star.
So anyway … why am I telling you all this?!?  Well, because the owners of Miss Cayce's (Becky and Kathy) have a new iphone app that, when downloaded, will give you step by step directions on how to create GORGEOUS trees.  There is a even a tutorial on making bows that I almost think a "craft-tarded" person like myself could make.  (Thank you Allison for understanding my craftlessness and sending me the craft-tarded word!).
There are tutorials on where to put the ornaments, videos on choosing the theme of your ornament, where to place your tree, tree selection, ball placement and selection, etc..  Under the bow section you can look up and see how many bows your trees needs based on it's height and how much ribbon you would need to buy to make that number of bows.  PEOPLE, that is NEWS YOU CAN USE!
Their ad says:   Create showroom quality Christmas trees without hiring a decorator! Show Me Decorating gives you step by step instructions to Ideal for decorating the most important part of Christmas decor: The Tree! Pick from themes like "Winter Whimsy," "Be Jolly," or "Royal Red & Gold," and many more!
I should mention here too … Becky and Kathy aren't just two people who like to put up Christmas trees.  In addition to their store, they have decorated the State Capital of Texas for many, many years, homes and ranches around Texas as well as been featured in Southern Living and Texas Monthly magazines.  What I'm saying is … they know what they are doing.
And, since I feel like I am probably the last person in America to put up a tree, you may be saying … why do I need that now?  I've already put up a tree.  But here is the deal … the app is available through TOMORROW for only 99 cents.  Next week it will be $5.99 so it's kind of like an after Christmas sale before Christmas, but you have to act fast.
So what if you don't have an iphone?  If you have a Android or other Verizon smart phone there will be an app coming out next year for you.
Can't wait … or have a phone that just does things like CALLING, not to worry.  The Miss Cayce's Girls have a video called "Show Me Decorating" that you can order online here.  It will give you all the information the app will give you … it just costs a little more (but think of all the money you are saving by not having a smart phone!).
The owners of Miss Cayce's like to say they are "ridding the world of ugly Christmas trees … one tree at a time".
I know they helped me last year and today I downloaded the app so I can learn even more.
You can see the app here or search for it in the app store.
And if you download it on your iPad, it means you have an iPad and I'm totally jealous.  It's on my Christmas list.
Feel free to send me pictures of your tree! Better yet "like" Miss Cayce's on facebook and upload your pictures to them (Debbie Gaudin … send them a picture of your tree right now!!!). My mom sent them pictures of some of her decorating earlier this week.  In fact … the "Mississippi turkey" that my mom made at Christmas came off their facebook page.  I'm telling you … good stuff.
Off to watch some more videos in preparation for the Baerg Family Tree Lighting tomorrow!
Enjoy!