"I have seen the Lord!"
He is risen!
He is risen indeed!
I don't know about you but I started off the morning singing "Christ the Lord is risen today".
Isn't that what you are supposed to do?  :)
Then I got to teach Sunday School and we looked at John's account of the encounter between Mary Magdalene and Jesus when Mary came to find the empty tomb.  Studying it this week caused me to fall in love with so many parts of that passage (one of the perks of meditating on scripture!).  It is a short encounter but yet so rich.
11 Now Mary stood outside the tomb crying. As she wept, she bent over to look into the tomb 12 and saw two angels in white, seated where Jesus' body had been, one at the head and the other at the foot.
13 They asked her, "Woman, why are you crying?"
"They have taken my Lord away," she said, "and I don't know where they have put him." 14 At this, she turned around and saw Jesus standing there, but she did not realize that it was Jesus.
15 He asked her, "Woman, why are you crying? Who is it you are looking for?"
Thinking he was the gardener, she said, "Sir, if you have carried him away, tell me where you have put him, and I will get him."
16 Jesus said to her, "Mary."
She turned toward him and cried out in Aramaic, "Rabboni!" (which means "Teacher").
17 Jesus said, "Do not hold on to me, for I have not yet ascended to the Father. Go instead to my brothers and tell them, 'I am ascending to my Father and your Father, to my God and your God.'"
18 Mary Magdalene went to the disciples with the news: "I have seen the Lord!" And she told them that he had said these things to her.
Three things:
1.  Love that Jesus asked Mary why she was crying.  Same for us … he is there to wipe our tears, to comfort us … He wants us to tell Him our hurts.
2.  When Jesus said her name (can't you just hear the tenderness with which He said … "Mary") … she recognized His voice immediately.  When He speaks to us are we quick to recognize His voice?  Not the audible voice she heard, but are we in fellowship with Him in such a way that when He does speak to us (in so many different ways) … do we know immediately it is Him who is speaking to us?
3.   Jesus tells Mary to "go tell his brothers".  Many say she was the first missionary as she runs to tell the others that she "saw the Lord".  We need to tell our stories of Christ working in our lives.
Have you seen Him working?
Have you heard His voice?
Several in Sunday School shared of times they had felt God's unmistakable presence in their lives.  What better time than Easter to share of God's presence that is in our lives TODAY … because he lives.  Not lived.  LIVES.  We stand on His promises and they are good.
I have seen the Lord work in my life, I have felt Him speak to me through His word or through a nudge in my spirit or through someone else speaking to me.
Yes, in the words of Mary … "I have seen the Lord".
From our family to yours … Happy Easter!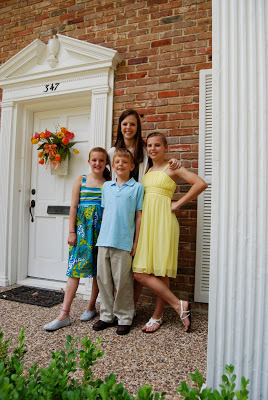 PS  You have probably seen this, but if you haven't, you should watch it through to the end.  It's like an Easter service led by Vince Gill and Carrie Underwood.