21 years later ...
Last Thursday Bill and I celebrated 21 years of marriage.
When my parents called to wish us"Happy Anniversary",  I was cleaning toilets.  For better or for worse.  :)
The funny thing is, I clearly remember people telling me when I got married … "oh, you will love him so much more twenty years from now".  Or they said … "I love my husband so much more now than I did when we got married".  And I felt sorry for them.  I really did.  I thought … "that is sad that when they got married they didn't love their spouse as much as I love Bill".
But 21 years later, I get what they meant.
And they were right.
Bill planned dinner at a really nice restaurant but when it was time to go we both were in the mood for Mexican food and a movie …. I told him I was a cheap date.  We saw "The Help" which I really, really loved.  Afterwards we tried a new yogurt place in town.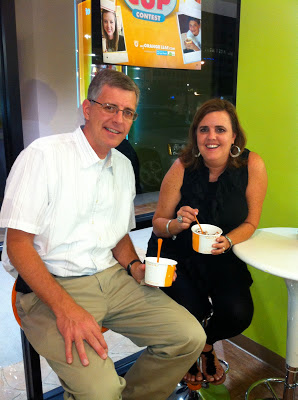 The funny thing is on Saturday I was back with the girls at this same yogurt spot and there was an elderly couple sitting at this same table - perched right in the window enjoying their yogurt.  I almost asked them if I could take their picture because it was such a "before" and "after" but then I thought it might freak them out.  :)
Anyway … I love being married to Bill Baerg.  I've loved 21 years of falling in love with him more and more.  As Robert Browning said … "Come grow old with me …. the best is yet to be".