Hands down my favorite place in New York City
I love New York.
I love the horns honking and the tall buildings and the theater and the people and really just all of it.
I especially love Central Park because who wouldn't?  Bill and I have gone running there, rowed around in a row boat, ridden the carousel, eaten breakfast at Tavern on the Green and had lunch from a food vendor (y'all it was SO good) We've watched the ice skaters, ridden in the horse drawn carriages, taken a zillion pictures and spent hours watching people.
We've done it all.
My absolute favorite place in the park … and to be honest, my favorite place in all of New York City is just on the edge of the pond.  People don't line up to see it or make reservations to go, but I don't ever miss seeing it.  It's right here: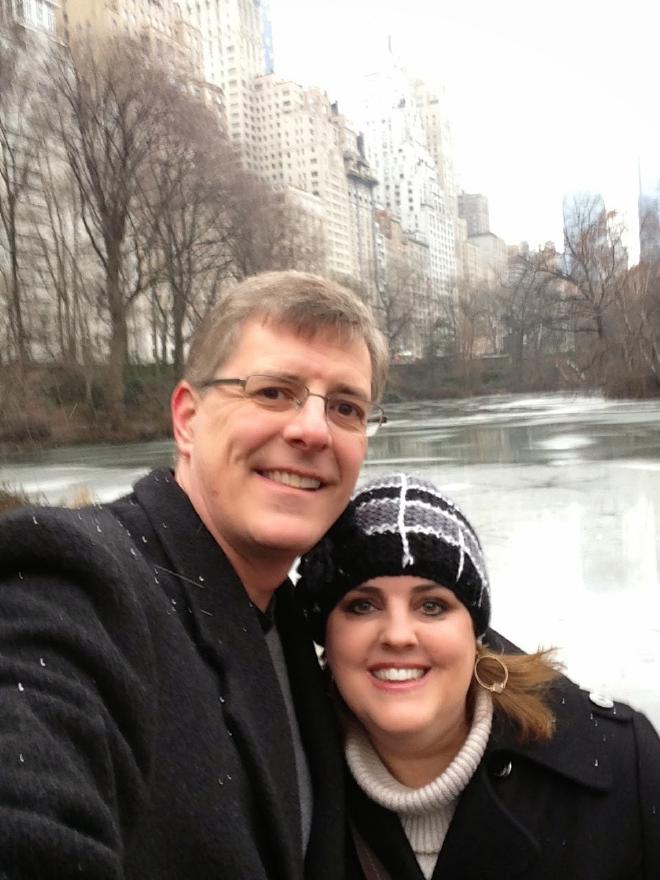 I think Jinny and Bob would have enjoyed seeing that too.
I imagine they enjoyed the view when the leaves were on the trees and when the leaves were off.  Enjoyed it when the sun was shining and when the snow was falling.  Enjoyed it in the quiet of the morning and in the bustle of the afternoons.  Enjoyed seeing the babies in their strollers, the toddlers jump in puddles, the businessman hurrying through the park and the old lady shuffling along.   Enjoyed the tourists and the regulars … I imagine they enjoyed it all.
And I also imagine that, in their own lives, everything wasn't always as picturesque and beautiful as their view in the park.
But they had the park.
And they enjoyed the view.
It's such a reminder to me to pause and look around and ENJOY.  Yes, things may be all messed up in so many areas but there is good and there is beautiful and there is peace to be found.
Look around.
Enjoy the view.
Jinny and Bob did.