Magnolia Madness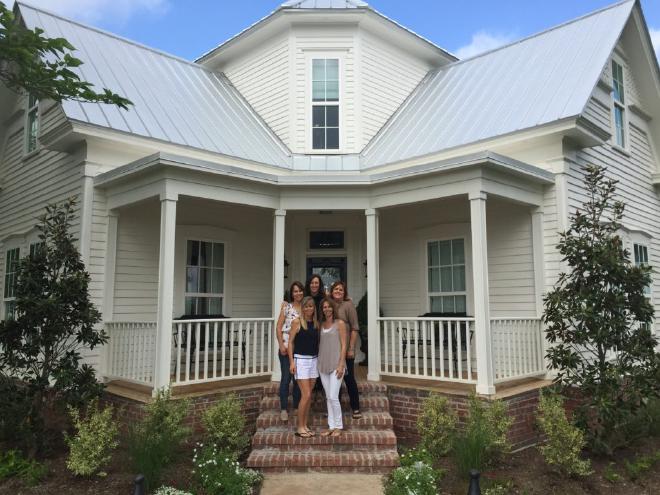 I remember the days when Waco was just a college town. I wouldn't call it a tourist destination or a Texas hot spot. It was just Waco. When I graduated I intended on visiting at Homecoming and maybe the special thing every now and then … but never dreamed we would be planning SHOPPING/Destination trips to Waco.
Not in a million years.
Then along came Chip and Joanna Gaines and the phenom show "Fixer Upper" and now we are all flocking to Waco like the Fixer Upper fans that we are.
As my friend Elizabeth said … "our little Waco has grown up". For sure.  What is old is new.
And it's all so pretty.
Speaking of Fixer Upper … today is the kick off of the brand new look of my website. My cousin and my sister came in and did a "demo day" and SHINED THIS BLOG UP. A HUGE thank you to them both! If this is your first time to the blog, welcome! If you'd like to receive blog posts straight to your email you can sign up for a subscription.
So, back to Waco …. Yesterday I returned from a three day trip there where we shopped and ate and most importantly, stayed at the Magnolia Inn.  Yes, STAYED there as in slept in the beds. CA-RAY-ZEE. I kept wanting to pinch myself that we were actually staying IN DA HOUSE.
And it was AH-maz-ing.
Truly.
The house was perfection. So many wonderful details and we literally took tons and tons of pictures because we didn't want to miss a thing.
The caretakers of the Magnolia House are Rob and Mary Ann and they greeted us with a basket of DELICIOUS homemade goodies and fresh squeezed orange juice.
Of course they did.
The basket had almond carres (which were so delicious that I can't even really talk about it!), scones and huge, homemade cinnamon rolls.  To die for … trust me on this.  I told them I thought the only possibly thing that could have been better is if they had chickens out back and gave us fresh eggs to go with our pastries.  Somebody should tell Jojo. :)
I've uploaded tons of pictures on to facebook of the house and will put a few more here.  This was the "master" bedroom.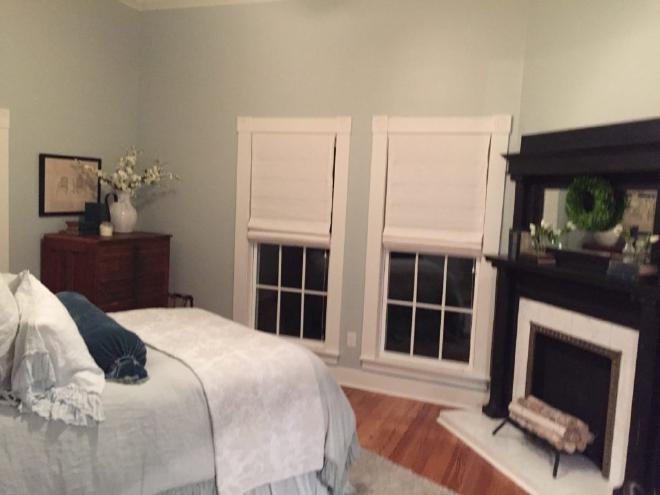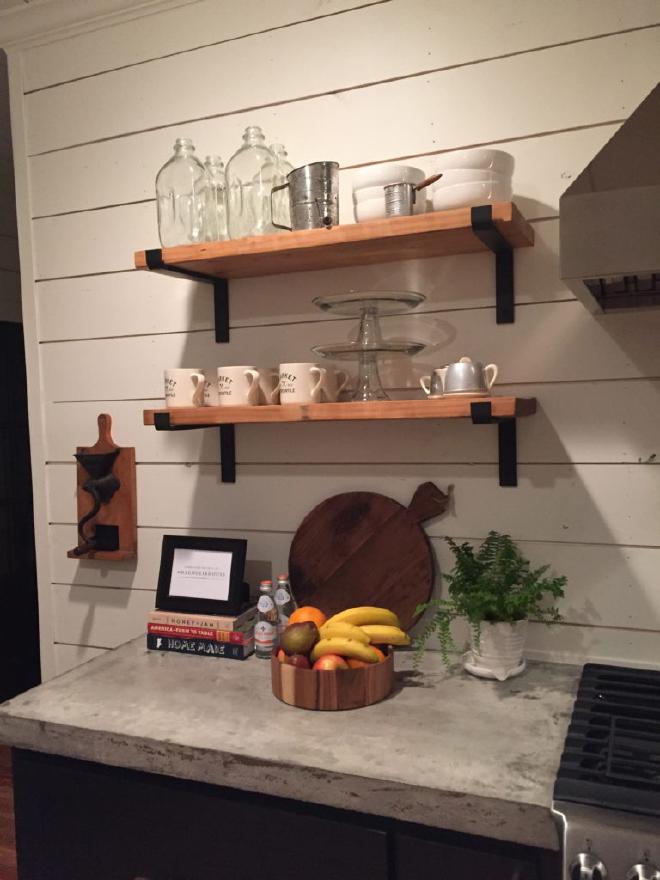 I love the open shelving.  It would never work for me because I need cabinet doors but they are cool.  And the concrete counter tops?  I LOVED them.  I want a concrete island now.  Can someone let Chip know?
---
We shopped at Junque in the Trunk on Sunday as well as a huge store called Spice.
[caption id="attachment_10144" align="aligncenter" width="640"]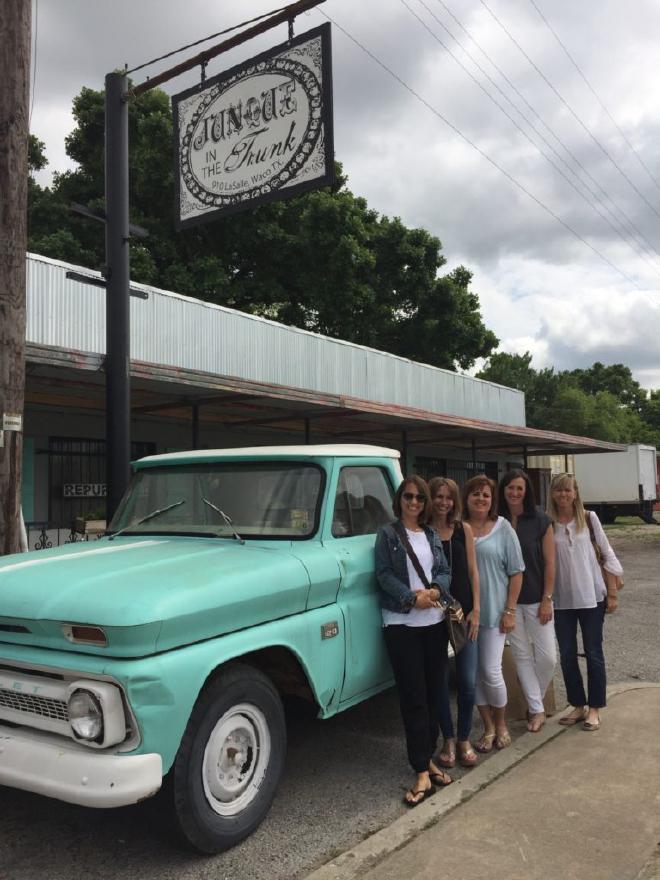 Junque in the Trunk on La Salle[/caption]
On Monday after our leisurely breakfast, Mary Ann gave us a tour of her home.  It was as cute as you saw on the show.  She told us to come over in our robes because her husband was gone … AND WE DID.  (For the record, those were the SOFTEST robes I have ever had on.   You can buy one for $100ish dollars).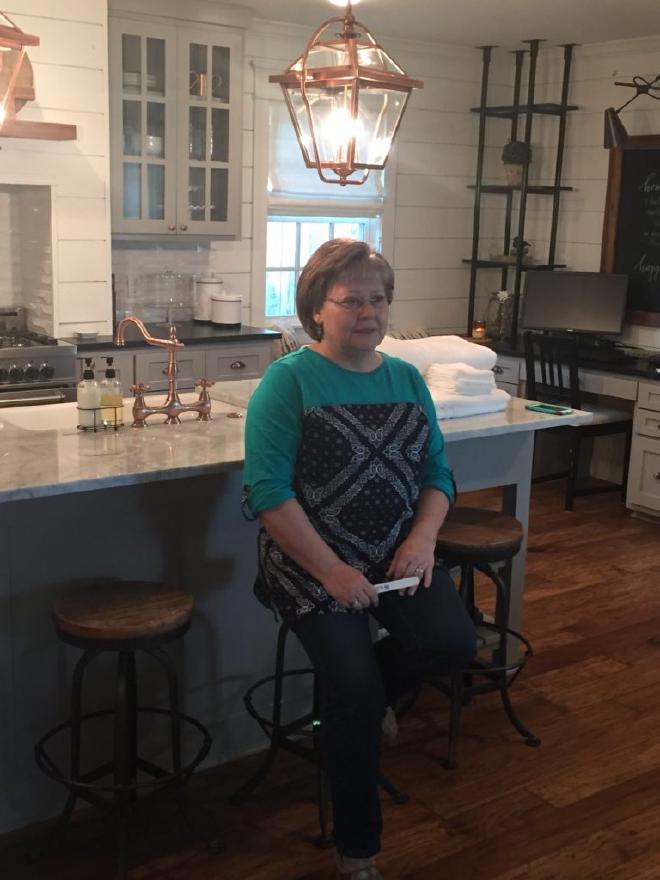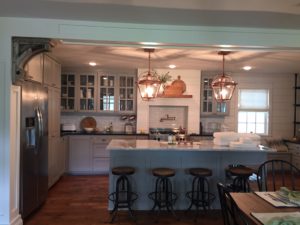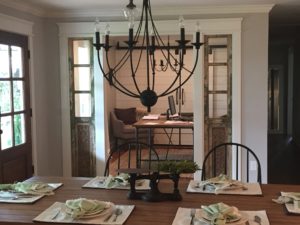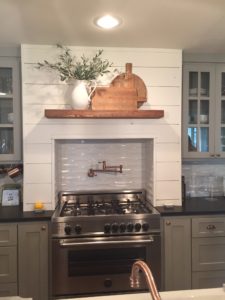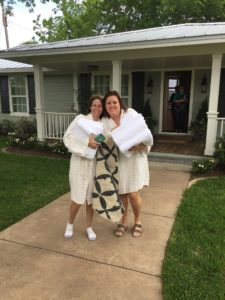 We spent Monday shopping at the silos and the foundry as well as a few other cute shops.  Silo shopping is crazy.  Stuff is flying off the shelves there and I do mean FLYING.  There are tons of workers though and it's all very efficient.  (Good job Jojo!)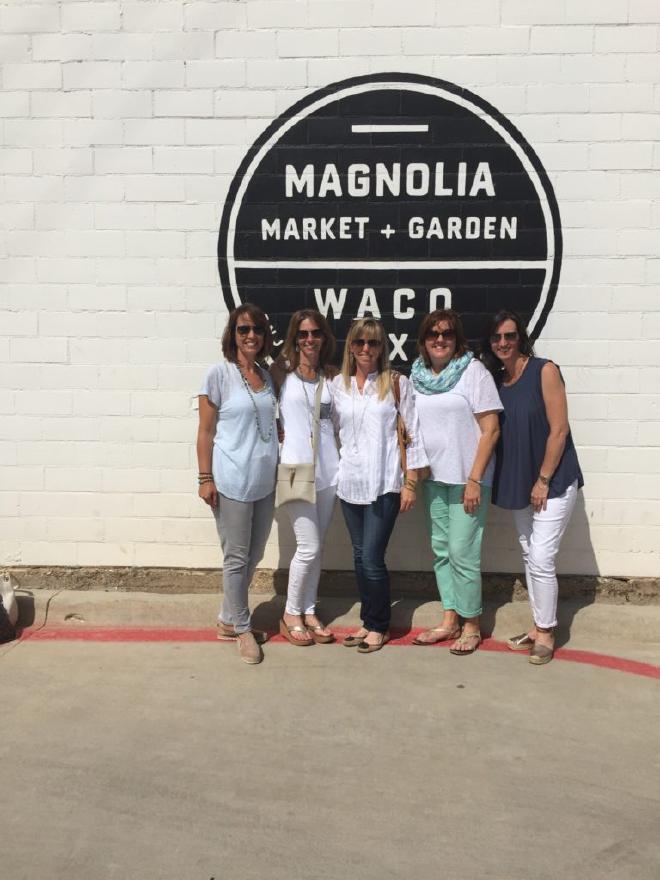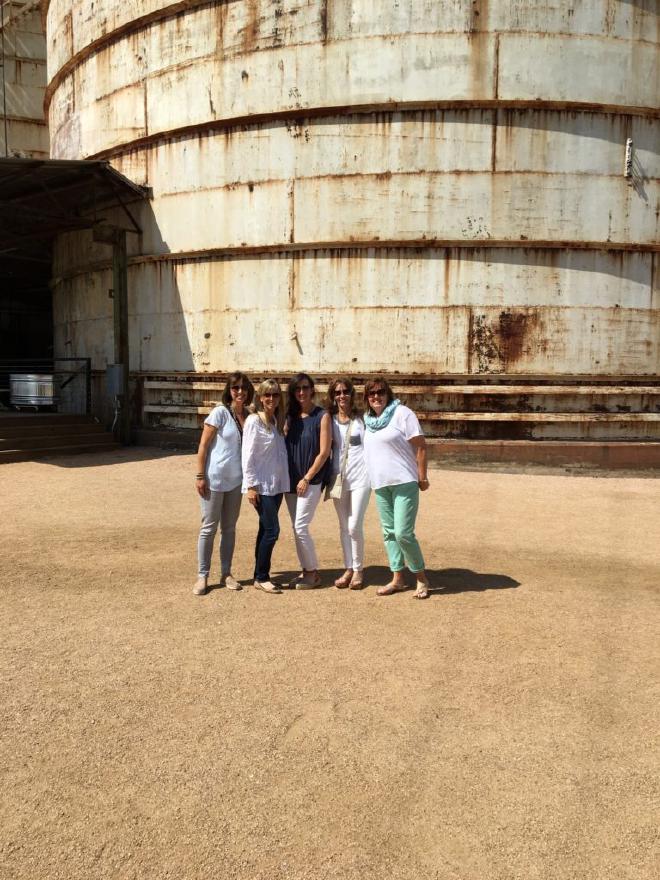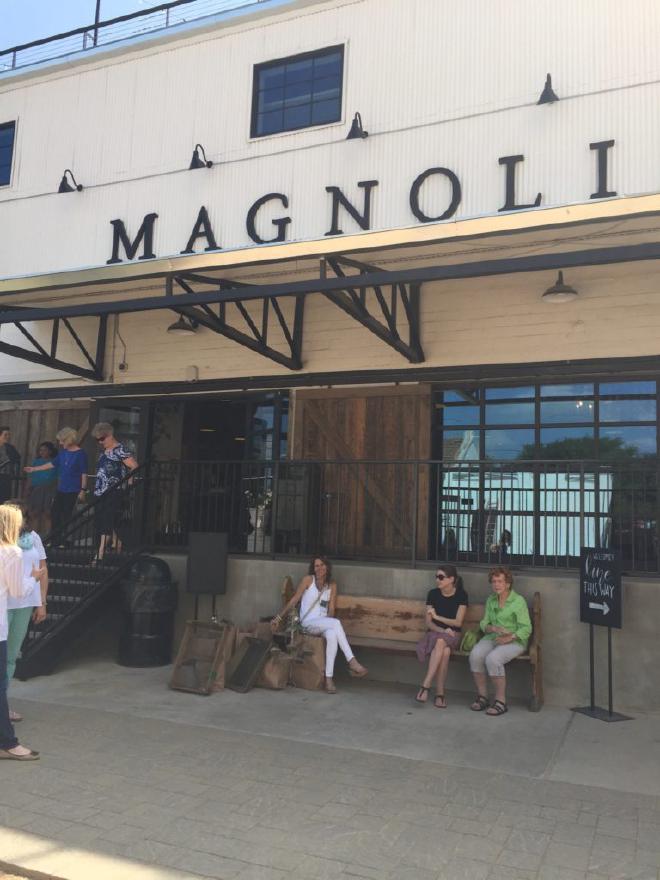 Tuesday we shopped a little more … most notably at Harp Co.  Clint wasn't there as he was in New York speaking at a home show.  Some Waco scoop:  We were told Clint has filmed a pilot for his own show about making furniture.  He is also in the process of moving from his Fixer Upper house next door to his shop.  They said they couldn't tell us what they were doing with the house but that "it will be something that lots of people can enjoy".  We kind of thought maybe it would be another bed and breakfast.
You heard it here first.  :)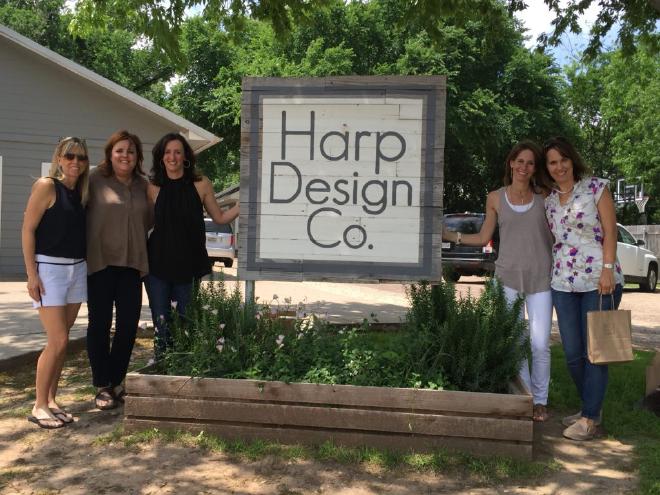 After we had shopped Waco like crazy we had lunch at "The Mix" which was right by Baylor campus and really good and then before we headed out of town we stopped off for a Pokey O which was yumm-O.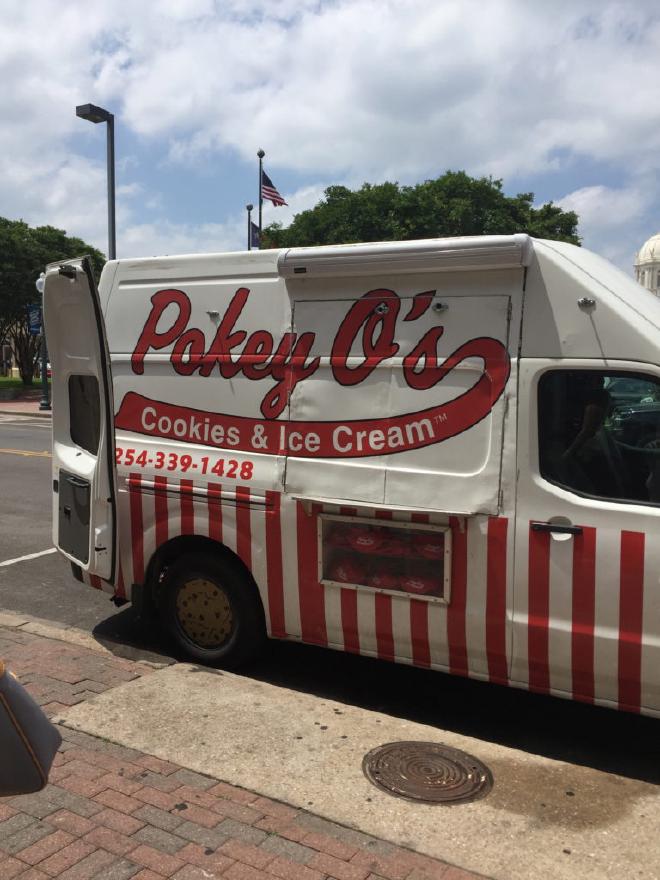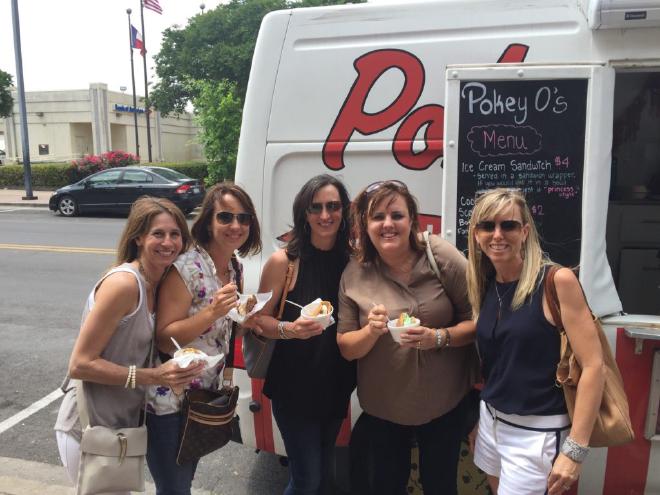 Truly a trip I will remember forever.  Fun friends, cool location.
Still pinching myself.  Fixer Upper looks good on you Waco!
https://flipagram.com/f/oNwwPHKcXO (more pics!)