All is grace
This past weekend we had a fun Mother's Day celebration. I had a great day in Houston.  3/4 of my heart was with me in Houston while 1/4 remained in Austin studying for final exams (finish strong Caroline!).
My parents went to Louisiana to visit my sister and for a second I thought I'd drive over and join them until I remembered that I had my own children and should probably stay in town. It was an absolutely lovely, relaxing weekend. Monday my mom and dad drove over from  Louisiana for a little more celebrating. So glad I got to see my own mom!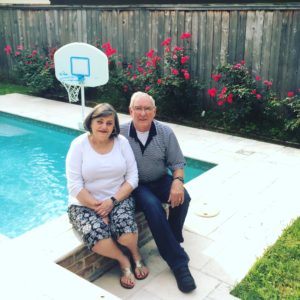 One of the things I did over the weekend was get a mani/pedi.  It had been quite some time since I'd been to the nail salon. When I walked in the nail ladies seemed SO EXCITED to see me. They began talking quickly and one of the ladies ran to the back of the store. When she returned she had in her hands the pair of shoes I had worn into the salon THE LAST TIME I WAS THERE. (Apparently I walked out in those flimsy things they give you, forgetting that I had worn actual shoes when I arrived).
The worst part?
They were Brittany's shoes!! (gasp)
I really do feel kind of badly for telling Brittany she should keep up with her shoes better. :)
The good news is when I told the story to Brittany she just smiled and shook her head. I thought to myself then … we all need grace in this motherhood thing. One of my friends, Jinny Henson, wrote on Mother's Day that her husband often says to her "Grace Yourself". What a beautiful reminder that we are going to get it wrong more times than not perhaps but we all can give ourselves some grace along the way.
I could write a LONG list (actually my children could) of all the ways I've failed as a mom.  But I'm thankful for grace.  God's grace was given to us.  We give grace to others … and we need to give ourselves some too.
So there you have it moms …. "Grace Yourself". We really are doing the best we can.