HHHEELLLLOOO
Could you hear the echo? I've missed being on the blog but have just returned from a fabulous trip visiting the Swiss Alps and Paris, France. I've gotten kind of used to echos because if Bill wasn't singing "Edelweiss" while we were hiking up and down mountains, he was calling "RICOLA" (or as it sounded … RIIIICOOOOLAAAA) through the valleys. It was hilarious.
Caroline finished her study abroad at the University of Lausanne and had ten or so days before she headed to Africa. We were happy to take her up on her offer to "show us around". We arrived in Lausanne which is right on the banks of Lake Geneva. Absolutely beautiful. Caroline was studying international sports law and got to do some really cool things at the International Olympic Committee headquarters. Really neat that it is also an Olympic year. She showed us the Olympic museum, saw her hostel, went paddle boating and took a two hour nap right on the shore of the lake. The university is literally right on the lake … fabulous place to study (or sleep!).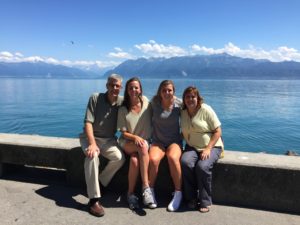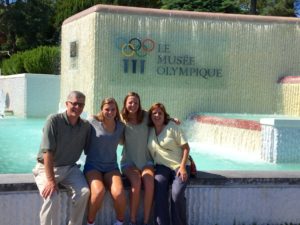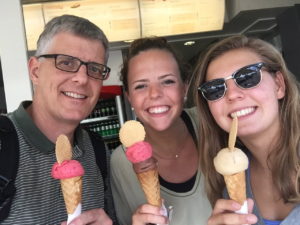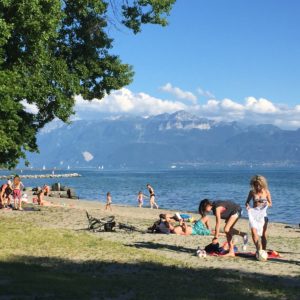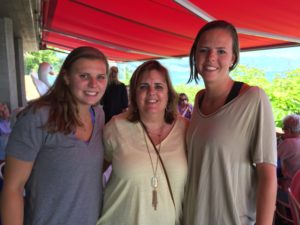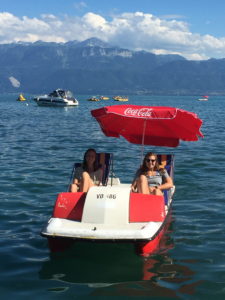 Caroline had been calling the beautiful country Switz-wonder-land and that is a perfect description. The beauty and majesty was magnificent. There are so many stories and pictures from the trip and maybe one day soon I'll make a video. .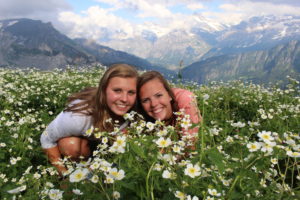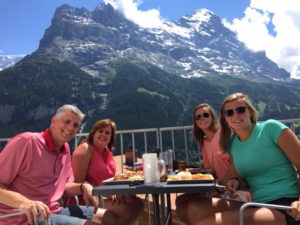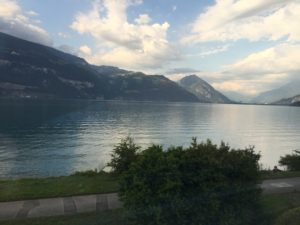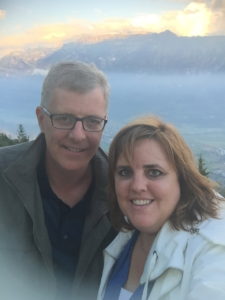 We took Brittany along with us as we knew Caroline would enjoy having a "buddy". We look forward to going back one day with Jacob and Savannah. It truly was an amazing place and a wonderful memory.
The day before we left we checked the Switzerland forecast and it was predicting 100% chance of rain during our entire visit. Bill frantically looked into going to other locations in Europe. I told him we just needed to speak to the maker of rain and play our plans by ear. The first day we arrived in the mountains the weather was SPECTACULAR. Crisp and clear and we could see forever as our train took us higher and higher to Grindelwald where we stayed. We had a little "chalet" and when we opened the window we were met with this view: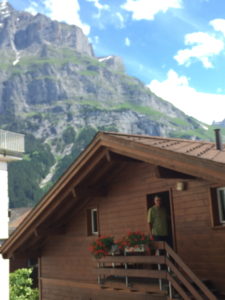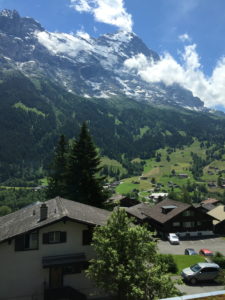 I mean really.
More tomorrow about our time in Grindelwald but wanted to finish the weather story. The second day was cloudy and maybe sprinkled here or there but nothing really. The most amazing part about the somewhat overcast day? First we hiked above the clouds and through the clouds and Brittany even tried to catch a cloud in her mouth. I kept thinking of the song from "Les Mis" called "Castle On a Cloud".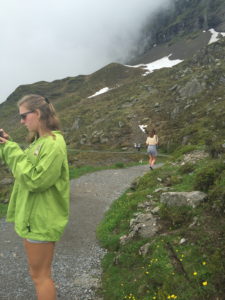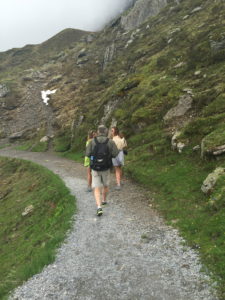 Later that day we took a train up to another vantage point, Heider Klum which overlooks Interloken. And guess what we were above?!? A RAINBOW. We were ON TOP OF A RAINBOW!! I couldn't believe it. Had it not rained some that day we never would have seen the TOP of a rainbow. God uses it all, doesn't He?
I'm adding being on top of rainbows (at least three of them) on my list of cool things in I've seen in my life.
After all our adventures in the alps we headed back to Lausanne to take a train to Paris. I CANNOT make this up … the absolute second we stepped inside the train station in Lausanne (as in, my foot was inside and my suitcase I was pulling was still outside) … right at that exact moment it began to pour down rain. Bill and I both looked at each other in amazement. The God who made the rain, we believe, held the rain.
And He let us see the tops of rainbows too.