So that ...
One spring morning as I sat at a stop light taking our then seventh grade daughter, Caroline, to school, she said … "Mom, when I close my left eye I can't see anything".
I thought maybe I had misunderstood her so I asked … "what did you just say?"  She said it again … "when I close my left eye I can't see anything".
"Anything?"
"Nothing" she said … "totally black".
I calmly told her I would call the eye doctor when I got home while silently letting my mind wander to all the things I thought could be causing this problem.
The appointment was scheduled quickly and it wasn't long before I was sitting in a doctor's office where I was told Caroline was completely blind in one eye. There was a big, long word for what her condition was called. I remember hearing things the doctor was saying … "retina detached", "nothing can be done after the age of 12", etc….  but none of the doctor's words were making sense in my mind that day.
It didn't seem real.
Caroline played volleyball and  basketball … how had we missed this?
In elementary school the nurse sent home a note suggesting we take Caroline for an eye exam, and we did, but somehow she memorized the eye chart while reading it with her good eye. She was afraid to tell anyone about the bad eye. The doctor passed her and said "no problems".
And yet there we sat, two or three years later, pleading with doctors to help us find a way for her to see again.  We researched websites, read articles and got second opinions.  Each time we were told … "there is nothing that can be done.  Protect her good eye".  They gave encouragement about how the brain would compensate for the blind eye.
We started to see it … she had no peripheral vision.  I remember her asking a doctor … "can I still play volleyball?" and him replying "I don't know why you would want to do that.  It will be very challenging but it's better than basketball since there will be less risk that your good eye will take an elbow".
And with that she signed up for high school volleyball tryouts.
Caroline made the team and for four years played middle blocker.  This position worked perfectly for her because balls came directly at her.  The balls that came from the side … she couldn't see them coming. She never told the coach about her eyes.  Sometimes Bill and I wondered if we should tell someone but Caroline wouldn't hear of it.  During her junior year the coach found out … I'm still not sure how.  During her senior year that same coach nominated Caroline for a city wide award for courageous athletes.  Although she didn't win, it was a huge honor to be nominated.
Sometimes I forget about her eyes not working the way mine do.  Other times I remember and so wish I could fix it for her.
In John 9 there is a story of a blind man.  The disciples asked Jesus "who sinned, this man or his parents, that he was born blind?"  I guarantee his parents had been wondering the same thing … "why did this happen to our son?".  Then Jesus replied …"Neither. This happened so that the works of God might be displayed in him".
And that's the thing … God uses all of us.  The blind, the broken …. we all have "defects" but God has a plan and a purpose for each of us.  Our purpose is to glorify Him.  It's something I pray over my children all the time … that they would glorify God in all they say and do.
Not too long ago I was thinking about how I wished things were different for Caroline.  LITERALLY at that very moment,  I saw a picture of her that I had not seen before from her summer travels.  It was from her adventure at Victoria Falls in Africa.  She and some friends had hiked up to the top of the falls and came upon a rainbow.  This was the picture I saw: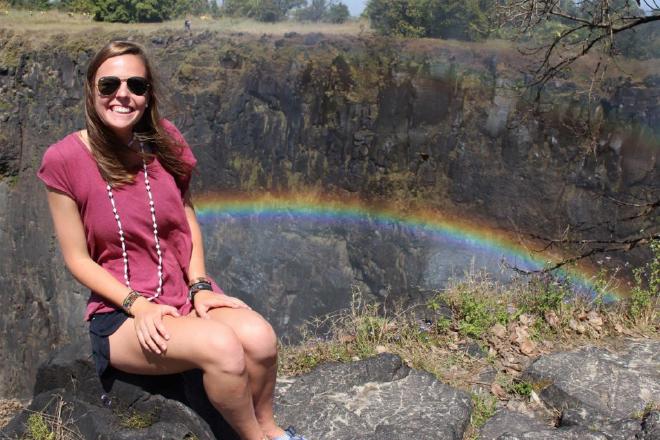 There was my child sitting smack dab in a rainbow.  I thought it was one of the most amazing pictures I had ever seen.  How could I ever doubt the faithfulness of God?!  He reminded me right there, in that moment, that He fulfills His promises.  Beautiful promises.  And I had a picture of my child in a rainbow to prove it.
"God continued, 'This is the sign of the covenant I am making between me and you and everything living around you.  I'm putting my rainbow in the clouds, a sign of the covenant between me and the Earth.  From now on, when I form a cloud over the Earth and the rainbow appears in the cloud, I'll remember my covenant between me and you and everything living, that never again will floodwaters destroy all life.  When the rainbow appears in the cloud, I'll see it and remember the eternal covenant between God and everything living, every last living creature on the Earth."  Genesis 9:12-16
I'm so thankful for God's promises.
And thankful for rainbows that remind us of His promises.
And if you look really closely at this pic you can see a double rainbow. God truly does more than we could ask or imagine!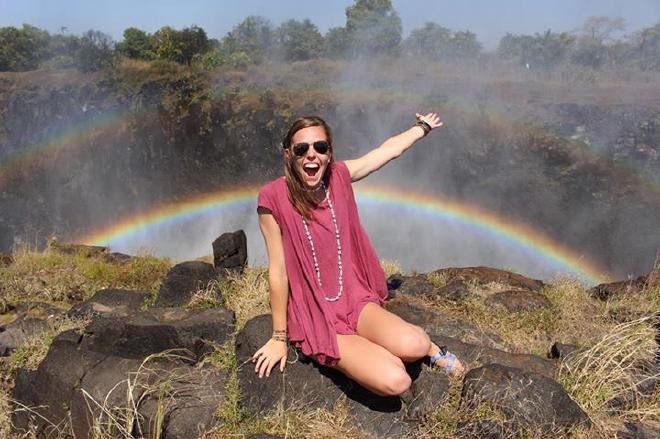 One day Caroline will see with both eyes … but until that day my prayer for her (and all my children) is that God will use her to bring glory to Himself.
And we will both keep looking for rainbows.
PS  Her sisters made a video of some of her trip pictures.  You can see it here: