So I choked on a piece of lettuce
I may very well be the only person on the face of the earth who could injure their larynx  eating a salad.
Not even kidding.
The doctor actually wrote down "injured larynx/vocal cords due to choking on lettuce" in my chart.  I had to go to the doctor because I sounded like a robot.  I could not make it better either.  I tried being quiet for several days … barely spoke at all which is HARDER than it sounds (get it, haha .. being silent is harder than it SOUNDS) but nothing brought my voice back to normal.
First of all you should know that I eat salads VERY slowly.  I don't know why but everyone is always finished eating before me when I order a salad.  Bill, Brittany and I had gone to College Station to do a quick campus visit at Texas A&M and on the way home we grabbed a quick salad.  They had finished and maybe I felt like I had to hurry or maybe I laughed, who knows …. I really don't know what happened but I had a crazy coughing/choking fit.  For a minute I thought this might be how it all ended for me…. right there in McAllister's restaurant.  Thankfully I recovered only to realize my voice was drastically changed.  And it stayed that way for days.
I'm happy to report I'm back to normal now and am free and clear to talk as much as I want.
Can you hear me now?  (haha)
So before all that happened, September was THE busiest month in forever.  I was out of town every single weekend.  There are a million stories to tell.
We spent Labor Day in Arkansas taking Brittany to visit the University of Arkansas.  A friend had some football tickets so Brittany, Bill and Jacob got to enjoy the game.  If you haven't called the Hogs at a football game you really haven't lived.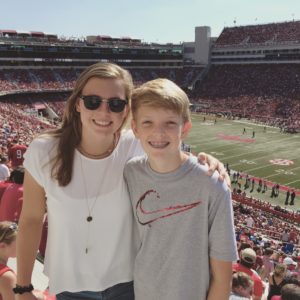 We stopped back by Lake Hamilton on the way home and celebrated September birthdays.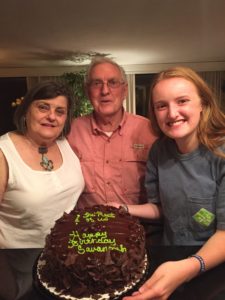 The next weekend I flew to Birmingham to speak at Mountain Brook Baptist Church's Women's Fall Kick Off Event.  I checked in for what I thought was my 9 AM flight only to find out I had actually booked it for 9 PM.  The event was at 5:30 which means I had a HUGE problem.  There was one seat left on a 1:00 flight that was SEVEN HUNDRED AND FIFTY DOLLARS.  I stepped away for a minute to see if any other airlines had flights going that would get me there in time (and to compose myself!) and would cost less and found none.  I walked back up to the counter minutes later to purchase the $750 ticket.  I was SO SAD that I was using our family's money for my stupidity.  The agent told me the seat had since sold and the seat was no longer available.  I immediately asked Siri how long it would take to DRIVE to Birmingham but she emphatically told me I wouldn't make it.  I asked to speak to a United manager and she said there was nothing she could do.  Flight was now oversold.
That was it.  Over and finished.  United Airlines said "sorry, see ya later".
You have to know that at this point I was OUT LOUD praying for a miracle.
Thankfully God is IN THE MIRACLE BUSINESS.  I was defeated and had no idea what to do short of buying an airplane.  Then the lady who had checked me in that morning came back from break.  I told her what had happened and she said "let me check".  She made a phone call and I kept hearing her say "you are so kind, thank you" to the person on the other end of the phone.
When she got off she said "you have a seat" and I started praising Jesus OUT LOUD.  At this point $750 seemed like a small price to pay to my speaking engagement.  I handed her my credit card and instead of saying "$750 she said $75.  SEVENTY FIVE dollars (change fee) was all I had to pay.  Thank you Jesus!  When it was time to board they announced that the flight was oversold and they were offering people $1000 to take a later flight … it was crazy.   I completely believe Jesus opened up that seat for me and hopefully somewhere, someone is enjoying their $1,000 United voucher.
It was a great event!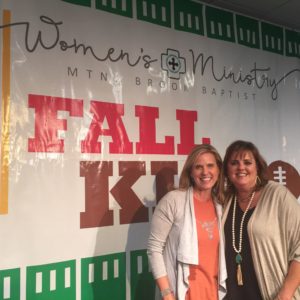 I also spent a FUN weekend celebrating my dad's 80th birthday and my mom's 77th birthday at my sister's house in Mandeville, LA.  We went to Commander's Palace for lunch and had THE BEST DAY!  It was a wonderful memory making weekend that I will cherish.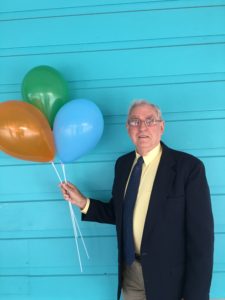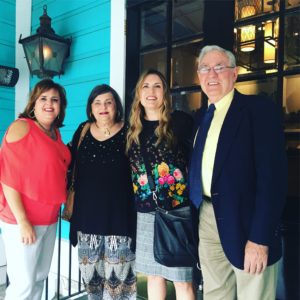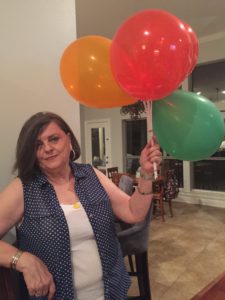 The next weekend I spoke at a church in the Woodlands and it was a fun, nearby getaway.  I made it back late Saturday afternoon so I got to see Savannah and Brittany off to their Homecoming dance.
Speaking of Savannah, this was her SWEET 16 birthday.  She is a joy to celebrate.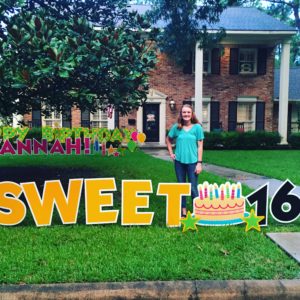 Somewhere in there I squeezed in a few days at a lake house in Austin with some Longhorn moms and a long weekend trip to Eagle Mountain Lake with my "Hilltop Honey" friends.  Bill went to New York where (hysterically) he met James Corden of carpool karaoke fame and got to be in a skit with him at the NYSE which will air sometime in February.  He's a total star.  And of course I mean Bill.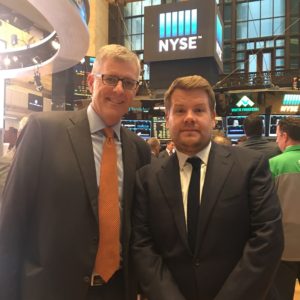 So between all the travel and THE LETTUCE incident it's been a busy few weeks.
I'm looking forward to things slowing down and if (when) we eat out, I'm totally ordering a burger.