And the winner is...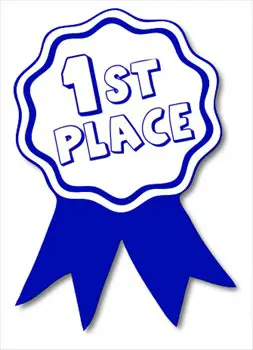 Now I've been taking a bit of ribbing for my cooking debacles. Which is totally fine really because, well, as we've determined, cooking is just not my strong suit.
But I do want you all to know that in one of the most celebrated, victorious moments of my life, I won a cooking contest. That is not a typo….you read it correctly….I WON a cooking contest. First place in the Sunday School cookie competition. Yep, right there in the middle of the Fellowship Hall I was bestowed that very high honor.
And people, I celebrated like I had just won America's Top Chef. I did a little victory dance, pumped my fist in the air, yelled whoo hoo and ate another cookie or five. (I also called the Hilltop Honeys….I mean this was the big time).
So, I just didn't want you to think it was all bad, all the time. Because there was that one day.
I'm including the recipe here for you to try. They are called Snickers on a Stick. Although you don't have to put them on a stick, it sure makes for fun eating. And besides, saying "snickers on a stick" is a whole lot more fun, in my opinion, than saying "Snicker Cookies", but you can be the judge on that.
So here you go….(drum roll please)
Snickers Cookies Ingredients #
Instructions for Snickers Cookies #
Heat oven to 375. In large bowl combine sugar, brown sugar, margarine, peanut butter, vanilla and egg; beat well. Lightly spoon flour into measuring cup; level off. Add flour, baking powder, baking soda and salt to sugar mixture; mix well. Shape about 1/3 cup dough smoothly around each Snickers fun size candy bar making sure bar is completely covered. Place 4 inches apart on ungreased cookie sheets. Bake at 375 for 13 to 16 minutes or until golden brown. Cool 10 minutes; remove from cookie sheets. Cool completely. NOTES : Can be made as cookie pops: Securely insert a wooden stick into small end of each candy bar forming a lollipop. Shape about 1/3 cup dough smoothly around each candy bar making sure bar is completely covered.
Enjoy my friends…enjoy!