Bakerella is the Bomb
Here is the deal …. I'm exhausted.  Like all I want to do is go to sleep til Friday kind of a tired.  But since that isn't an option, I'm going to eat a piece of Dove chocolate or five and head out to a soccer game.  A new friend this weekend gave me a really big Dove chocolate bar and said I could eat it "when I needed a little energy boost".  Apparently I thought I thought I needed a lotta energy boost because I kept sneaking bites of that bar any chance I got.  I had never had Dove chocolate before and now I am in love with the Dove.  Yesterday someone gave me a whole coffee mug full of those sweet treats … and I swear they are calling my name louder than the candy corns did last week.  October is a tricky month to be on a diet, that is for sure.
And not there is anything diet approved about this recipe, but I thought these were SO very cute that I wanted to share.  I found them on Bakerella's website. Besides, I'm too tired to think of anything else to write.  Can you tell?  :)
Now me and my Doves are off to the soccer game.
Enjoy!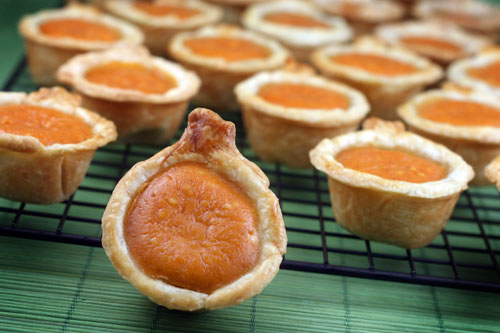 I've been in a mini-mood lately when it comes to baking and these bite-sized pies met my big craving.
They are really, really easy. Let me show ya.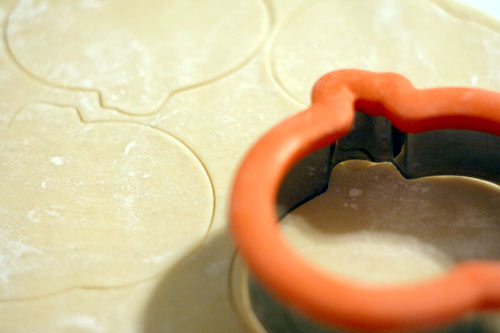 Of course, it didn't hurt that I used ready to roll refrigerated pie crust. It comes two to a box and if you roll each round pie crust a little bit thinner with a rolling pin, you can get 24 mini pumpkin-shaped pie crusts out of them. Make sure you use all the dough scraps and re-roll to maximize quantities.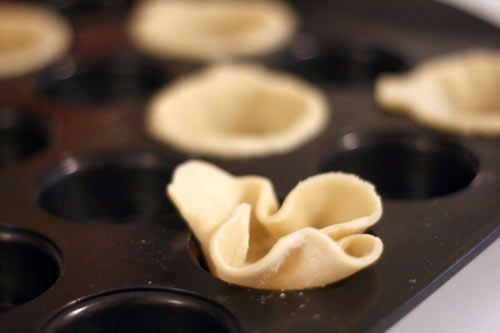 Then, stuff each one in a mini muffin baking pan. This one holds 24.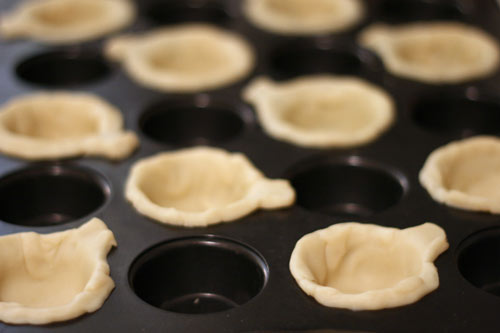 Press the dough down, in and around the edge of each muffin cup. Make sure the stem for the pumpkin stays sticking out. You'll notice I alternated cups above. I did this mainly to make sure the pie crusts didn't touch each other. So I ended up baking these in two batches.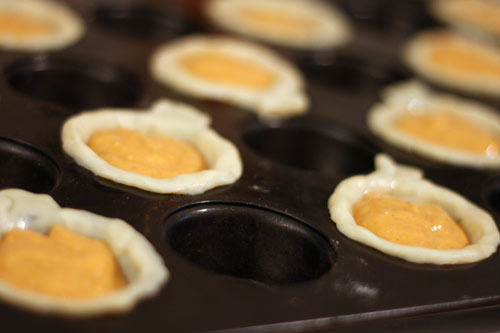 Fill each pie crust with pumpkin filling all the way to the top.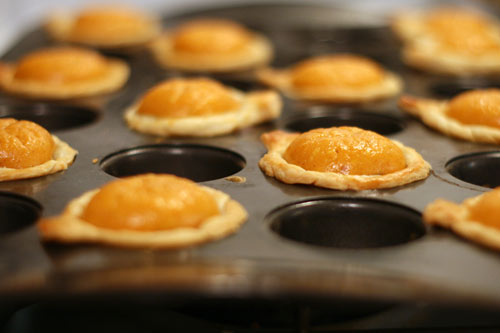 When they come out of the oven, they'll be puffed up like this. Too bad they didn't stay that way. That would be pretty darn cute.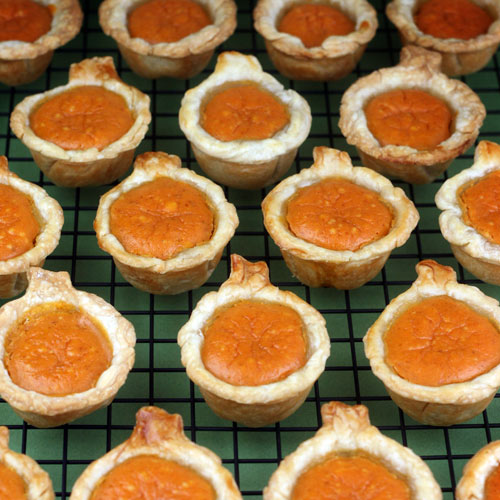 But no, after they cool for a few, they'll fall and be flush with the pie crust.
See… easy mini pumpkin pie bites. These would be really cute at Thanksgiving.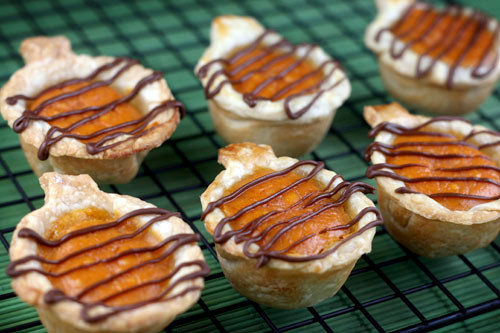 You can even drizzle them with melted chocolate to jazz them up a bit. Just melt some chocolate in a heat-proof bowl in the microwave on medium. Heat in 30 second intervals, stirring in between. You can also add a little bit of vegetable oil to make the chocolate more fluid. Then, transfer the chocolate to a re-sealable plastic bag and cut the corner off and drizzle away.
But wait… you say you don't want to wait until Thanksgiving.
I don't blame you.
So… pipe some chocolate faces on and make them in October.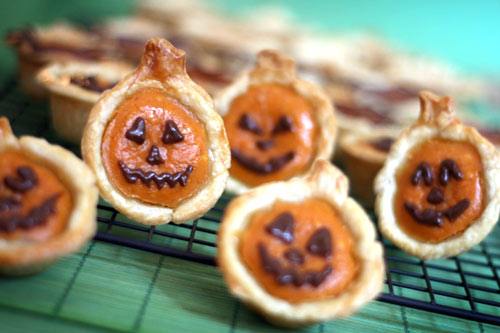 Cute!
And I'll say it again… easy!
Pumpkin Pie Bites
2 refrigerated ready-to roll pie crusts
8 oz. cream cheese, room temperature
1/2 cup sugar
1 cup canned pumpkin
3 eggs
1 teaspoon vanilla
1 teaspoon pumpkin pie spice
Pumpkin-shaped cookie cutter
Optional
1/2 cup chocolate morsels
vegetable oil
re-sealable plastic bags
Preheat oven to 350 degrees.
Use cookie cutter to cut 12 pumpkin shapes from each pie crust. You will need to roll the dough thinner than it comes out of the box.
Press dough shapes into a 24 cup mini muffin tray. (Make 12 at a time, alternating cups to make sure pie crusts don't overlap each other.)
Apply egg whites from one egg to the top edges of each pie.
Mix cream cheese, sugar, canned pumpkin, remaining 2 eggs, vanilla and pumpkin pie spice together until thoroughly combined.
Spoon mixture into each pumpkin-shaped pie crust.
Bake for 12-15 minutes.
Remove pies to cool and repeat with second pie crust. Place the muffin tray in the freezer to cool it quickly for re-use.
Makes 24 pies. Keep refrigerated.
To decorate, melt chocolate in a heat-proof bowl in the microwave on medium. Heat in 30 second intervals, stirring in between until melted. Add a little vegetable oil to make the chocolate more fluid. Transfer to a re-sealable plastic bag and cut the corner off. Drizzle or draw faces on pies.
Note: The cutter I used was 3 3/4 inches wide, but if you don't have one, don't worry. Just use a round cutter around that size or slightly smaller to cut circle shapes out of the dough. Then make stems with the scraps. Press each stem over the edge and down the side of the dough before filling.
Pumpkin pie spice is a mixture of cinnamon, ginger, nutmeg and allspice.
Enjoy!