We interrupt this blog-y break ...
For a couple of reasons … mostly because it would be about seventeen ways of wrong to not share this CUTE recipe with you.
I'm still on a break BUT LET ME TELL YOU … some funny stuff has happened.  And I can't wait to tell you about it.  One thing (my so far one day) break has taught me is that I LOVE this blog and the people that read it.  I have received some encouragement and am learning some things and am not giving up the blog.
Just today I went and sat outside of Starbucks (if you don't live in Houston, today you should because the weather is FINE) and visited eyeball to eyeball with a friend and was so refreshed by it all.
So I'll see y'all soon.
But for now … I'm going to go make these cookies.  Because that would be about seventeen ways of right for my kids to come home to these warm, cute cookies.
They might even start wondering what has happened to their mom.  :)
Oh, and this came from theidearoom.blogspot.com.  Cause y'all know those aren't my kids and my little point and shoot camera doesn't take pictures like that!!!
PS  See, I said I wasn't going to write … and this isn't really writing, it's just sharing another blog … right?
I am craz-ee!
Monday, October 19, 2009 #
Looking for the Scribble It giveaway? Click here to enter!
*I have been messing around with my blog? Do you like the new look? I can't decide! It may change here in the coming days. So "pardon the dust" if you will!
We love making regular Hershey Kisses Cookies at our house but when I saw Candy Corn Kisses at Target the other day, I knew just what to do with them.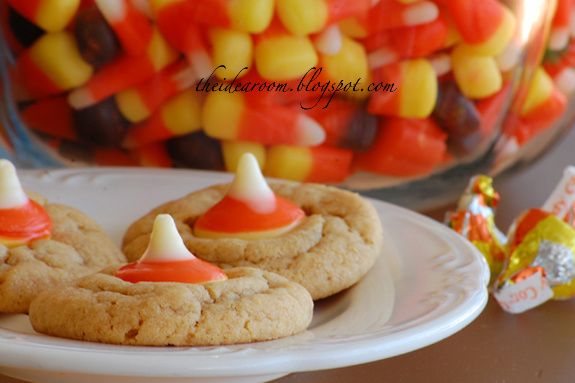 Here is our recipe:
1/2 cup butter or shortening, room temperature
1/2 cup creamy peanut butter, room temperature
1/2 cup granulated sugar
1/2 cup firmly-packed brown sugar
1 egg
1 tablespoon milk
1 teaspoon pure vanilla extract
1 3/4 cups all-purpose flour
1 teaspoon baking soda
1/2 teaspoon salt
1/4 cup granulated sugar
48 Hershey® Kisses® chocolate candies, unwrapped
Preheat oven to 375 degrees F.
In a large bowl, cream butter or shortening and peanut butter until light and fluffy. Gradually add 1/2 cup granulated sugar and brown sugar; beating until light and fluffy. Add egg, milk, and vanilla extract; beat well. Add flour, baking soda, and salt; stir into creamed mixture until well mixed.
Roll cookie dough into 1-inch balls. Place balls, 2 inches apart, onto ungreased cookie sheets.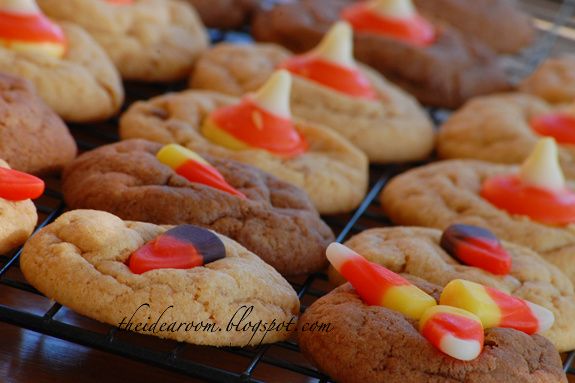 Bake 8 to 10 minutes or until lightly browned. Remove from oven and immediately press a chocolate kiss into the center of each cookie (cookie will crack around edges). Remove from cookie sheet and let cookies cool on wire racks.
Yields 4 dozen cookies.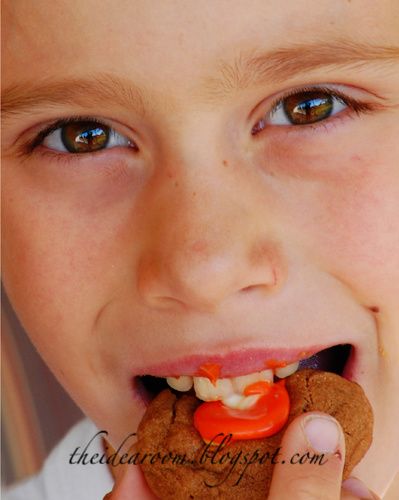 Instead of using Candy Corn Kisses, you could just simply top them with a piece or two of candy corn! We also made a version of Chocolate Candy Corn Kiss Cookies using our favorite chocolate drop cookie recipe.