We saw a great band and had a great meal!!!
This past weekend Caroline and I took advantage of two extra tickets that a friend had for the Baylor/Texas A and M game.  It's just a short trip over to College Station (delayed somewhat by our stop at the outlet mall) and, although it rained on us most of the drive, by kick off the sun had started to shine.
Well, shine on the Aggies.  It's kind of like Baylor football has a dark cloud over it.  I mean, I love the Baylor Bears, but their football leaves a little something to be desired.
But man did we enjoy watching the Aggie band.  Impressive seems like an understatement.  All I could think about was how I could never, ever even begin to think about playing an instrument, marching, staying in those unbeliveable formations, in step, etc.  But the people on the field did a great job.
We were told to not wear our Baylor gear as we were sitting in the "former student" section and it's part of the unwritten rules to only let Aggies have those tickets.   And we followed the rules and stayed pretty much in cognito throughout the game.  That is, until all the Aggies put their arms around each other (I mean ALL the AGGIES in the ENTIRE stadium) and began swaying back and forth and singing something about beating UT.
Which made no sense seeing how they were playing Baylor.  But apparently it's their fight song no matter who they are playing.  And tradition is a very big deal for the Aggies.
(Or ATM as my kids call it - as in the money machine - because that's how it looks written out.)
I think that's when our cover was blown because if an entire stadium of Baylor people put their arms around each other they'd probably sing Kum By Yah or something.  So we exited the game pretty soon after that.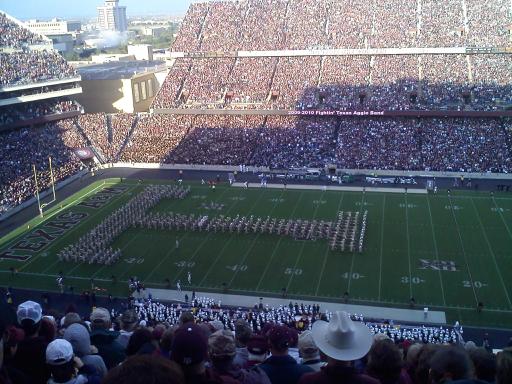 Then we went to my friend Stephanie's house.  She moved from Arkansas to College Station last May and it was my first visit to her house.  I loved it and she and her husband CHRIS (explanation for caps later) … took Caroline and I to dinner at a restaurant called, appropriately, Christopher's.
BEST MEAL I HAVE EVER EATEN in Texas and the only meal I think could have been better or equal was once in St. Johns when Bill and I were on vacation … and that might have had something to do with the ocean being our view.
The food was delicious.  I mean it.  To die for.  Get in your car as soon as you can and go there if you are nearby.  I had duck over gnocchi.  I don't think I had ever had duck and I will have it again as soon as I can.  It was sooo good.  Caroline got Napa Chicken and literally ate almost every single bite.  She tried it all and enjoyed it all and may have been the happiest she had ever been.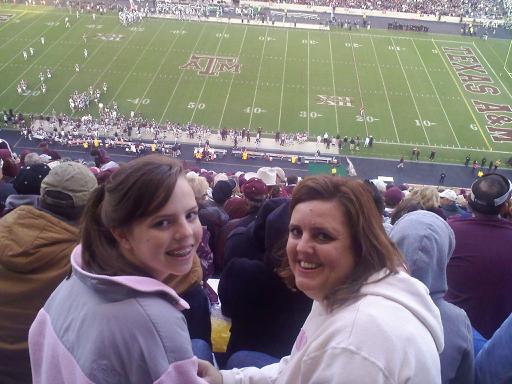 Until dessert.
Dessert defies description.  Caroline and Stephanie had these chocolate somethings that they loved.  I had a fruit cup in a delicious edible cup with white chocolate mousse and berries in it.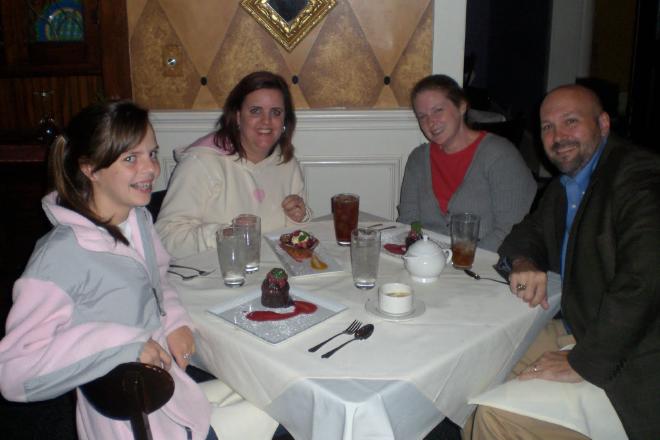 No words for how delicious it was….truly no words.
Stephanie asked Caroline a question while she was spooning in all that chocolate goodness and Caroline didn't even hear the question.  She looked up, in a chocolate stupor, and said … "huh?"  She really was lost in the dessert.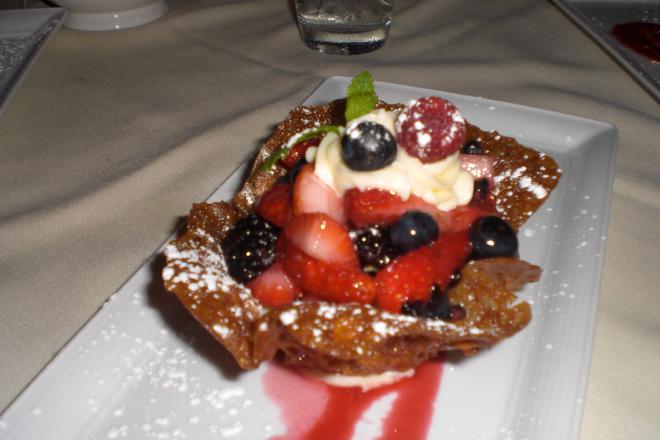 We thanked CHRIS profusely and I told him his name was going in all capital letters on the blog.  I mean, how else is he going to know ho much we truly appreciated it?
So, to wrap it up, the football wasn't great, but the food and fellowship were superb.  Thanks CHRIS and Stephanie!!
And just as a side note … Stephanie left today for Little Rock because her mom is having surgery at 6:15 in the morning.  She was recently diagnosed with lung cancer so if you would, pray for her.  CHRIS will join them tomorrow.
He would have some leftovers tonight for dinner if we hadn't eaten EVERY single bite of that wonderful meal!!
Y'all enjoy your wonderful Thanksgiving meals and enjoy time with your friends and family.