Rest for the Weary ...
It's been a week.  A very, very busy week.
With lots of basketball.
Lots and lots of basketball.
Play off week.
7 games in 6 days.
One night I cooked hot dogs for dinner and wrapped them in foil and the kids ate them in between each others games.  And I thought … wow.  This is what we've become.  We've been reduced to eating hot dogs in the car.  I kind of thought a refrigerator in the Suburaban might be a good idea until I realized that is dangerously close to driving an RV.  So I stopped thinking about it.
Brittany's team was in the gold division and hoped to win it all.  If they won on Thursday night they would have made it to the championship but they ran out of steam towards the end.  It was a great team and a disappointing loss.  I LOVE to watch Brittany play basketball.  She is in it to win it … every.single.time.
You can see Brittany (first 10 seconds) dribble down, shoot and score if you click here.  She makes it look easy and loves the game as much as her dad … and that is saying a lot.  (We took the video with my phone so it's not that great, but I promise that is Brittany shoot'in some hoop.)
She wasn't the only one playing ball …
Jacob was coached by Bill and went 7 and 0 … "the perfect season" in our church league basketball this year.   Look how low the basket is … it is SO cute to watch the boys play.
Every child gets a chance after each half to shoot a free throw.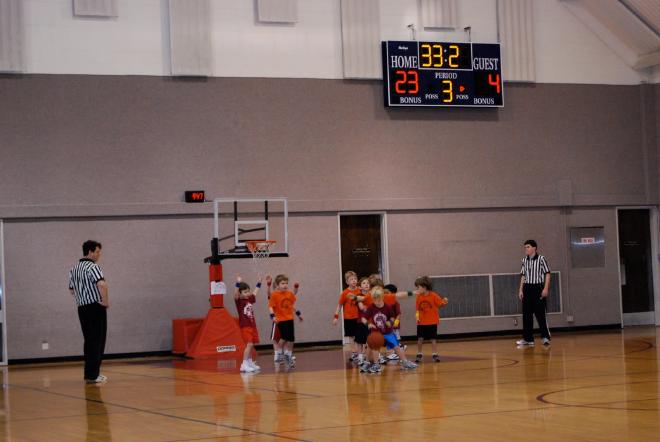 We celebrated being undefeated at our team party … cute boys!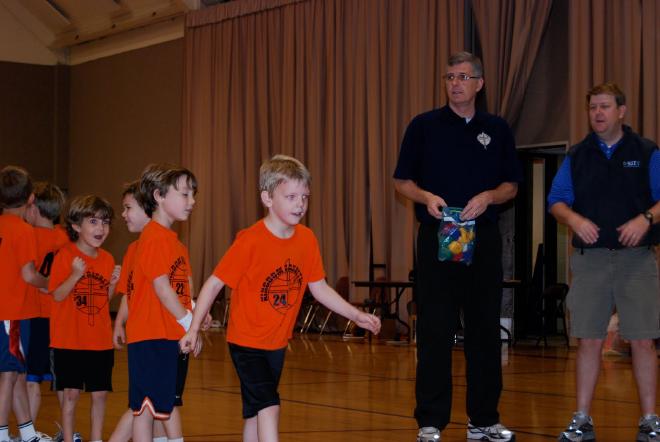 I think the coach is pretty cute too.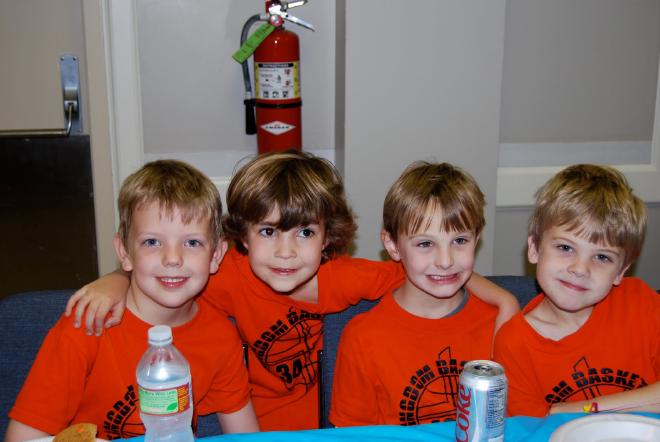 Caroline played in the our church league as well but had to miss today's game (which unfortunately was the only day I bought my camera).  Savannah played church league and our areas league … more on that later.
But first I have to rest.
Because, as I said, it's been a week.
And after church tomorrow Brittany has a gymnastics meet and Savannah has softball tryouts.
Which basically means there isn't much rest for the weary.
Play ball!