The post that could not be forgotten ...
SO, here it is … the last post for 2009.  Right in the middle of February 2010.  A common theme in my life is … "I can't keep up!" … and this is further proof.  But this event was too fun and these people too special for me to not include.  In fact … it was a highlight of 2009.
I mean, how often do you get to hang with your oldest and nearest and dearest friends?  None of us are "near" each other anymore and getting us all to land in Little Rock on the same date is something to celebrate.  We all grew up together at First Baptist Church in Little Rock.  My friend Beth I have literally known since I was born.  I remember to this day when my friend Sharon joined our church when we were about 5 years old.  My mom leaned over and whispered … "they have a daughter your age … y'all can be friends."  Very prophetic of my mom.
I don't even know when Katie and Stephanie hooked up … cause it seems like we've always been together.  Always.  Some people have "go to" meals …. these are my "go to" girls.  There isn't a one of them that I couldn't call and ask or tell anything.  We're tight.  And I cherish each and every one of them.
And the stories we can tell … just trust me … there's lots of them.  One of our favorite things is we can call each other and immediately start laughing.  And then we both laugh and laugh before we even know what is funny.  It's one of our favorite things to do.  I cannot tell you how many times Sharon has called me and started the conversation with … "THE funniest thing …" and she proceeds to tell me something hilarious.  And sometimes the stuff going on in our lives isn't funny at all … and we're there for each other in that too.
So, here are the "go to" girls:
It's me, Sharon, Katie, Stephanie and Beth.
These are our kids.  And MY WORD there are a lot of them.  We're a prolific group.  The five of us have 15 kids total and only 3 boys in the crowd.
And in this picture you will see Rudy.  You are going to have to trust me when I say that Rudy provided QUITE a bit of enertainment for us that night.  I don't want to embarrass Rudy but the go to girls will know what I'm talking about.  I can tell you that Rudy has a special "friend" … a stuffed animal Winnie the Pooh.  They are very close.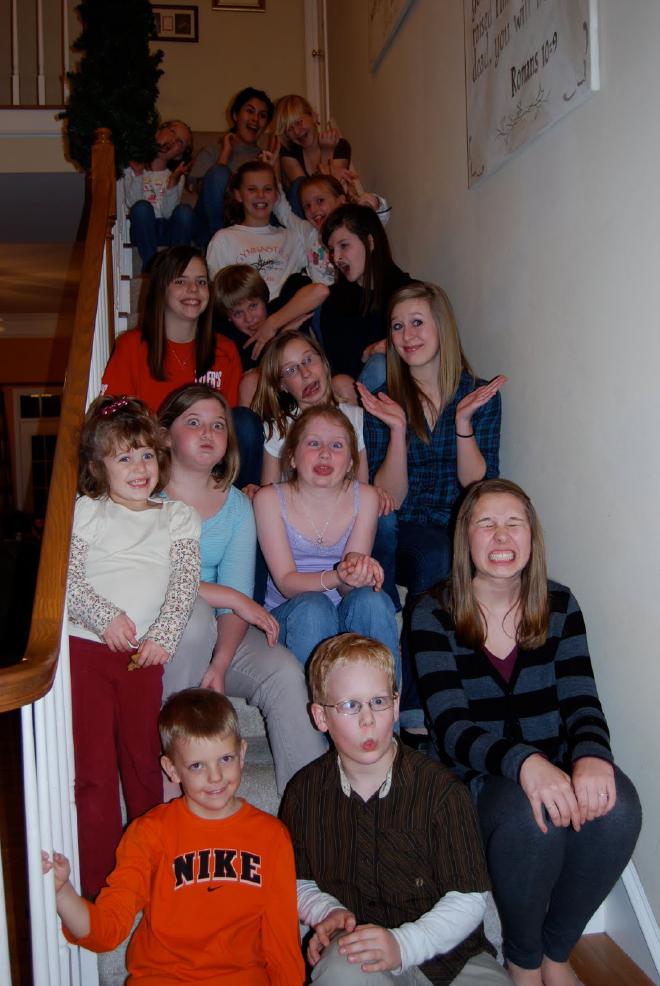 Even though we all live far apart … College Station, TX, Houston, Little Rock, Chicago and Fresno, CA .. we could not be closer.
2009 is officially over.
The End.