If you must know ...
Last Friday was the 5th grade "Historical Wax Museum" at our elementary school.  Each student selected a historical figure to dress up as and when the visitors stepped on the "button" in front of them they came to life and gave a short speech about the life of their person.  All the costumes were so creative and the students did such a good job!
Brittany was given Phyllis Wheatley to depict.  Phyllis Wheatley was a slave who was highly educated, wrote poetry and was the first African American who was ever published.  Trust me … I know this because Brittany practiced her speech over and over for me.  She makes a cute slave girl, dontchathink?
My favorite part was watching her face light up when Savanah and her buddies came to listen …
and then when Jacob and his pals came by …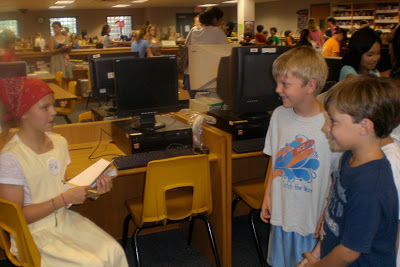 One of my favorite, favorite things is having 3 of my kids at the same school (for exactly 5 more days).  They do a good job of watching out for each other and I can't even tell you how many times they've told me they had to go trade out lunches because I'd mistakenly given the "ham and cheese" child to the "peanut butter" sandwich child.
Ask them … it happens a lot.
I got so engrossed in all the characters and costumes like Ulysses Grant: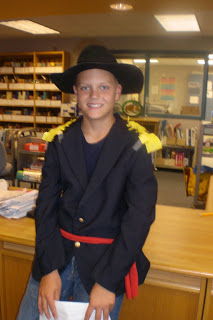 Queen Elizabeth:
Abraham Lincoln:
and Laura Ingalls Wilder:
that I forgot about the fact that I had put a GIANT Costco size bag of frozen chicken in the fridge.  I meant to just leave it there for a bit until I got home and made a place for it in the freezer.
I didn't think about that chicken again until the next day … when it was completely thawed.
So in addition to all the chicken I used for the chicken fried rice, we also grilled and grilled and grilled chicken on Sunday.  The plan is to freeze it and pull it out as needed this summer.
It reminds me of those people who do the "cooking for a month all in one day" thing.  I have never been inclined to do that but now that I have done it without meaning to, I kind of think I like the idea.
I really don't have any other choice!