Why of course ...
Brittany has been reading the book "Where the Red Fern Grows" for her Language Arts class.
Raise your hand if you cried when you read that book.
I totally remember our teacher reading us the book out loud
in 6th or 7th grade.
And all the girls crying.
I didn't cry but then again, that was before I had loved and lost a dog.
As a side note, I miss Looper so much.  Bill has been on the road 4 nights a week for the last three weeks.  I think I miss her more when he is gone.  It has absolutely nothing to do with protection (seriously, once she lost her hearing protection was low on her list of things to do) … but it has everything to do with companionship.  I stayed up until 1:00 am grading midterms exams last night and  I wanted my dog at my feet more than you can know.
But enough about me and my sad dog story - back to the book.
In school now the students are required to "annotate" the book while they read.  (This means I have to buy four copies of this book over the years since you have to annotate a fresh copy.)  This is what the page looks like that has been read:
Last week when I had Brittany's backpack in the car … remember that? … well, she had a packet of questions to answer from this book.  They were hard questions and you had to cite the page number that you found the answer.  I assured her that I would help her find the pages when I got home.  It was the least I could do for her!
As she wrote stuff I flipped through the book looking for the correct page numbers for her (our) answers.  :)  On p. 98 (now I can't help but cite page numbers),  Brittany had written this: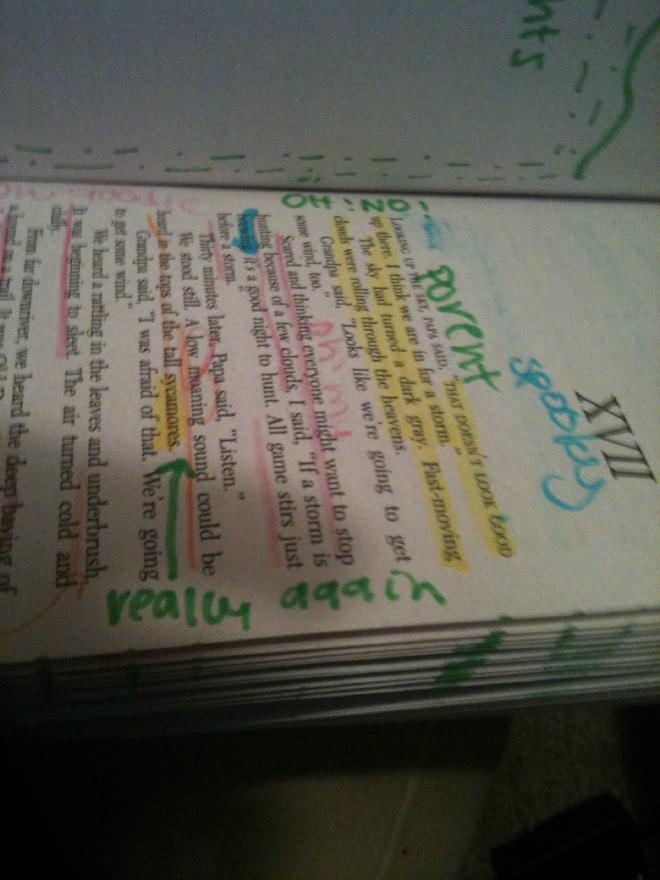 Why of course God helped.
I looked to see what she had written that in reference to and saw that the main character, Billy, had asked …  "Do you think God heard my prayer?  Do you think He helped me?"
The book goes on …
Papa looked at the ground and scratched his head.  In a sober voice, he said, "I don't know, Billy.  I'm afraid I can't answer that."
And that is where Brittany had written it … "why of course God helped."
Like duh.
On that night where Brittany thought her world was crashing in … right there in the book she had written it … "of course God helped."
Of course.
Y'all, I loved it.  It meant so much to me that she had that confidence in her God and that she had written it down on paper.
In fact, I totally don't mind now that I had to pay $6.99 at the book fair to buy the book even though Caroline still had her old copy.
And here's the deal … I have a friend right now who is praying.  And she knows … she knows God can help.  She knows He could answer her prayer.  She knows He could allow this treatment to lessen her symptoms of MS.
My friend is Debbie Bertrand.  She came to the South Main Baptist event last week and it was like having family there for me.  In fact, her husband Larry was the one who suggested the church invite me to speak.  He keeps telling me he wants a finders fee.
I've been meaning to take him some of my candy corn.  :)
Debbie was our director when Bill and I taught 6th grade Sunday School a few years back.  My favorite part about teaching was that I got to see her every week.  She had so many pearls of wisdom.  Debbie and Larry have raised three incredible men.  When Debbie began suffering from the symptoms of MS Larry started doing Debbie's hair for her.  He even, this is huge, went to her stylist and learned how to style with a flat iron so he could do her hair "just right".
Y'all, if the sacrifical love of that act right there doesn't make you want to bawl cry like you just heard Old Yeller died, well then I don't know what to say.
I think it's beautiful.
And this Sunday, Debbie is flying to Mexico for an experimental treatment.  It is rigorous but the effects of it could change how she is able to do life dramatically.
I have written Debbie's name on every day of my calendar for next week.  Every time I see it or she is put on my mind I want to lift her up in prayer.  Please join me.
To read more about what will happen or to follow along with each day of her treatment, you can visit her blog at www.debbiebertrand.blogspot.com.
Pray for Debbie.  Pray for the treatment to work.  Pray for Larry as he cares for her.
The verse at the top of Debbie's blog is this:
"Be joyful always; pray continually; give thanks in all circumstances, for this is God's will for you in Christ Jesus."
I Thessalonians 5:16-18
Debbie is joyful.  She prays continually.  She gives thanks in all circtumstances.
And if you asked her if God could help … well she'd say:
"Why of course God could".