Somebody get the girl a dog ...
Mothers Day was filled with so many of my favorite things.  After lunch we went to Hungry's restaurant.  We have gone there for many, many years.  Moms get a free dessert and nothing says "Bring mama to us" like a free offer of their chocolate mousse cake!  After lunch we went to see the movie "Soul Surfer" which I HIGHLY recommend.  I loved it.  We followed that up with a family bike ride.
There were a few gifts … I especially love the ones wrapped in tissue paper that the kids bring home from school or Sunday School.  This year I got a cute flower pot where Savannah had painted her fingerprints to make bluebonnet flowers all over it.   Jacob painted a cute tile.  They made these gifts at school.
Savannah made me a rockin' purse out of duct tape which I should go photograph just so you could see.  Unfortunately the purse is downstairs and I am up and apparently I am THAT lazy.  She told me the purse would have been bigger but she "only had one night to make it".  I think it is hip and cool.
I also got a gift that Savannah made for me at Sunday School.  It was a cute heart notebook where she had filled each page with "coupons" for me to use.  One was for a thirty minute massage.  I used it this afternoon but I only got 5 minutes.  Rip off?  I'm hoping I can still redeem the other 25 minutes at a later date.
There were also coupons for washing the car, doing jobs around the house, even one that said … "good for one dollar".
I thought it was precious.
As I was reading it she said … "the best ones are in the back".  And as I got to the back I read …
"Good for walking the dog".
"Good for washing the dog".
"Good for feeding the dog".
"Good for playing with the dog".
And, as you know, well, we don't have a dog.
Which is why each sentence was followed by the phrase … "when we get one".
This mama loves to laugh and that is exactly what I did!
I love being a mother to these precious four.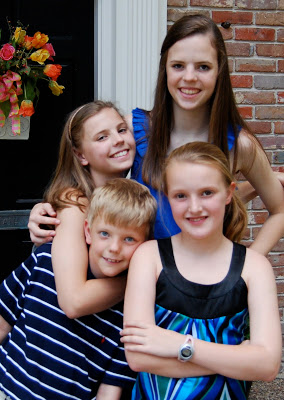 Looks like the only thing missing in this picture is a dog!