Think Big, like REALLY BIG ...
Since we (still) have no kitchen, almost every Saturday since we have moved, Bill has loaded up the kids and taken them to Costco for lunch.  For reasons unknown to me, they think the $1.50 kosher hot dog and a drink deal make for good eatin'.  Granted, the price is right, but I've been perfectly content to slap some turkey between two pieces of bread and call it "tasty".
While at Costco, they do supplement their meal with a vast array of "samples".  And many of the products they try end up making their way back to our house. And often, they don't get used.
So this past weekend I said as they walked out the door … "don't come back with anything crazy".
And apparently I need to define "crazy" because this is what showed up:
Meet "BIG Bear".
To be fair, they did send me this picture from the store, so I wouldn't completely freak that a 4 1/2 foot stuffed animal was coming into our home.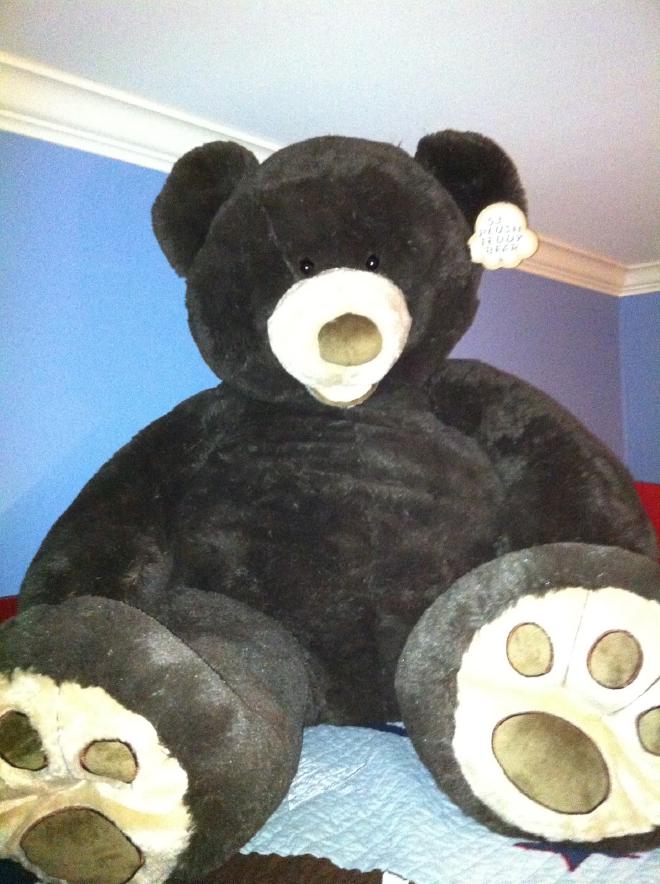 I guess the good news is that they only brought ONE home!
(And can I just interject here that in the "great purge of 2011" … that actually started in 2010 …. I got rid of so many stuffed animals.  Tons and tons.  And maybe it's better that lots of little ones are replaced with one big one.  But it's a really, really big one!).
Big Bear does have a job - which is to keep Jacob safe.
You see, we've now lived in our house something like six weeks … and tonight will be the very first night Jacob has slept alone in his room.
The first few weeks he convinced Savannah to sleep in his bottom bunk but she quickly grew tired of that set up.  Brittany wouldn't come to his room, but she did graciously allow him to pull out the trundle under her bed where he has slept for the last month.
He was honestly scared.to.death in his room alone.
According to Jacob, Bill and I were "too far away" in this house.  No matter what we tried, it was all to no avail.
Until now.
Tonight is "Big Bear's" first night on the job.  And with a light on in the closet and a flashlight pointed towards the ceiling Big Bear has worked his magic and Jacob is asleep.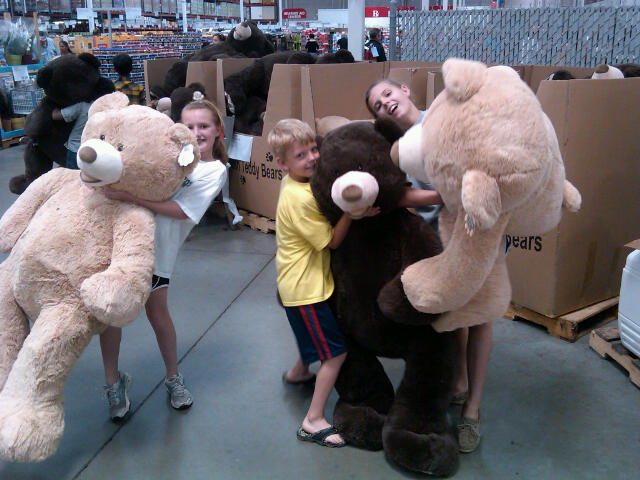 And that may very well may have been the best money ($29.99) Bill has ever spent at Costco!