Meet Ruby.
This is Ruby.
She's a beauty.
Shiny and red …. I LOVE her!
Ruby was my Christmas gift from Bill.
I know you aren't supposed to give "domestic" type gifts to your spouse, but I asked for this so it's o.k.
I first saw it on a pre Christmas trip to Williams Sonoma looking for peppermint bark.  I kind of gasped at her beauty when I saw her.  The employee told me that it is retro/commerative edition with a glass bowl, handle and pour spout on the bowl and shiny, ruby color.
She had me at shiny.
Truth be told, I had always wanted a Kitchen Aid mixer but didn't feel like my cooking warranted the expense.  I mean my Walmart $14.99 mixer has held up for years and years.
But that was before I knew the joy of using a Kitchen Aid.
Y'ALL, it is an EXPERIENCE to use it.
Talk about the joy of cooking … just use a shiny, red mixer!
I love it so much.
But back to the story … Caroline was with me when I saw it and (in front of the employee) said things like "why would YOU need a mixer?!?" and "you don't even cook!".
So we left.
As luck would have it, a few nights later Bill went with me to the grocery store … NEVER happens.  He wanted to stop off at Starbucks before hand.
And well …  Starbucks is just down from Williams Sonoma.  The store was closed but I said … "want to go visit something beautiful?!" and I took him and showed him the mixer in the window.
His reaction was similar to Carolines … "you want a MIXER?".
I told him it was red and shiny and looked like a bicycle sitting in a window to me.  Truly the thought of spending more than $14.99 seemed wasteful but it WAS shiny.  :)
Christmas monring, what to my wondering eyes should appear …. but a Kitchen Aid Mixer from Bill so dear.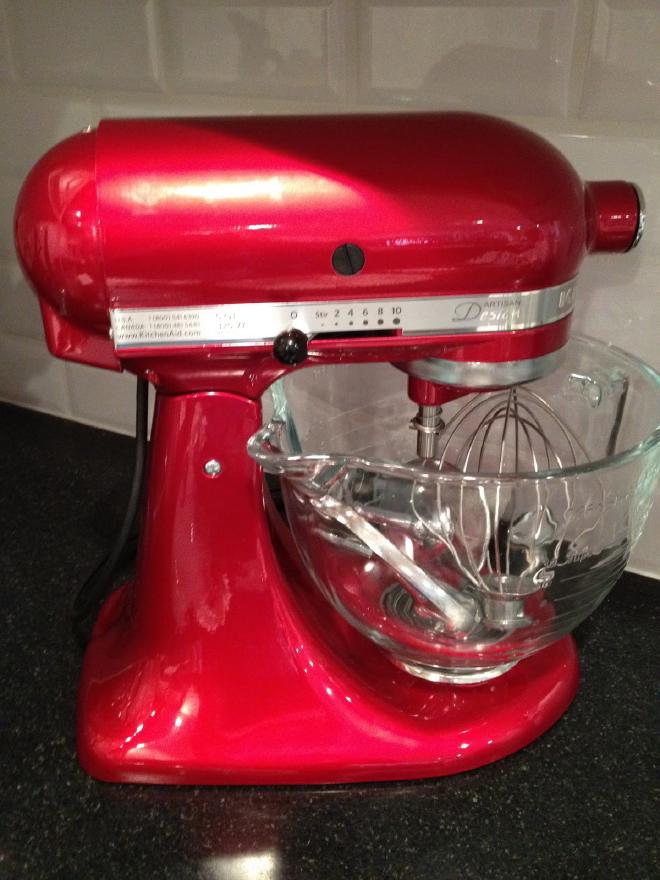 So excited!  Honestly, I have always wanted one of these.
So, another resolution, use Ruby at least twice a month.  That's not going to be a problem though because I find myself trying to think of things to make with it.  Last week it was chocolate chip banana muffins.  The kids liked it so much I went out and bought more bananas that day and made more.
Yummo.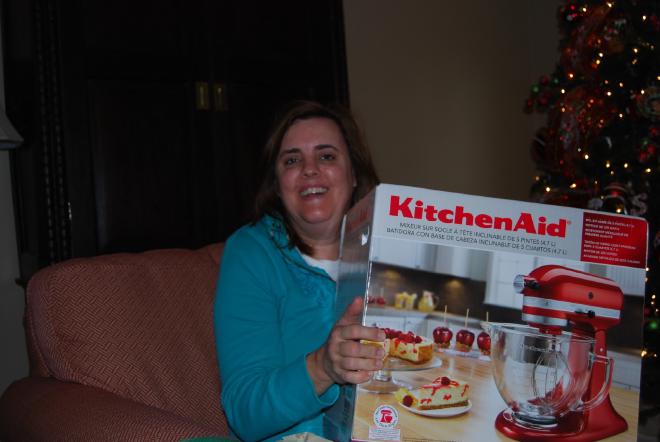 I think the secret to them was that they called for cream in them.  (Speaking of cream … remember the omelettes from yesterday? … well cream was their secret ingredient too.  I had to ask "facebook" if cream meant "heavy whipping" because I had no idea, but they answered yes and it was delightful!).
And speaking of the omelettes, the presentation did improve with each one.  I found better pictures on my phone today.  See for yourself …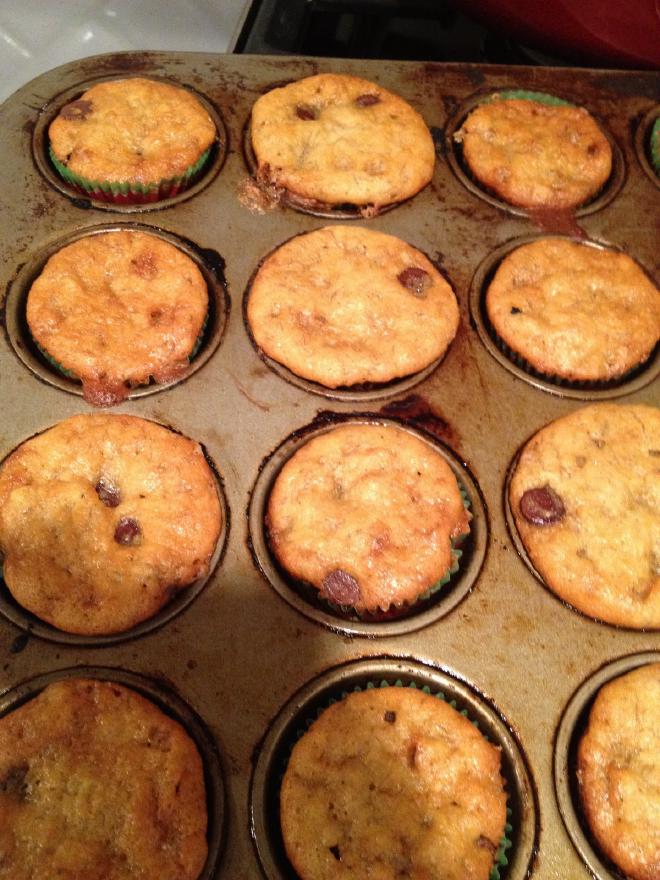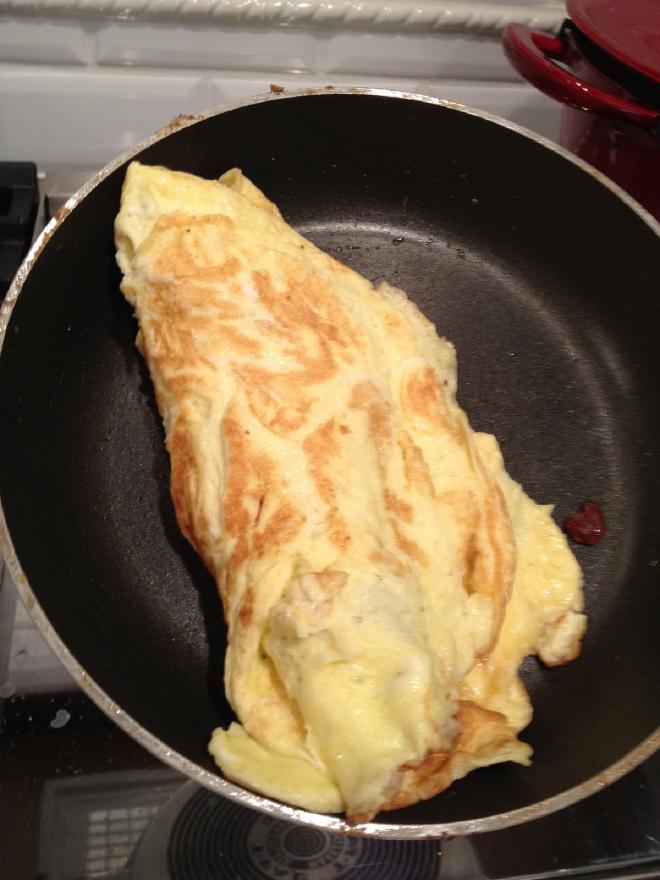 So now my kitchen looks like this … a lot.  So fun!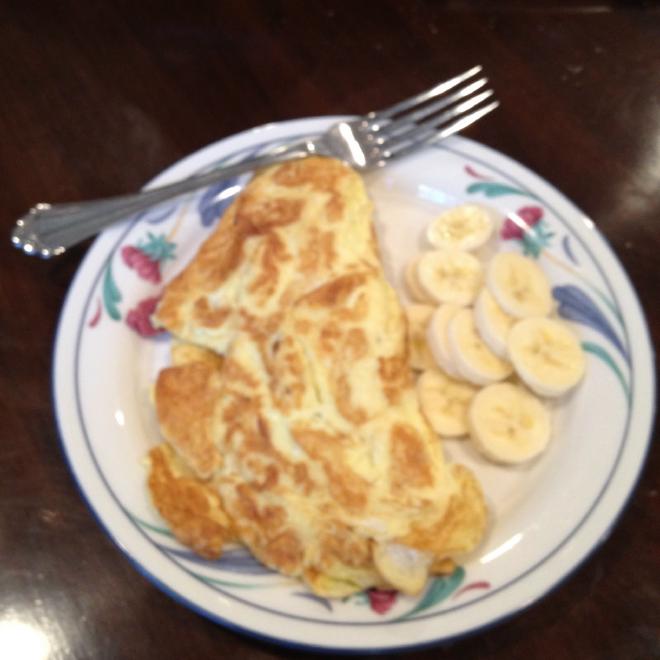 This week's yummy was cinnamon chocolate chip cookies.  They even had oatmeal in them.  I found them on pinterest.   Look how fancy I am with the parchment paper.  HA!  I don't know why I had it but now I LOVE it … no clean up!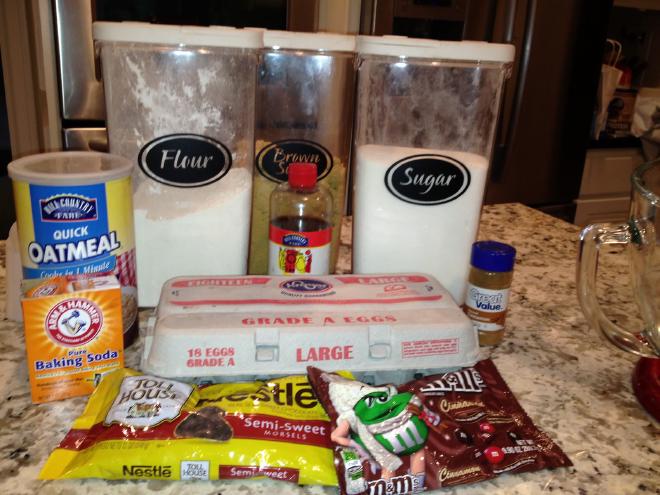 I've put the recipe for the banana bread below.  Pinterest has the cookies although I think the cinnamon m and m's were a Christmas thing.  At least that is where I found them … in the 75% bin at Target.  So I'll be making these 3 more times.  :)
Ruby and I have become fast friends.  Someone asked me if Ruby was going to sit out on the counter or go in the appliance garage.
For now … totally on the counter.
She's like a work of art.
I'm sure there will be more tales of ruby the red mixer.  Stay tuned!
Banana Bread
5 Tablespoons butter
½ c sugar
½ c firmly packed light brown sugar
1 large egg
2 egg whites
1 tsp vanilla
1 ½ c mashed, very ripe bananas
1 ¾ c all-purpose flour
1 tsp baking soda
½ tsp salt
¼ tsp baking powder
½ c heavy cream
1/3 c chopped walnuts
Preheat oven to 350 degrees.
Beat butter until light and fluffy.
Add sugar and brown sugar; beat well.
Add egg, egg whites, and vanilla; beat until well blended.
Add mashed banana, and beat on high speed for 30 seconds.
Combine flour, baking soda, salt and baking powder. Add flour mixture to butter mixture alternately with cream, ending with flour mixture. Add walnuts to batter; mix well.
Bake until browned and toothpick inserted near center comes out clean. About 1 hr 15 mins for bread, about 15-20 mins for muffins.