Thirsty?
Football is big in Texas.  Really big.
And right now it feels like football weather.  I love it.
Jacob is playing football again this fall.  As hard as this is for me to admit, his team name is the Aggies. Week after week I sit on the sidelines and yell "Go Aggies!".
Add that to the list of things I never thought I'd be yelling at a football game.
But, I mean … how can I not?
At the beginning of the season we had a parent meeting where we were told we would not be getting an "official" mom t-shirt but that we could all go out and buy our own Aggie tshirts.
Only I didn't buy one because I don't really want an Aggie t-shirt.
Jacob hasn't seemed to notice.
I did tell a friend that I'd buy a burgandy shirt and she (being a Longhorn fan) thought that was hilarious.  Apparently Aggies don't take it kindly if you call their "maroon" color "burgandy".
My mistake.
I did sign up for a job at the parent meeting though.
The sign up sheet listed "hydration parent" and the description said … "bring six water bottles to each game".  Quite frankly, that sounded much easier than bringing the tackle dummies to every practice so I quickly put my name down on that slot.
I thought,  "how hard can this job be?  I'm all over it".  I just  need to buy a couple of cases of water bottles and pull out six to take to the game each week?
Piece of cake.
When Bill saw the email announcing all the jobs he looked up and said … "you do realize that doesn't mean to bring six Ozarka water bottles, don't you?".
And I told him "why yes … yes I did think it meant just that".
(I love that he knows me well enough to know that I would have thought this way … and saved me from heaps of embarrassment when I would have shown up with my six Ozarka water bottles.)
He shook his head, laughed just a little and explained to me that we needed to get something like this: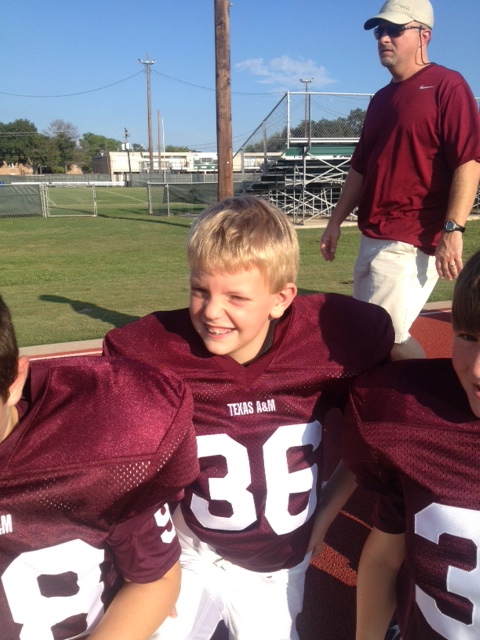 When I saw this "container, basket thingy" I thought …. "oh no … that's going to be harder than bringing Ozarka".  And then I asked …  "are these water bottles for the kids whose moms forgot to send water bottles? (not that I would know anything at all about that - ahem).
Bill said … "No, these are to run out onto the field.  When the boys are out there … hot, tired (beat up) … and there is a break in the play then the coaches run these out and spray the water in the boys mouths".
They keep them hydrated.
So week after week I fill up these bottles.  It does take more effort than buying the Ozarka ones, but it's not hard.  I have to think about it before the last second and make it a part of our game day prep.
So when those boys are hot and thirsty … well, it's right there for them.
Now … at the same time as I've been fulfilling my "hydration parent" responsibilities, our church has been doing a study on the importance of daily being in the God's word.  It's been a very "back to the basics" …. but yet very important … study.  We have studied Psalm 119 … and truly, the entire chapter is a devotional to the word of God.
Studying this has made me think that perhaps God is the original "hydration parent".
He left his word for us (and the Holy Spirit) to quench us.  We all get parched for God and His word.  We all need to "hide it's words in our hearts", we need to make it a priority … we need to set aside time not only to read it …. but to meditate on it.
Psalm 119:15 says "I meditate on your precepts and I consider your ways".  I read that Biblical meditation refers to the filling of one's mind and heart with the truths of the Bible.  The word "meditation" in Hebrew literally means to speak or to mutter, so in essence, meditation on the Scriptures means speaking the word of God to yourself.  Thinking about it, mulling it over, contemplating it.   When we saturate our hearts and minds with the Scriptures we can carefully consider how it applies to  the situations of our daily lives.
In other words … we hydrate ourselves with God's word.
It takes some effort, some planning … but it's not hard.
We keep from getting parched.  And in those situations where we feel we are being hit from every side, roughed up … when we are on the line … God is right there ready to fill us up … with Him.  Through His word and through His spirit we can face those things that are coming right at us.
John 4:14 says … "But whoever drinks of the water that I give him shall never thirst; but the water that I give him will  become in him a well of water springing up to eternal life".
Or more simply … "we can drink until we thirst no more".
If you want a good place to start … read Psalm 119.  You can find it right here.
So, stay hydrated … and yes … "Go Aggies"!